This One Pot Oven Chicken and Rice Bake combines chicken with parmesan rice and butternut squash for a complete healthy meal with less dishes to clean.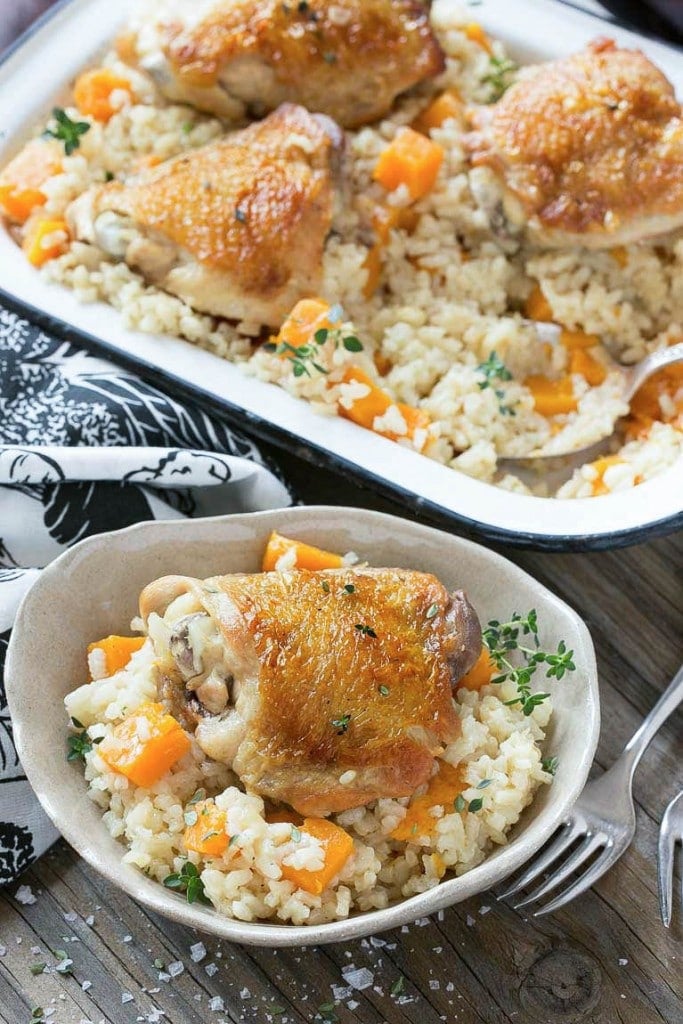 When my youngest was a baby I made her a lot of risotto because it seemed like the perfect "real" baby food – it was soft enough that she could chew it despite her lack of teeth. It was easy to vary the flavors so she wouldn't get bored. It also seemed like a pretty decently balanced meal – I always added some kind of veggie (or puree!) to the rice as well as cheese for protein and calcium. So grains, protein, veggies, dairy – not too shabby.
But really, who has time to stand around and stir risotto? Now that she's older (and more prone to mischief), I do not have the luxury of standing at the stove cultivating a perfect dish. In fact, I swear my kids have this internal radar that goes off when they sense I am trying to cook something that requires my constant attention. Without fail, I'm at the stove trying to make sure something doesn't burn and the twins have done something like stolen the broom from the laundry room and are smacking each other with it. Or the little one has managed to break through the child lock on my baking cabinet and is happily trying to bite open a bag of brown sugar. This One Pot Oven Chicken and Rice Bake is very similar to risotto but without the stirring. Best of all, it's a complete meal in a single pot!
You're going to want to use chicken thighs in this dish, breasts will be too dry. I used to buy the authentic arborio risotto rice, but it can be a bit pricey and do the kids know or care? Of course not. I discovered short grain calrose rice and have been using it ever since. It's in with all the regular rice varieties at your grocery store and makes a great substitute for the expensive stuff.
You do have to brown the chicken and saute the veggies and rice, but after that you get to pop it in the oven and go play with the kids. Or hide the broom and find a new spot for the bag of brown sugar. The whole family will love this One Pot Oven Chicken and Rice Bake, it's a great meal to put on your regular rotation!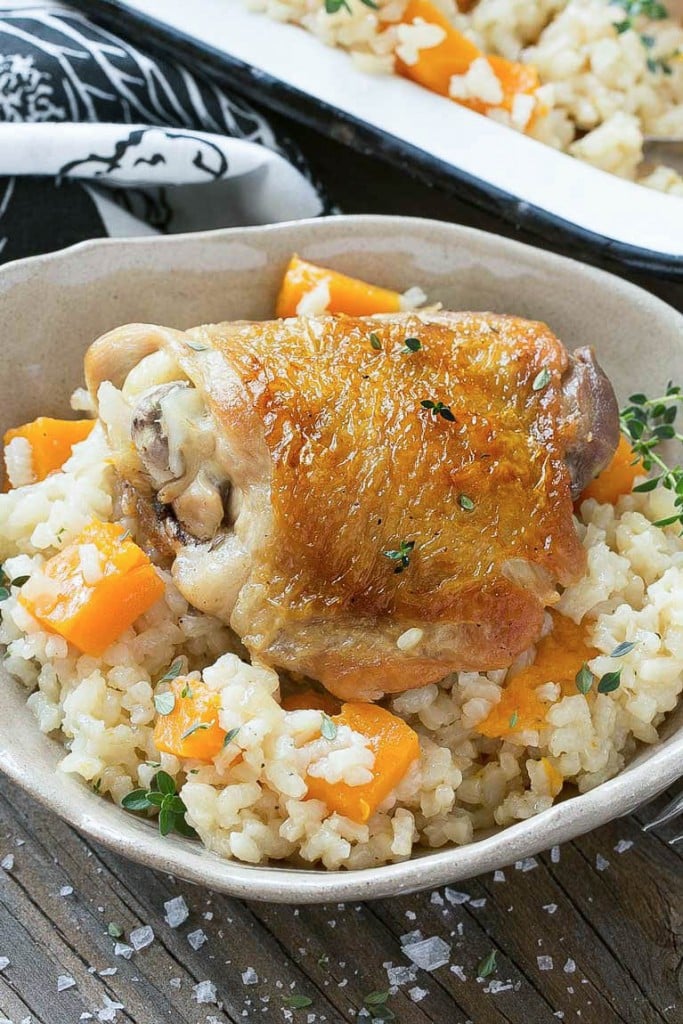 Still hungry? Follow Dinner at the Zoo on Facebook, Twitter, Instagram and Pinterest for more great recipe ideas!

One Pot Oven Chicken and Rice Bake
This One Pot Oven Chicken and Rice Bake combines chicken with creamy parmesan rice and butternut squash for a complete healthy meal with less dishes to clean. Adapted from
Martha Stewart.
Author:
Dinner at the Zoo
Instructions
Preheat oven to 375 degrees. In a large deep pot, heat 1 tablespoon of olive oil on high heat. Season both sides of the chicken generously with salt and pepper.
Cook the chicken on high heat until golden brown, about 5 minutes per side. Transfer the chicken to a plate
Reduce heat to medium. Add the onion and squash, season with salt and pepper. Cook the onion and squash until lightly browned, about 6-8 minutes.
Add the rice, saute for 2-3 minutes or until opaque. Add the wine and cook, stirring, until completely evaporated.
Return chicken to the pot along with any juices that have accumulated and the thyme sprigs. Add the broth, ½ teaspoon of salt and ¼ teaspoon of pepper. Bring to a boil and cover the pot with a lid. Transfer the pot to the oven and bake for 35 minutes. Remove from oven and let sit, covered for 10 minutes. Stir in the parmesan cheese before serving.
Notes
Make Ahead: The most time consuming part of this recipe is the peeling and cutting of the butternut squash, that can be done up to two days in advance.
Nutrition Information
Serving size:
6
Calories:
384
Fat:
8
Saturated fat:
3
Trans fat:
0
Carbohydrates:
50
Sodium:
623
Fiber:
2
Protein:
24
Cholesterol:
73
Things You'll Need
Short Grain Rice Any short grain rice will work in this recipe, from the cheap grocery store brand to something a little nicer like this arborio rice.
Large Covered Skillet You'll want to cook this recipe in a pan that's large enough to fit all of the chicken in a single layer and deep enough to hold the rice, such as this 12 inch covered skillet.