This post is sponsored by Blue Diamond Almonds. Blue Diamond Almonds understand what it takes to be the best. That's why we're proud to be an official sponsor of USA Swimming. Visit www.LaneToGreatness.com for a chance to win $5,000 to fuel your dreams of greatness (whatever they may be), get Blue Diamond Almonds coupons and recipes, and more!

This recipe for chicken almond ding is a stir fry full of chicken, veggies and crunchy almonds, all tossed in a savory sauce. The perfect healthy dinner that's ready in a flash!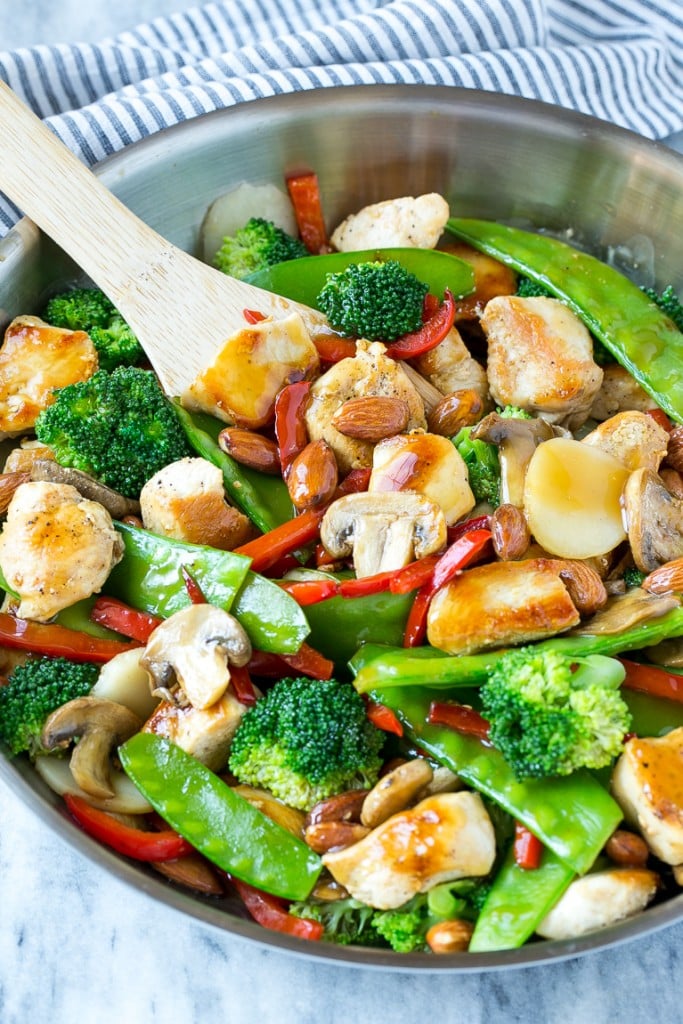 I mentioned before that I've been on a health kick this summer. It's pretty easy to eat healthy when there is so much amazing produce in season! Lately my favorite way to get my veggies in is a big stir fry, like this chicken almond ding. You're probably wondering about the name of this dish – chicken almond ding isn't a term you see every day! In fact, chicken almond ding is a type of Asian stir fry full of chicken, plenty of vegetables and toasted almonds, all in a light and savory sauce.
I use chicken breast in this recipe, although chicken thighs would also work. The great thing about this dish is that it's so easy to mix and match the vegetables – I used broccoli, snow peas, bell peppers and mushrooms here, but you can use whatever veggies your family likes best. Water chestnuts and Blue Diamond Whole Natural Almonds add a lot of texture and crunch.
Blue Diamond Almonds is helping to fuel the USA Swim Team, in fact, they're the official snack nut for the organization! You definitely need to check out their website for awesome recipes, coupons and a chance to win $5,000. I like to toast my Blue Diamond Almonds before I add them to my stir fry.
The sauce for this chicken almond ding is a simple combination of ingredients that you probably already have on hand. I like to serve this dish over steamed rice – even my kids love it! It's a healthy and fast meal that I feel good about feeding my family.
Still hungry? Follow Dinner at the Zoo on Facebook, Twitter, Instagram and Pinterest for more great recipe ideas!