This teriyaki pork stir fry is pork tenderloin seared to perfection with colorful vegetables in a homemade teriyaki sauce. A fresh and healthy meal that's ready in just 30 minutes.
We eat a lot of stir fries in my house, and this easy and satisfying pork stir fry is one of our favorites. So many amazing colors, flavors and textures all in one dish!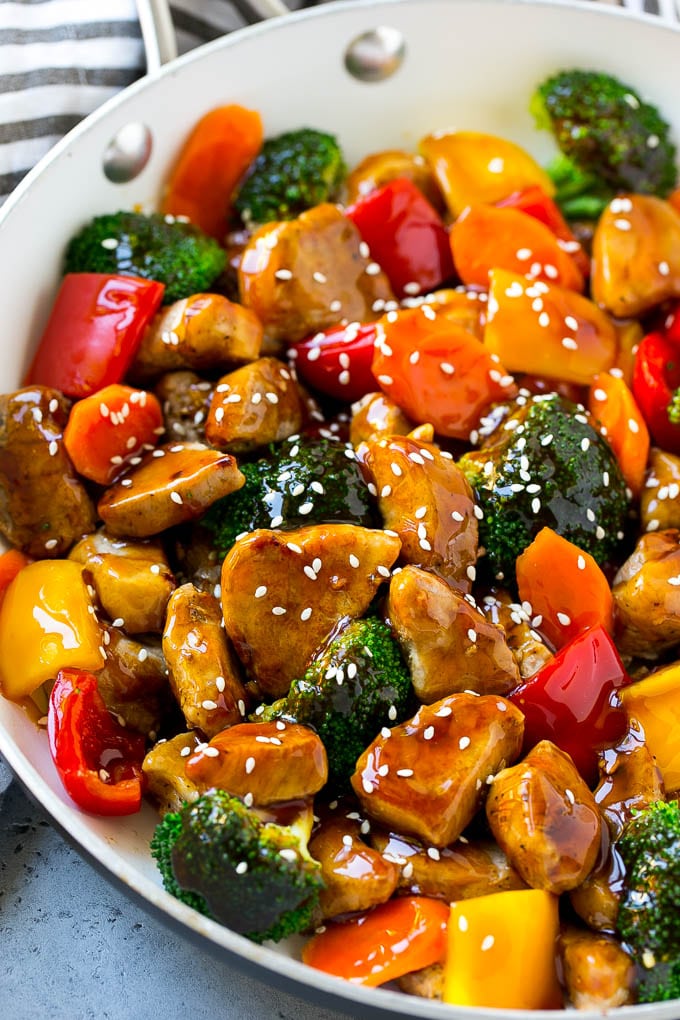 I don't think we ever go a week without at least one type of stir fry popping up as a dinner dish in this house. One of my personal favorites is this teriyaki pork stir fry. It's such an easy and satisfying dish and it's on the table in less than 30 minutes.
HOW DO YOU MAKE PORK STIR FRY?
The best part of this dish is how fresh and healthy it is. It's full of assorted vegetables and pork that's been seared just right. The vegetables go into the pan to cook, and then when they're ready, the pork goes in. An easy homemade teriyaki sauce goes over the top and dinner time is ready.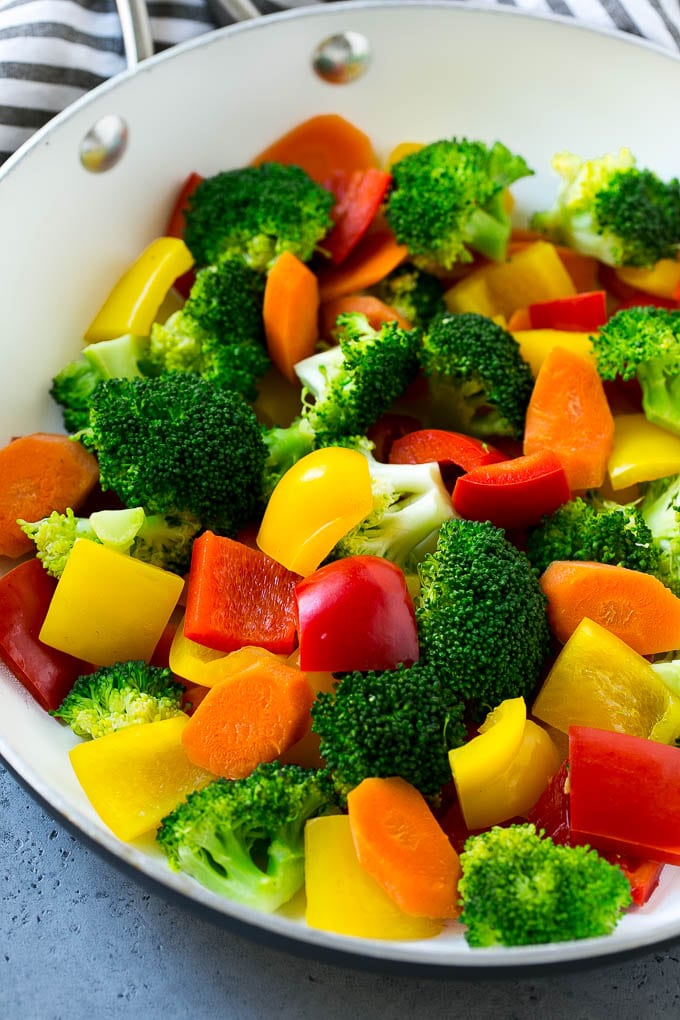 If you aren't partial to the vegetables I have included, that's perfectly ok. There is nothing wrong with customizing this dish to match your tastes and preferences. There are quite a few delicious vegetables that would pair well with this dish.
Some other great additions or substitutions are
Bok Choy
Asparagus
Celery
Mushrooms
Onions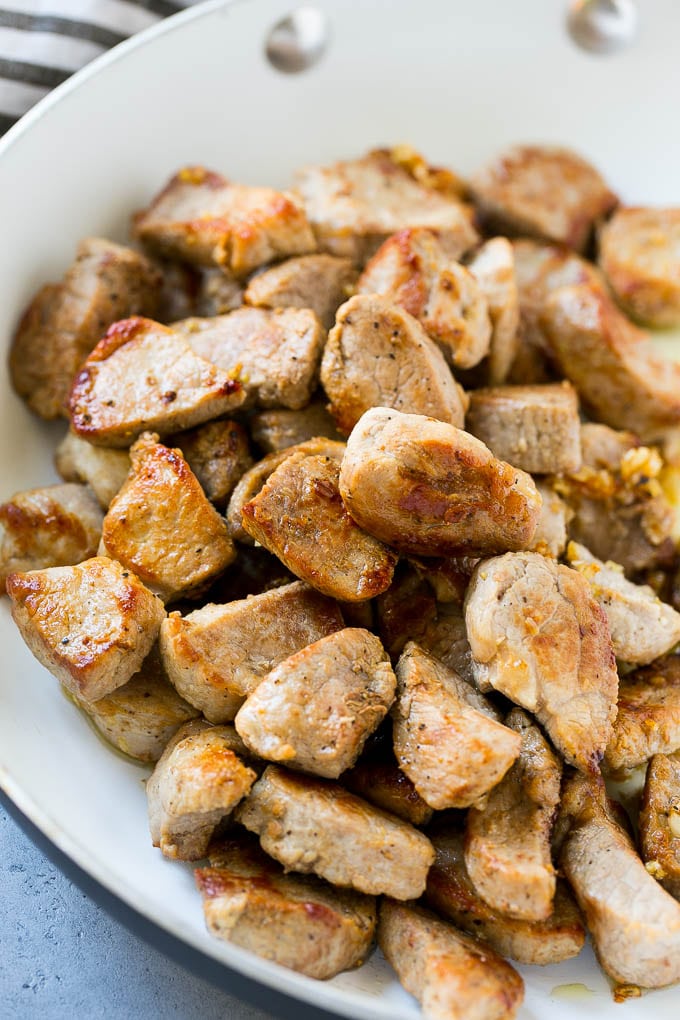 If you want a little tropical flavor to your teriyaki pork, toss in some pineapple which will also add a bit of sweetness to the dish. This recipe calls for pork tenderloin. You can either cut your pork into 1-inch cubes or thinly slice it. I would suggest partially freezing it if you choose to thinly slice it as this makes the job so much easier.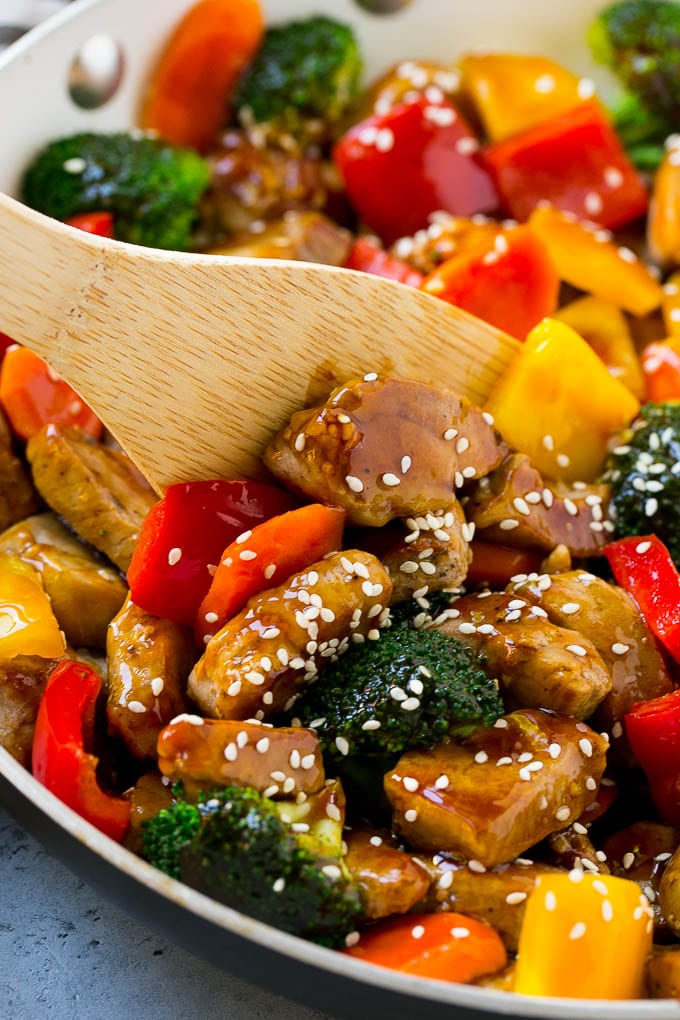 WHAT IS TERIYAKI SAUCE MADE OUT OF?
Teriyaki sauce ingredients can vary depending on whether it's homemade or store bought. However, traditional teriyaki sauce usually contains four main ingredients which include soy sauce, sweetener, ginger, and garlic. Other common additions are sake, rice wine vinegar and sesame oil.
IS PORK LOIN AND PORK TENDERLOIN THE SAME THING?
Though the names can be deceivingly similar, these two cuts of meat are not the same thing. Pork tenderloin is thin and small which is why it's perfect for this teriyaki pork dish. Pork loin is actually much larger and can even have steaks cut from it, depending on the size. Pork tenderloin stays tender when cooked, which makes it ideal for stir fry.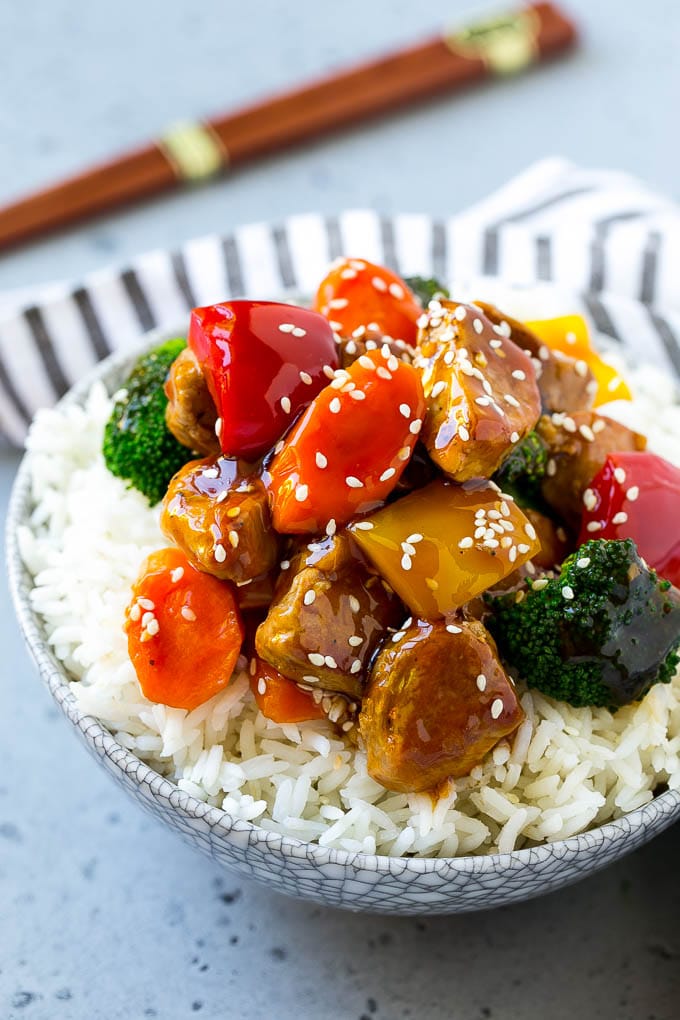 I think the reason I love making stir fry so much is because it's so easy, especially if you're having to throw a dinner together last minute. I usually just use whatever vegetables or meat I have on hand and always come out with great results. Pork stir fry is a delicious go-to dinner for any day of the week and I'll definitely be making it again soon. Serve your stir fry with steamed rice and greens tossed in Asian salad dressing for a memorable meal!
MORE STIR FRY RECIPES YOU'LL LOVE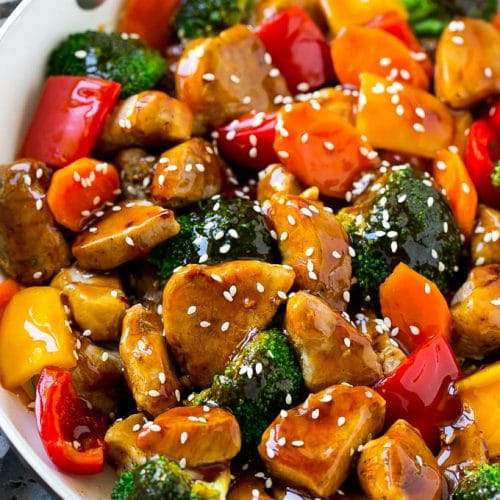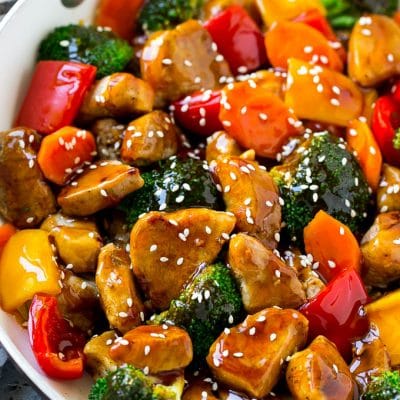 This teriyaki pork stir fry is pork tenderloin seared to perfection with colorful vegetables in a homemade teriyaki sauce. A fresh and healthy meal that's ready in just 30 minutes.
Ingredients
For the stir fry
1

tablespoon

vegetable oil

divided use

1

cup

broccoli florets

1/2

cup

carrots

thinly sliced

3/4

cup

bell peppers

cut into 1 inch pieces, I used red and yellow

1

pound

pork tenderloin

cut into 1 inch pieces or thinly sliced

1

teaspoon

ginger

minced

2

teaspoons

garlic

minced

1

tablespoon

sesame seeds

salt and pepper to taste
For the sauce
1/4

cup

soy sauce

1/2

cup

water

3

tablespoons

brown sugar

1

tablespoon

honey

1

teaspoon

toasted sesame oil

1

tablespoon

cornstarch
Instructions
Heat 1 teaspoon of the oil in a large pan over medium high heat. Add the broccoli, peppers and carrots, and cook for 4-6 minutes until softened and lightly browned. Season to taste with salt and pepper.


Remove the vegetables from the pan; place on a plate and cover with foil to keep warm.


Add the remaining 2 teaspoons of oil to the pan. Add the pork, then season with salt and pepper to taste. Cook, stirring occasionally, until the meat is browned and cooked through, 4-6 minutes.


Add the garlic and ginger to the pan and cook for 30 seconds.

While the pork is cooking, make the sauce. Place the soy sauce, water, brown sugar, honey and sesame oil in a small pot over medium high heat. Stir until sugar is dissolved, about 3 minutes. Turn up heat to high and bring to a boil.


Mix the cornstarch with 2 tablespoons of cold water until dissolved. Add the cornstarch mixture to the sauce and boil for 1-2 minutes or until sauce has thickened.


Add the vegetables back to the pan with the pork. Pour in the sauce and toss to coat. Sprinkle with sesame seeds, then serve.

Nutrition
Calories:
278
kcal
|
Carbohydrates:
21
g
|
Protein:
26
g
|
Fat:
9
g
|
Saturated Fat:
4
g
|
Cholesterol:
73
mg
|
Sodium:
493
mg
|
Potassium:
679
mg
|
Fiber:
1
g
|
Sugar:
15
g
|
Vitamin A:
3690
IU
|
Vitamin C:
57.4
mg
|
Calcium:
55
mg
|
Iron:
2.1
mg