These slow cooker pasta recipes are comfort food classics like stuffed shells, spaghetti and meatballs, chili mac and lasagna that are all made in the crock pot. These recipes are perfect for a family meal with minimal work required!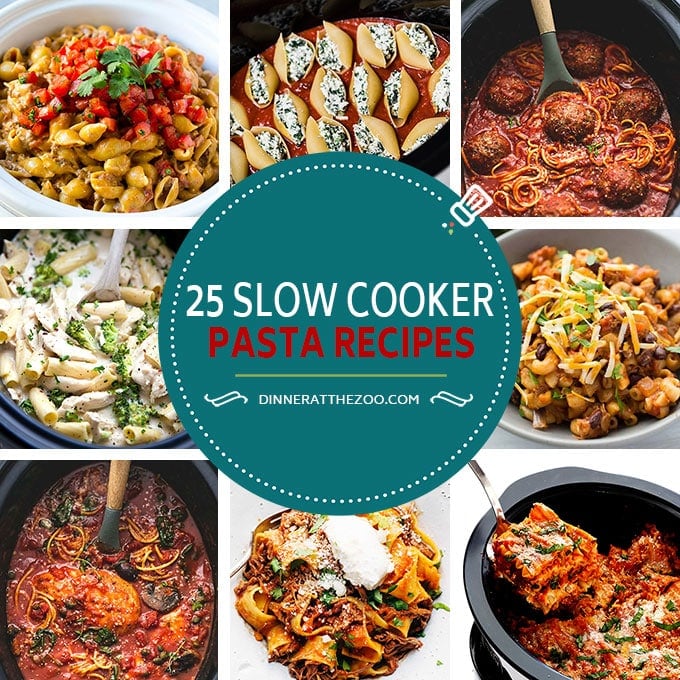 Busy days make deciding what to cook for dinner hard. Sports moms, dance moms, band moms, all types of moms know dinner time is a crazy time. Turn to your trusty crock pot to make dinner a breeze. Slow cooker pasta recipes are so simple and at times a lifesaver. We also love Slow Cooker Beef Stew on cooler nights.
Dinner time is often chaotic in my house! Each kid has something different going on and times are tight. This is just one reason why slow cooker pasta recipes are my favorite. I love that I can toss it all together that morning or afternoon and let it cook until we are ready to eat. No more rushing at meal time to decide what to have and then end up having cereal. Although I am sure my kids like having cereal, I'd just prefer they have something healthier and more filling!
What are your favorite slow cooker pasta recipes? I've listed 25 of the best crock pot pasta recipes to get you started. This could be almost an entire month's worth of dinner right here for you!
25 Scrumptious Slow Cooker Pasta Recipes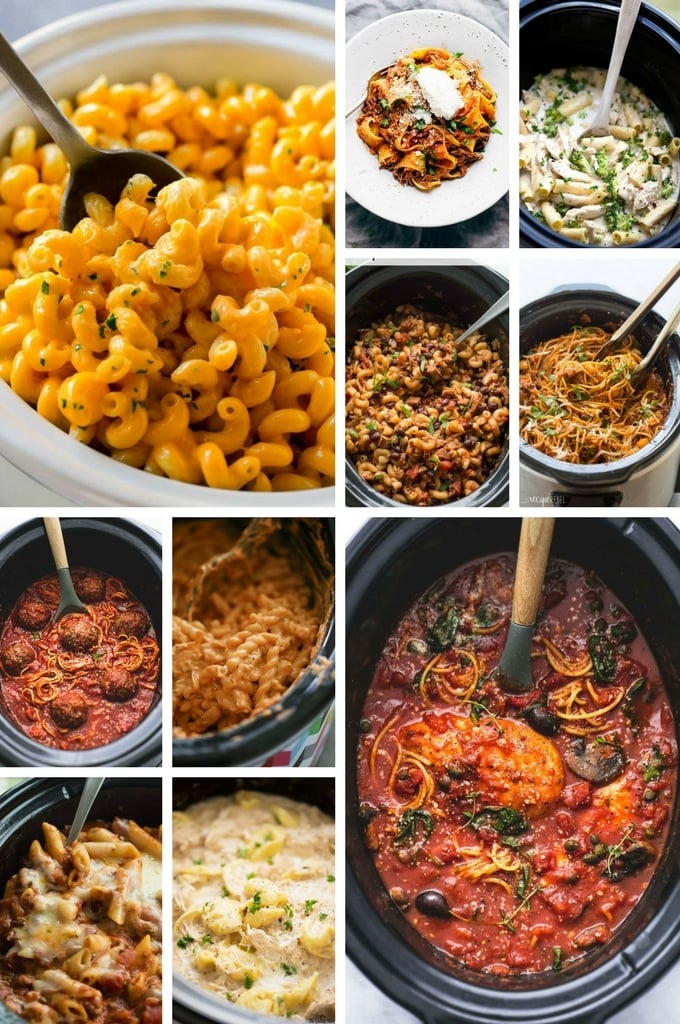 Crock Pot Chicken Alfredo Pasta
Can you boil pasta in a slow cooker?
Yes, you can cook pasta in a slow cooker. The key is to make sure the pasta is added at the end of the cook time so that it doesn't absorb too much liquid and get mushy. Typically pasta is added to the slow cooker about 15-20 minutes before the end of the cooking time.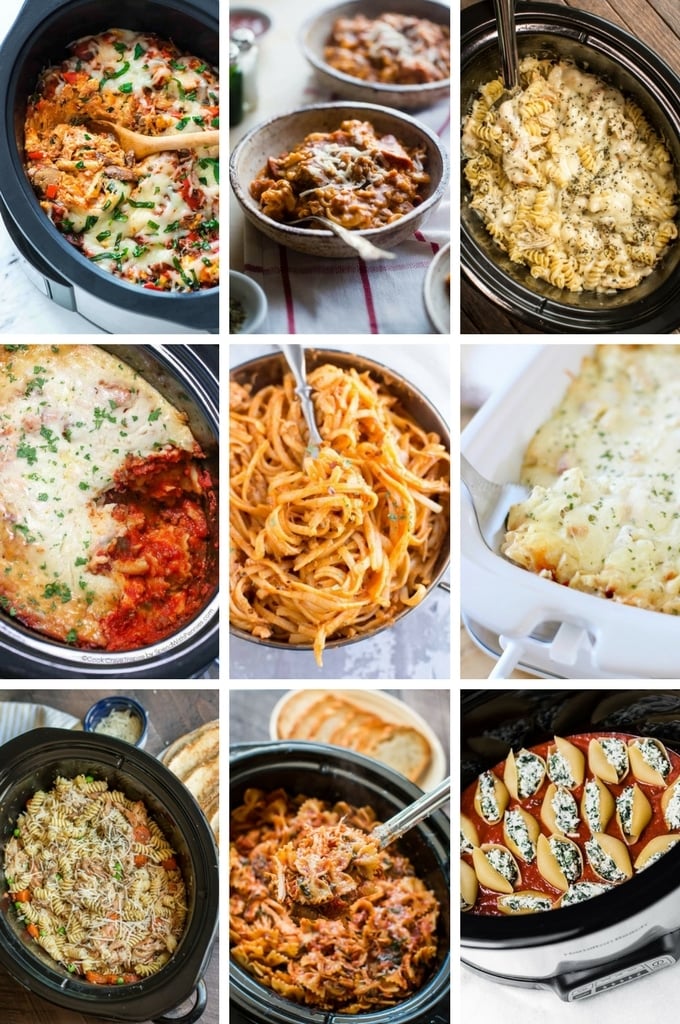 Can you cook pasta ahead of time?
You can make many of these slow cooker pasta recipes in advance and reheat them before you plan to serve. Garnishes such as fresh herbs should be added after reheating the pasta. You can reheat the pasta by warming it in a pan on the stove, or using a microwave. Alternatively, you can use the "keep warm" function on your slow cooker at the end of the cooking time.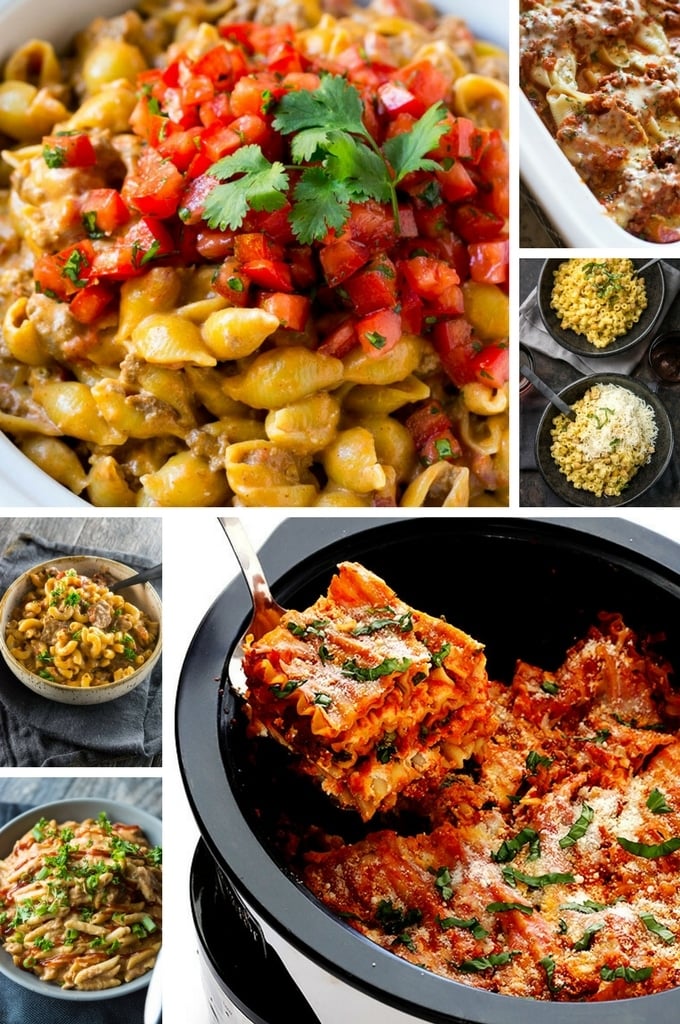 Slow Cooker Taco Pasta (Recipe below!)
This slow cooker taco pasta is a creamy and cheesy delight that tastes just like a taco! This is a real kid pleaser, my family requests it almost every week. You can serve your taco pasta as is, or top it with diced tomatoes, pico de gallo, diced avocado or sliced olives.
Slow Cooker Taco Pasta
Serves 4
Ingredients
2 teaspoons vegetable oil
1 lb ground beef I use 90% lean
1/2 cup finely diced onion
2 tablespoons taco seasoning
1 14-15 ounce can Mexican style diced tomatoes
4 ounces cream cheese cut into 1 inch pieces
8 ounces dry shell shaped pasta
2 cups shredded cheddar cheese
1 cup diced fresh tomatoes
2 tablespoons chopped cilantro
salt and pepper to taste
Instructions
Heat the oil in a large skillet over medium high heat. Place the onion and ground beef in the skillet and cook for 4-5 minutes, breaking up the meat with a spoon.
Place the meat, onions, 1 cup of water, taco seasoning and can of tomatoes into a slow cooker; stir thoroughly.
Cover the slow cooker and cook on low for 4 hours.
Cook the pasta in salted water according to package directions.
Uncover the slow cooker and add the cream cheese; stir until melted.
Add the pasta and cheddar cheese to the slow cooker and stir until well mixed.
Cover and cook on high for 10 minutes or until cheese is melted. Top with fresh tomatoes and cilantro, then serve.