This rack of lamb is coated with garlic and fresh herbs, then roasted in the oven until tender and juicy. The perfect recipe for any special occasion that takes just minutes to put together!
When I'm looking for a main course that I know will impress my guests, I turn to prime rib, beef tenderloin or this easy yet elegant rack of lamb recipe. It always gets rave reviews!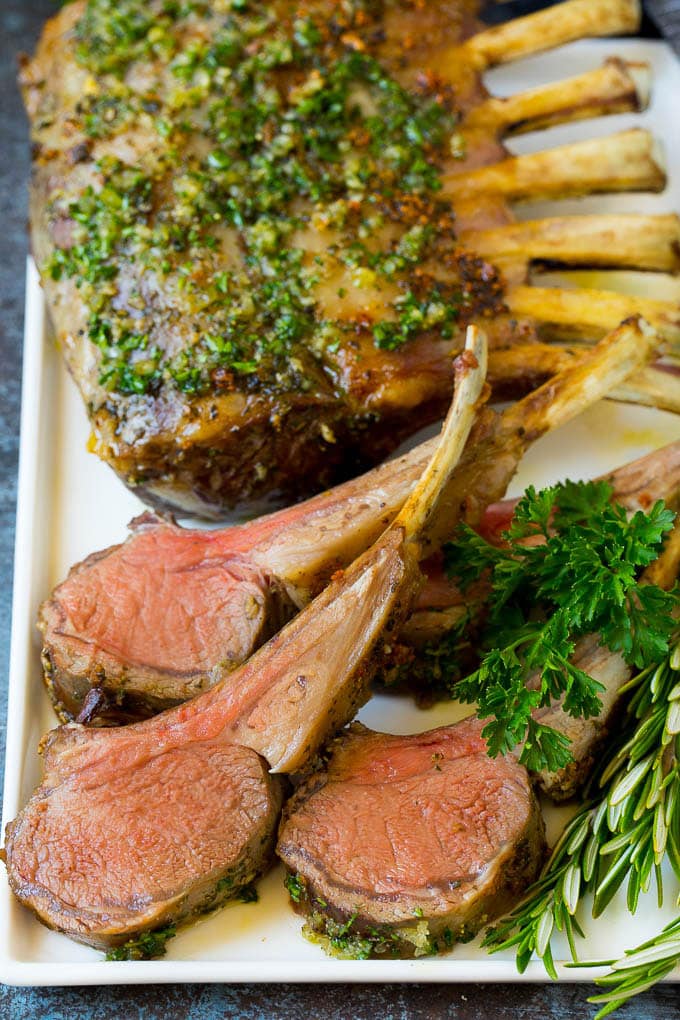 In my opinion, rack of lamb is an under utilized cut of meat. It's readily available, requires minimal prep time, and the end result is outstanding every time.
What part of the lamb is the rack of lamb?
The rack of lamb is the rib area of the lamb. Often times the ribs are cut into slices and served as lamb chops. The rack is the entire length of lamb chops, all in one piece. You can buy a full rack or a partial rack, depending on how many people you're looking to serve. A full rack typically consists of 8 ribs.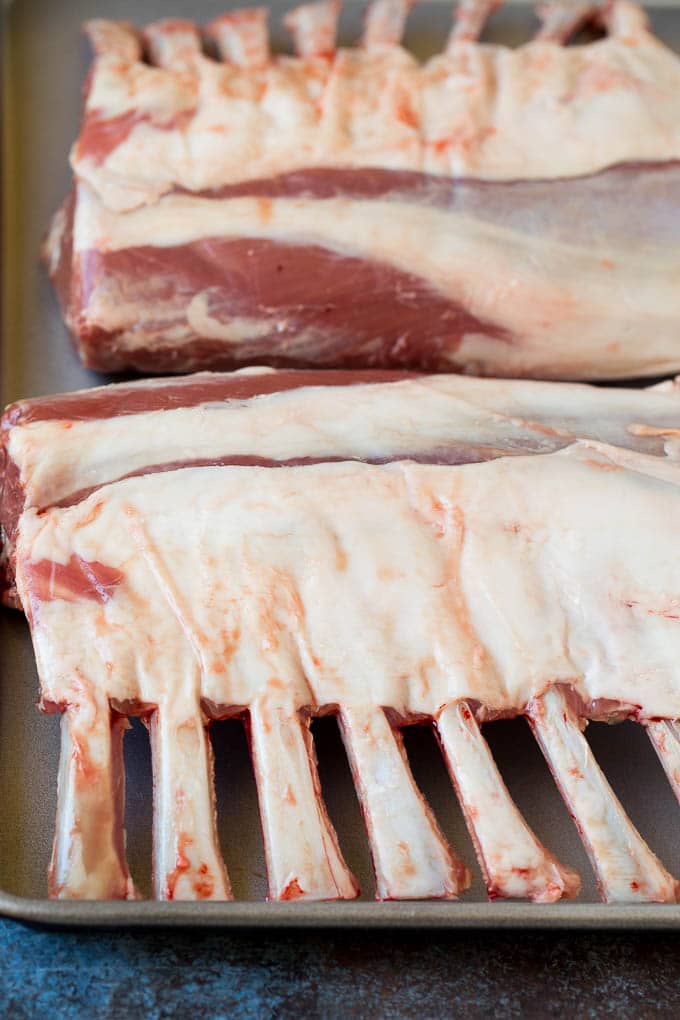 How do you make rack of lamb?
This recipe starts with fresh minced garlic, olive oil, and a blend of herbs including rosemary, parsley and thyme. The herb and garlic mixture is rubbed all over the lamb, then the lamb goes into the oven to bake to perfection. After the lamb has cooked, let it rest for 10 minutes, then slice and serve.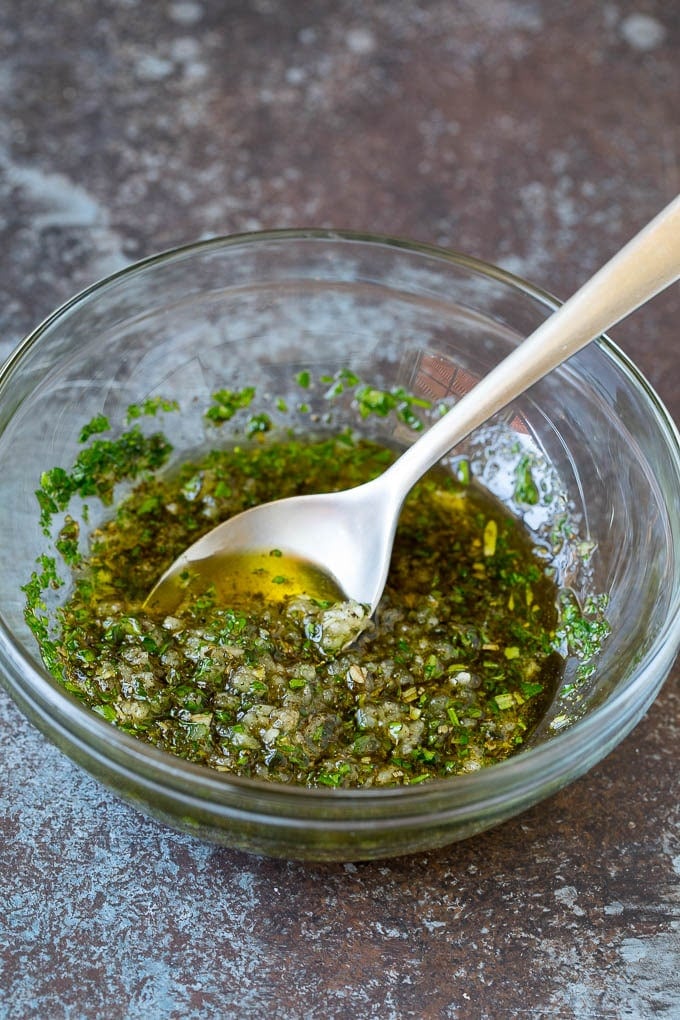 Tips for the perfect lamb
Make sure to ask your butcher to french the bones of your rack of lamb. This simply means that the butcher will scrape any fat away from the ends of the bones for a more elegant presentation. Wrap the bones in foil as the lamb roasts so that the bones don't burn.
The lamb should be brought room temperature before it goes into the oven, it will cook more evenly this way. Let your rack sit on the counter for about 30-45 minutes and you'll be ready to go.
Look for racks of lamb that are similar in size so that they'll cook at the same rate.
Each full rack serves about 2-3 people. This recipe calls for 2 racks, which will feed 4-6 people. You can easily double the recipe if you're looking to feed a larger crowd.
Fresh herbs taste best as the flavoring for this lamb, but dried herbs will work in a pinch. Use 1/3 of the amount of dried herbs as you would use for fresh.
Be sure to use a thermometer to make sure that your lamb is cooked to the appropriate temperature. I like to use an electronic probe thermometer with a remote so that I can continually monitor the progress of the meat while it's in the oven.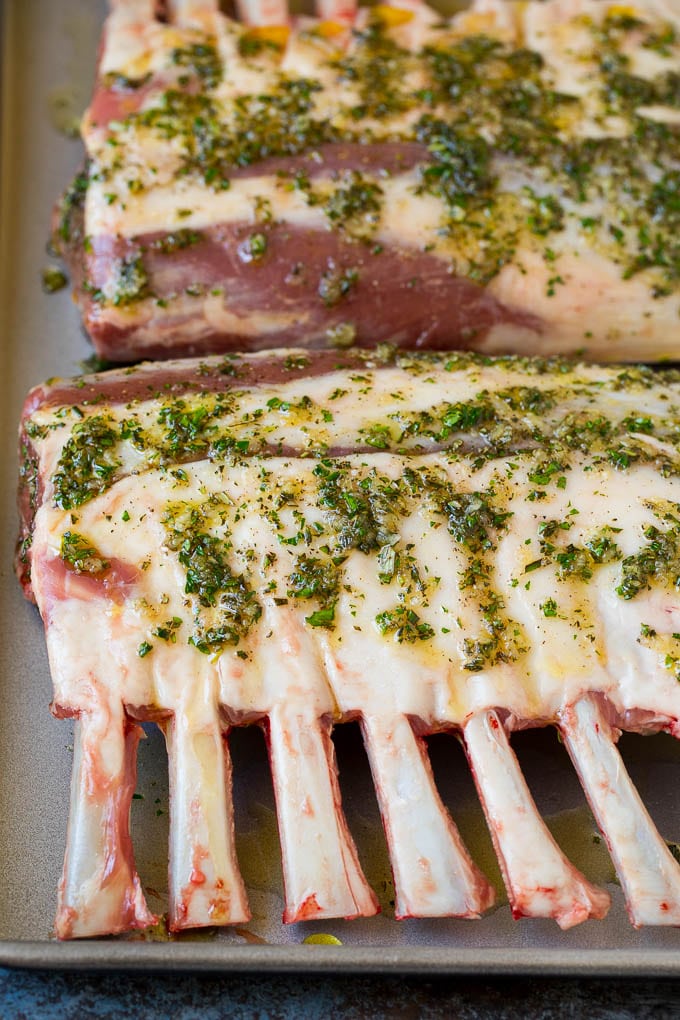 Lamb temperatures
Lamb is the most juicy and tender when served at medium-rare or medium temperatures. However, you can cook your lamb to your desired level of doneness by adhering to the following temperatures. Be sure to take your lamb out of the oven when it's 5 degrees below your level of doneness, as the lamb will continue to cook as it rests.
Rare: 115-120 degrees F
Medium-Rare: 120-125 degrees F
Medium: 130-135 degrees F
Medium-Well: 140-145 degrees F
Well Done: 150-155 degrees F
Rack of lamb cooking time
It typically takes about 20-30 minutes to cook a rack of lamb. This assumes a cooking temperature of 450 degrees F where the meat is cooked to medium rare. The absolute best way to gauge when your lamb is done is to use a thermometer.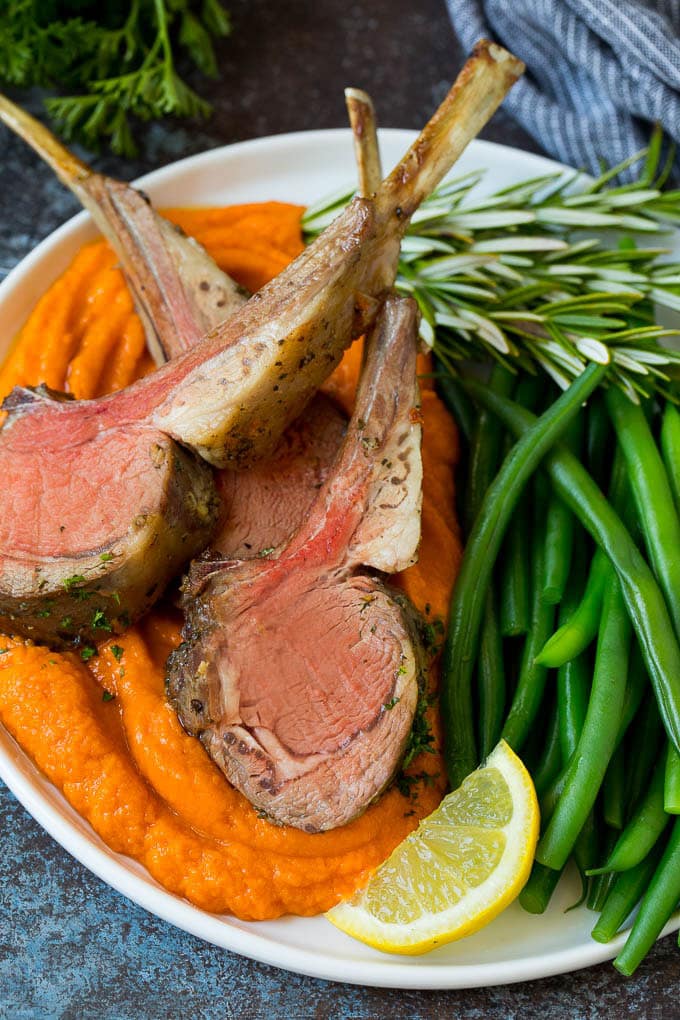 Once you try this delicious lamb recipe, you'll find yourself making it for every occasion! It's elegant, simple to prepare and is a total crowd pleaser.
More delicious main course options
Rack of Lamb Video
Rack of Lamb with Garlic and Rosemary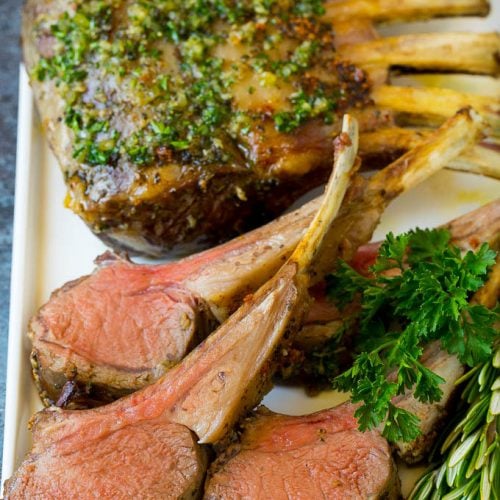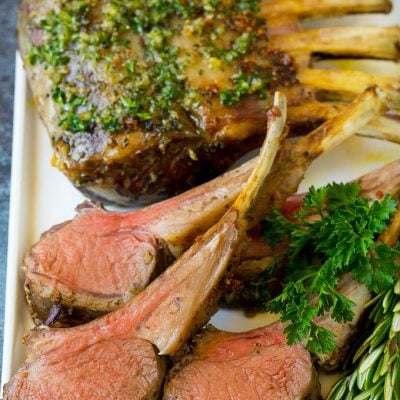 This rack of lamb is coated with garlic and fresh herbs, then roasted in the oven until tender and juicy. The perfect recipe for any special occasion that takes just minutes to put together!
Ingredients
2

racks of lamb

8 bones each, frenched

3

tablespoons

olive oil

1

tablespoon

garlic

minced

2

tablespoons

fresh rosemary leaves

minced

1

tablespoon

thyme leaves

minced

1

tablespoon

parsley leaves

minced, plus more for garnish

salt and pepper to taste

cooking spray
Instructions
Preheat the oven to 450 degrees F. Line a sheet pan with foil and coat the foil with cooking spray.

Place the olive oil, garlic, rosemary, thyme, parsley and salt and pepper in a bowl. Stir to combine.

Rub the olive oil mixture all over both racks of lamb. Let the lamb sit at room temperature for 30-45 minutes.

Bake for 20-25 minutes or until a thermometer inserted into the thickest part of the meat registers 120 degrees F (for medium rare meat).

Remove the racks from the oven. Cover with foil and let rest for 10 minutes, or until the thermometer registers 125 degrees F.

Slice the lamb in between the bones. Sprinkle with additional parsley, then serve.
Nutrition
Calories:
482
kcal
|
Carbohydrates:
1
g
|
Protein:
24
g
|
Fat:
24
g
|
Saturated Fat:
16
g
|
Cholesterol:
126
mg
|
Sodium:
94
mg
|
Potassium:
321
mg
|
Fiber:
1
g
|
Sugar:
1
g
|
Vitamin A:
131
IU
|
Vitamin C:
3
mg
|
Calcium:
34
mg
|
Iron:
3
mg