These lobster tails are coated in garlic butter then broiled to tender perfection. A super simple, yet elegant way to enjoy lobster in the comfort of your own home!
Lobster is the ultimate indulgence, and while it may seem intimidating, it's actually quite easy to prepare. Serve your lobster tail with mashed potatoes and roasted broccoli for a fabulous meal that will earn you tons of rave reviews.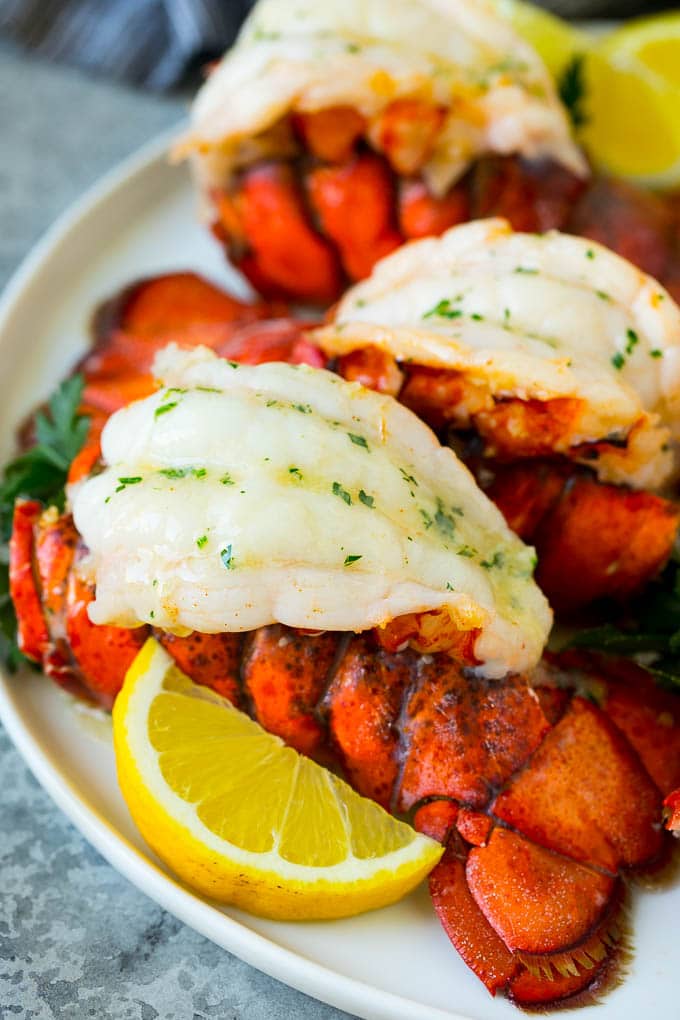 Lobster is the perfect main course for a special occasion, but many people think it can be difficult to prepare. These broiled lobster tails contain minimal ingredients and can be expertly prepared by any home cook.
How to butterfly a lobster tail
You don't have to butterfly a lobster tail to cook it, but it makes for a much more elegant presentation and is easier to eat that way, so I highly recommend it! The first step is to cut down the back of each lobster tail. I find this works best with a pair of sharp kitchen shears. Carefully pull apart the shell and place your fingers underneath the meat to gently pull it up in one piece. You want to keep the meat still attached at the bottom. Place the lobster tail meat on top of each shell, then close the shell around the bottom of the meat. When the the lobster cooks, it will expand into that pretty fan shape that you often see when you order lobster at a restaurant.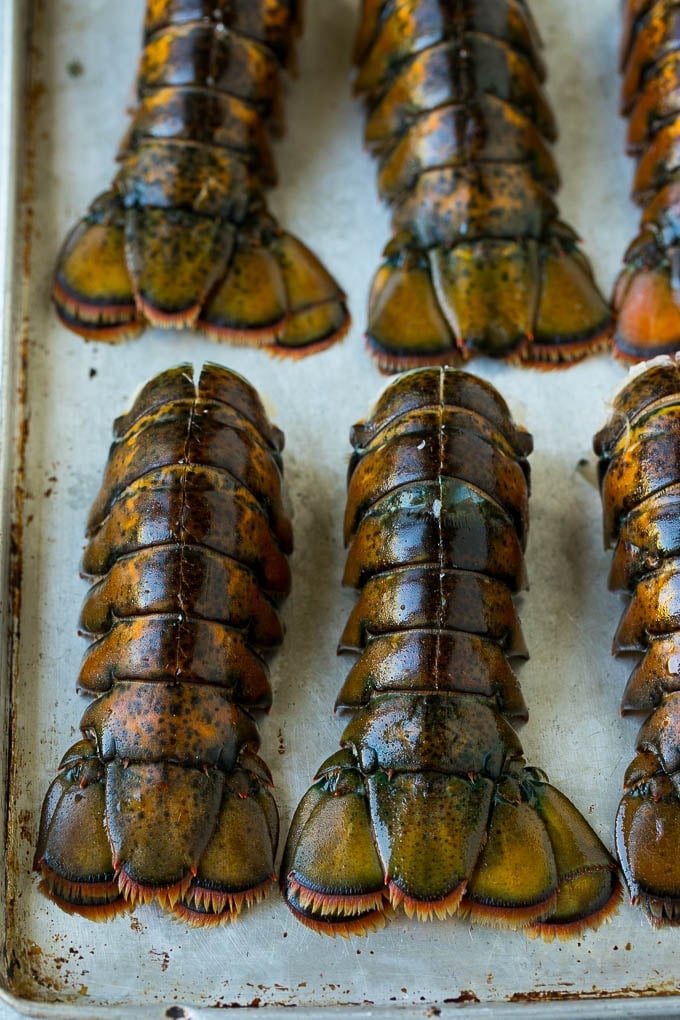 How to cook lobster tail
This recipe starts with a seasoned garlic butter mixture, which is brushed all over the lobster meat. The lobster tails go into the oven to broil until the meat is opaque and just cooked through. Be careful not to overcook your lobster or it can get tough! I brush more of the garlic butter mixture over the lobster after it's cooked, then it's time to serve and enjoy.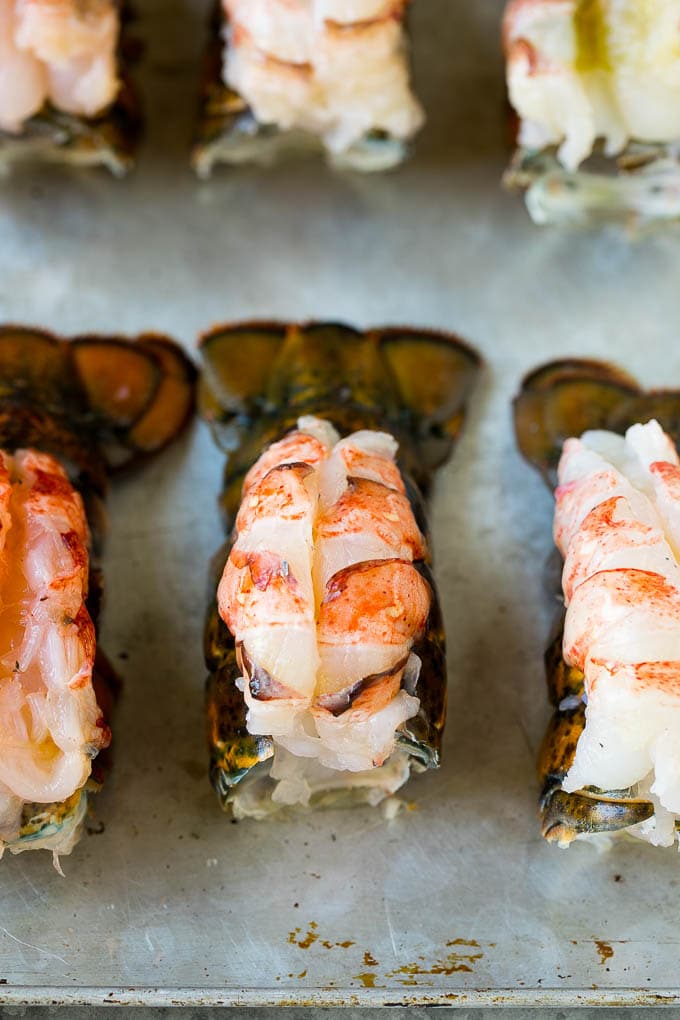 How long do you bake a lobster tail?
Typically lobster tails cook through in about 10 minutes under the broiler. If you have larger than average tails, it may take up to 15 minutes. For small tails, it could take as little as 6-8 minutes. I start checking my lobster tails around the 8 minute mark, and if it looks like the meat is still translucent, I add a few minutes more to the kitchen timer.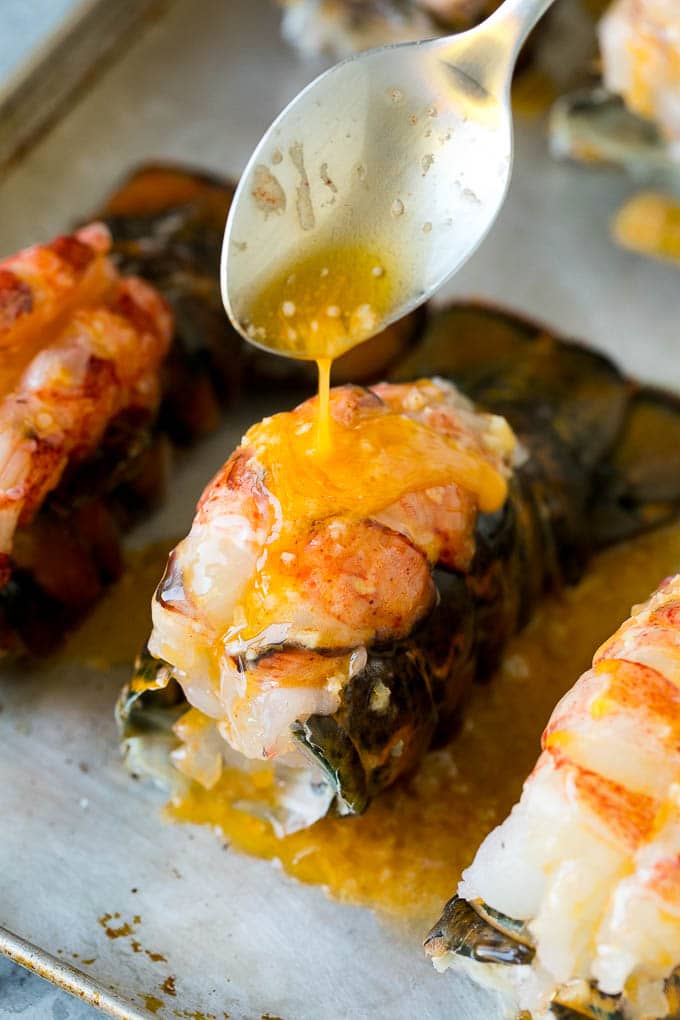 Tips for broiled lobster tails
You can use any type of lobster for this recipe. I've used Maine lobster, but you can use a warm water spiny lobster if you prefer.
I recommend serving lobster immediately after it comes out of the oven. Lobster can get tough when reheated.
Serve your lobster with lemon wedges and fresh parsley for garnish, you can also add more melted butter on the side for dipping.
If you have leftover lobster, chop it up and make some lobster mac and cheese!
If you're making this dish for company, you can butterfly your lobster tails earlier on in the day. That way, all you have to do before dinner is brush on the butter and cook your tails.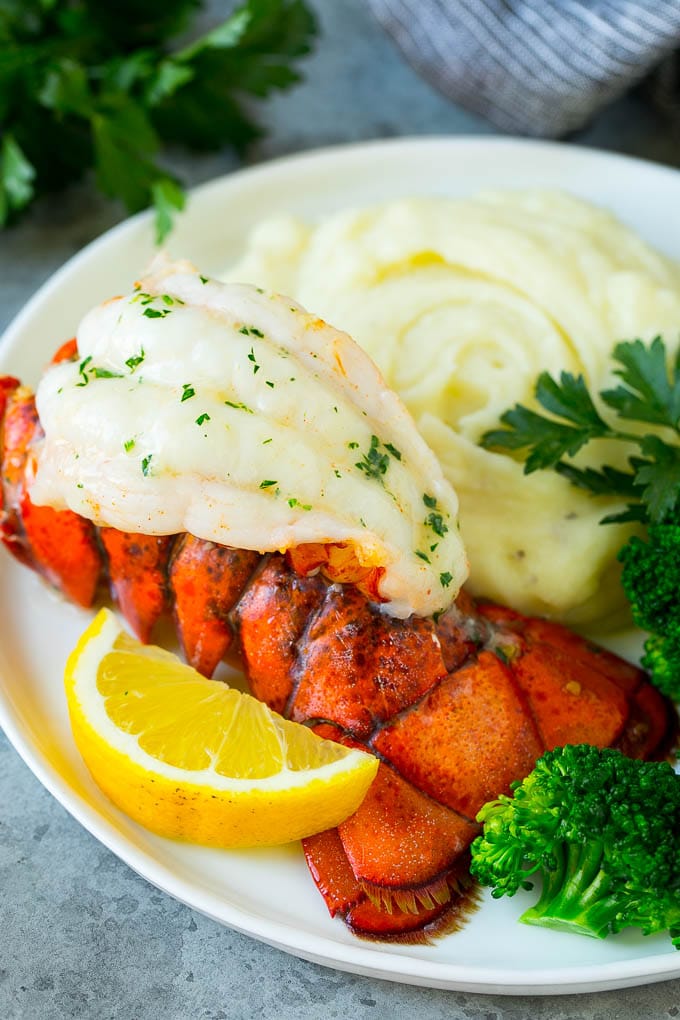 What to serve with lobster tails
I like to serve a starch and a vegetable alongside my lobster for a complete meal.
You can NEVER go wrong with lobster, and this simple preparation really lets the fresh flavors shine through. It's a practically fool proof way to enjoy this fabulous seafood!
Lobster Tail Video
Lobster Tails with Garlic Butter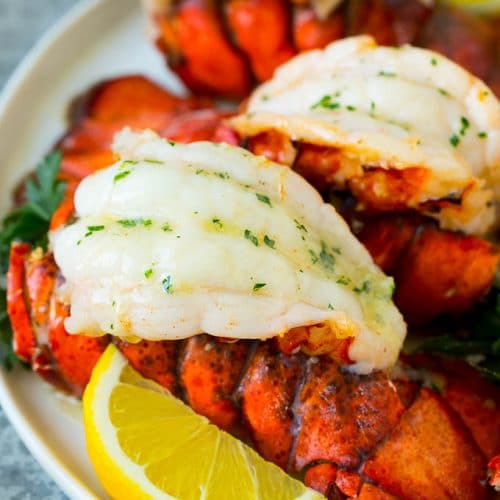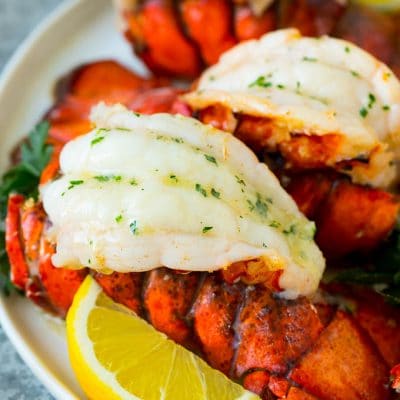 These lobster tails are coated in garlic butter then broiled to tender perfection. A super simple, yet elegant way to enjoy lobster in the comfort of your own home!
Ingredients
6

lobster tails

butterflied (see text for instructions)

5

tablespoons

butter

1/2

teaspoon

minced garlic

1

tablespoon

minced parsley

plus more for garnish

1/4

teaspoon

paprika

1/4

teaspoon

salt

cooking spray

lemon wedges
Instructions
Preheat the broiler. Coat a sheet pan with cooking spray and arrange the lobster tails on the pan.

Place the butter, garlic, parsley, paprika and salt in a small bowl. Microwave in 20 second increments until butter is melted. Stir to combine.

Drizzle half of the butter mixture over the lobster tails.

Broil for 10 minutes or until lobster meat is opaque.

Microwave the reserved butter mixture for 10-20 seconds to warm it back up. Brush the butter over the cooked lobster.

Sprinkle with additional parsley for garnish and serve with lemon wedges on the side.
Nutrition
Calories:
132
kcal
|
Protein:
10
g
|
Fat:
9
g
|
Saturated Fat:
6
g
|
Cholesterol:
105
mg
|
Sodium:
447
mg
|
Potassium:
126
mg
|
Vitamin A:
335
IU
|
Calcium:
56
mg
|
Iron:
0.2
mg
This post was originally published on July 16, 2019 and was updated on February 13, 2020 with new content.