This chicken shawarma is tender chicken thighs coated in a flavorful marinade, then grilled or roasted to golden brown perfection. Slice the chicken and serve it with flatbread for a hearty and delicious meal.
When I'm looking to turn plain chicken thighs into something extraordinary, I make cilantro lime chicken thighs, slow cooker honey garlic chicken, or this super flavorful chicken shawarma.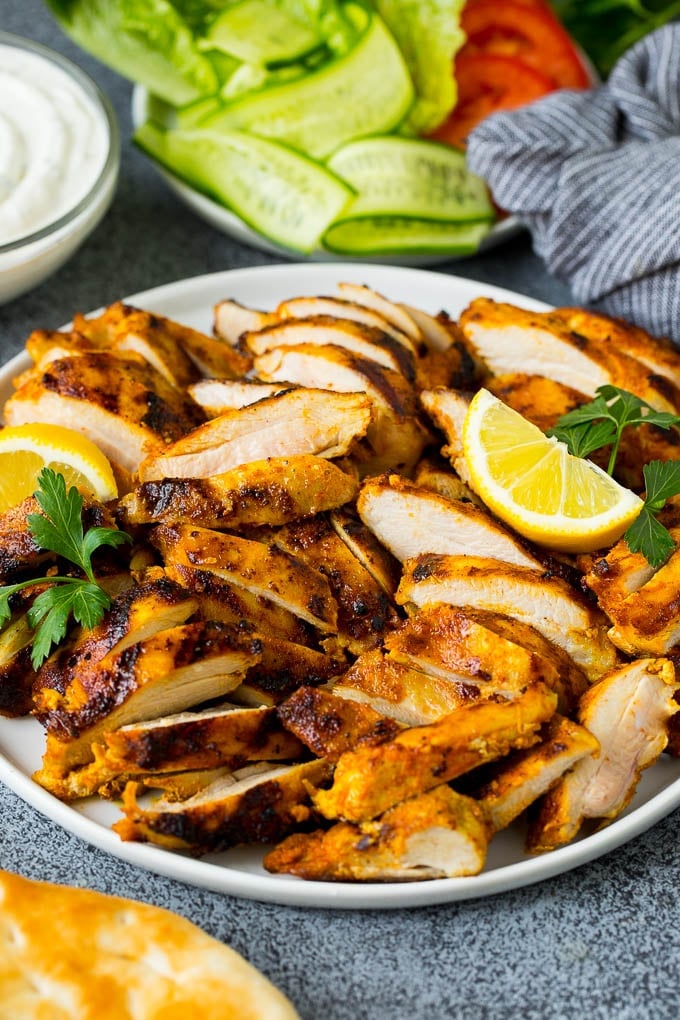 Whenever I go to my local Mediterranean restaurant, I order the chicken shawarma. It's got tons of flavor, is always perfectly tender, and works so well in sandwiches, salads and rice bowls. My homemade version is as good as what you'd get at a restaurant, and it also happens to be quite easy to make!
What is chicken shawarma made of?
Shawarma is meat that is marinated in olive oil and spices, then traditionally cooked vertically on a spit. The meat is sliced off the spit, then served as-is, or is sometimes pan-fried for a crispier texture. In this case, we're using the same great marinade that you'd get a restaurant, but are cooking the chicken on the grill or in the oven, since a spit is not practical for home use!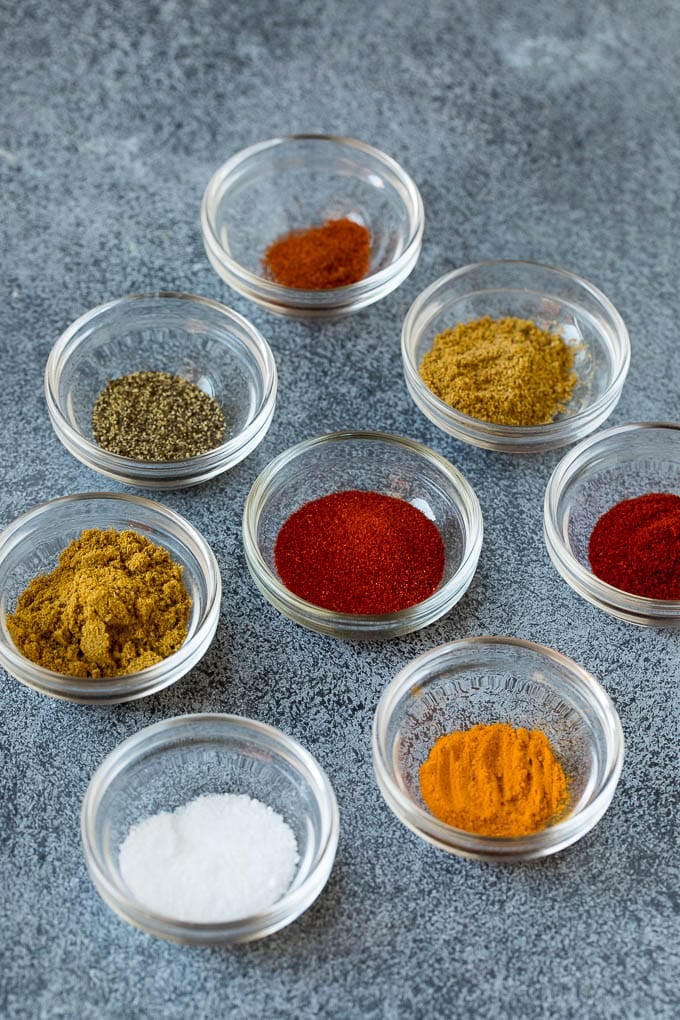 How do you make chicken shawarma?
Make a marinade by mixing together lemon juice, olive oil, garlic and a variety of spices. Place boneless skinless chicken thighs in the marinade, then let the chicken marinate for at least one hour, or up to 24 hours. Remove the chicken from the marinade, and grill or bake it. Slice the meat, then serve it. If you prefer a crispier texture, you can take the sliced meat and cook it in a pan until the cut surfaces are browned.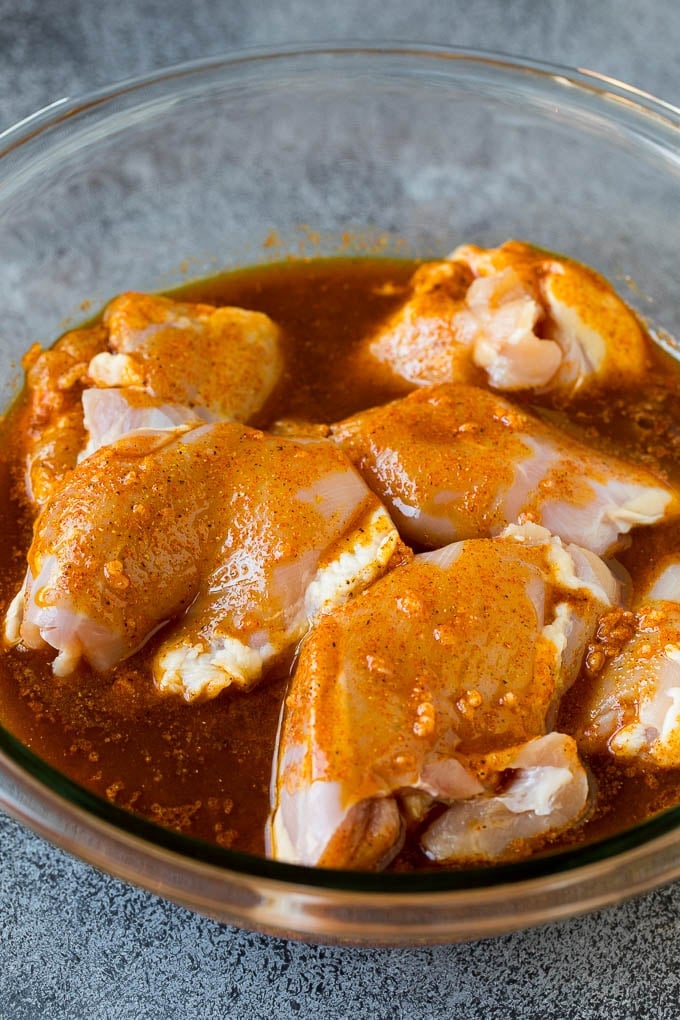 Tips for the perfect shawarma
I highly recommend using chicken thighs for this recipe, as they have more flavor and are less likely to dry out. That being said, I've also made this recipe with chicken breasts with good results. You can even use other meats such as steak or lamb with the same marinade.
You can freeze the uncooked chicken in a bag full of marinade. Thaw the bag in the fridge, then cook according to recipe directions.
This dish will stay fresh in the fridge for up to 4 days, which makes it great for meal prep.
I prefer to cook my chicken on the grill because it imparts more of a smoky flavor. I either grill the meat outdoors on a charcoal grill, or cook it inside on a stove top grill pan.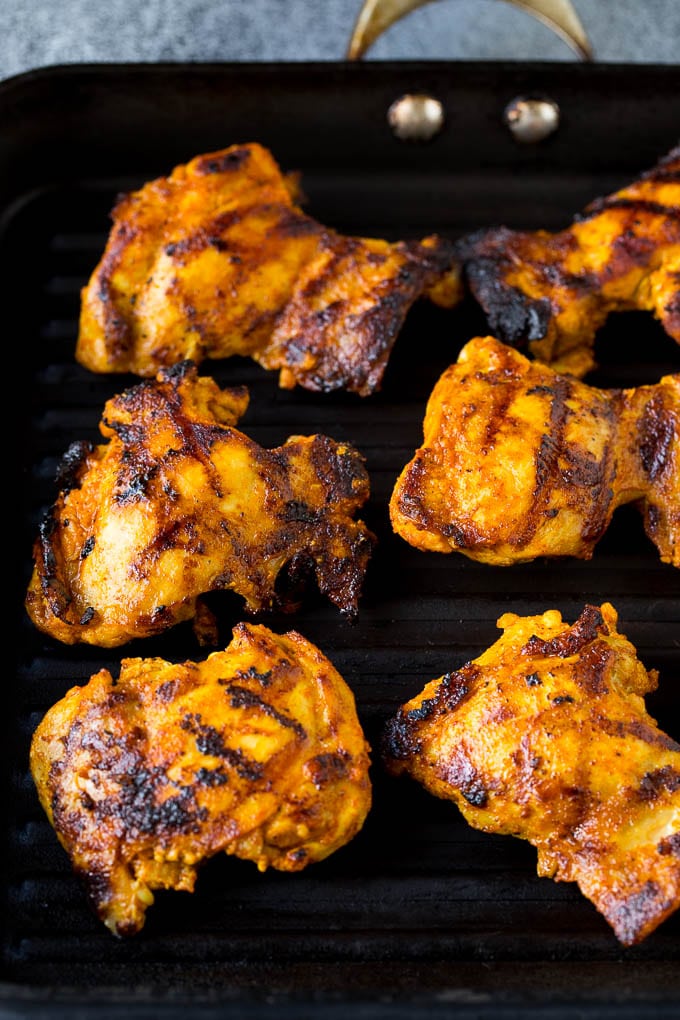 Chicken shawarma sauce
Chicken shawarma is often served with a creamy sauce, such as tahini sauce or yogurt sauce. You can add flavor to store bought tahini by adding lemon juice, salt, pepper and freshly chopped herbs. Make a simple yogurt sauce by combining 1 cup of plain Greek yogurt with 1 tablespoon olive oil, 1/2 teaspoon minced garlic, salt, pepper, 1/2 teaspoon cumin, 1 tablespoon chopped parsley and 2 teaspoons lemon juice.
What is the difference between a gyro and shawarma?
The biggest difference between gyro and sharwarma is that gyro is always made with either beef, pork, lamb or a combination of the meats. Shawarma can be made with any type of meat and is often made with chicken. Shawarma meat contains more spices and flavorings than gyro meat. Gyro is often served in sandwich form, whereas shawarma can be served as a bowl and often contains more toppings and sauce than gyros.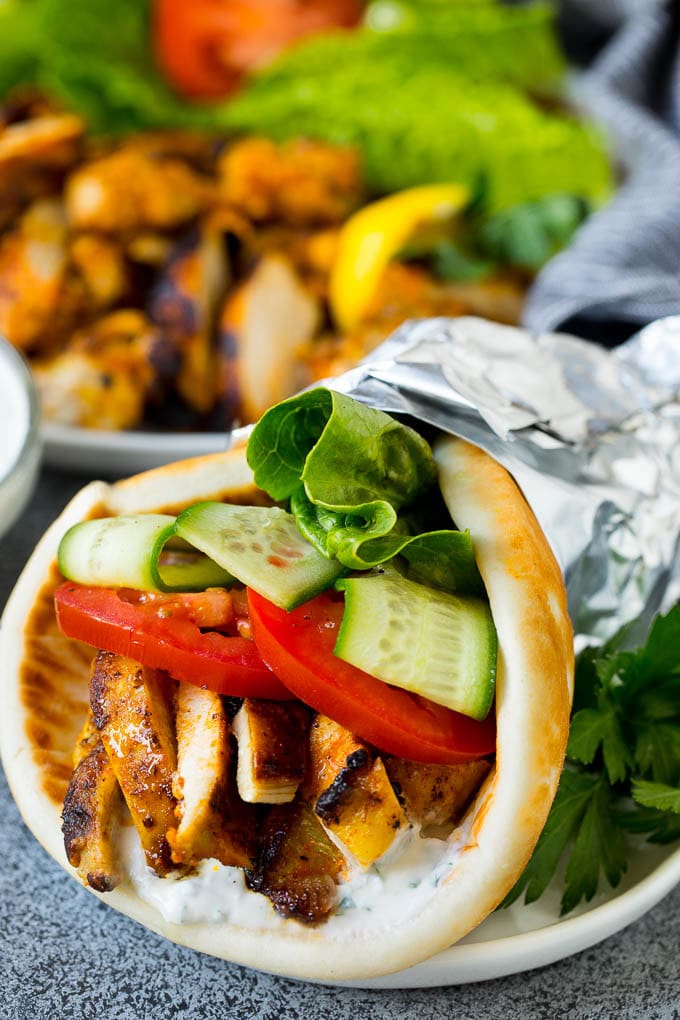 I absolutely adore the bold flavors in this dish, and I love to put out a big plate of the sliced chicken along with plenty of bread and toppings, so that everyone can make their own creations!
More delicious ways to enjoy chicken
Chicken Shawarma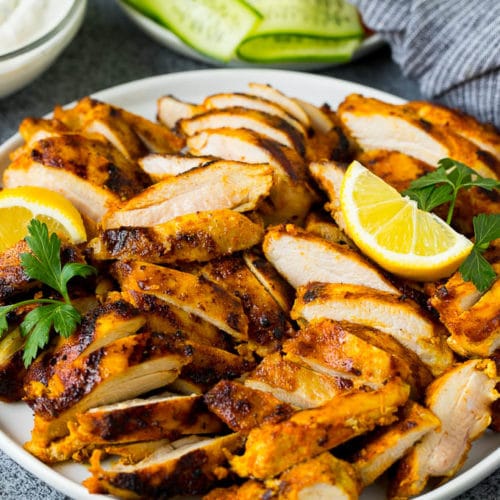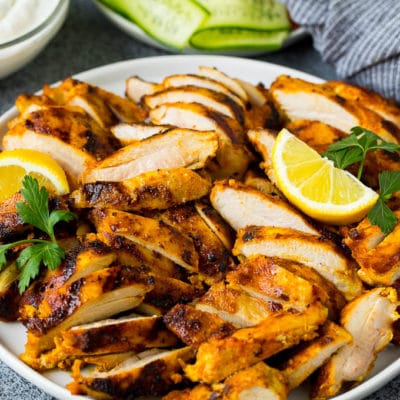 This chicken shawarma is tender chicken thighs coated in a flavorful marinade, then grilled or roasted to golden brown perfection. Slice the chicken and serve it with flatbread for a hearty and delicious meal.
Ingredients
2

pounds

boneless skinless chicken thighs

1/2

cup

olive oil

1/2

cup

lemon juice

1

tablespoon

garlic

minced

2

teaspoons

kosher salt

1

teaspoon

ground black pepper

2

teaspoons

ground cumin

1

teaspoon

ground coriander

1

teaspoon

sweet paprika

1

teaspoon

smoked paprika

1/4

teaspoon

cayenne pepper

1/2

teaspoon

turmeric powder

1/8

teaspoon

ground cinnamon

Flatbread, tomatoes, lettuce and cucumber for serving

Yogurt or tahini sauce for serving

Refer to the post text for the recipes
Instructions
Place the olive oil, lemon juice, garlic, salt, black pepper, cumin, coriander, sweet paprika, smoked paprika, cayenne pepper, turmeric and cinnamon in a bowl. Whisk to combine.

Add the chicken to the bowl and spoon the marinade over the top.

Marinate for at least 1 hour or up to 24 hours.

Grilling Instructions: Preheat a grill or indoor grill pan over medium high heat. Add the chicken. Grill for 5-6 minutes per side or until cooked through.

Baking Instructions: Preheat the oven to 425 degrees F. Place the chicken thighs on a sheet pan coated with cooking spray. Bake for 30-35 minutes or until cooked through.

Slice the chicken. If you'd like, you can heat an additional tablespoon of olive oil over medium high heat in a large pan, and add the sliced chicken to crisp it up.

Serve the chicken with sauce, flatbread, lettuce, tomatoes and cucumber.
Nutrition
Calories:
303
kcal
|
Carbohydrates:
3
g
|
Protein:
30
g
|
Fat:
20
g
|
Saturated Fat:
4
g
|
Cholesterol:
144
mg
|
Sodium:
712
mg
|
Potassium:
418
mg
|
Fiber:
1
g
|
Sugar:
1
g
|
Vitamin A:
408
IU
|
Vitamin C:
8
mg
|
Calcium:
25
mg
|
Iron:
2
mg