This Hunan chicken is thinly sliced chicken breast with mixed vegetables in a savory and spicy sauce. A remake of the restaurant favorite that you can enjoy in the comfort of your own home.
I love to make Chinese food at home, some of our top picks include homemade egg rolls, sweet and sour chicken and this fresh and delicious Hunan chicken.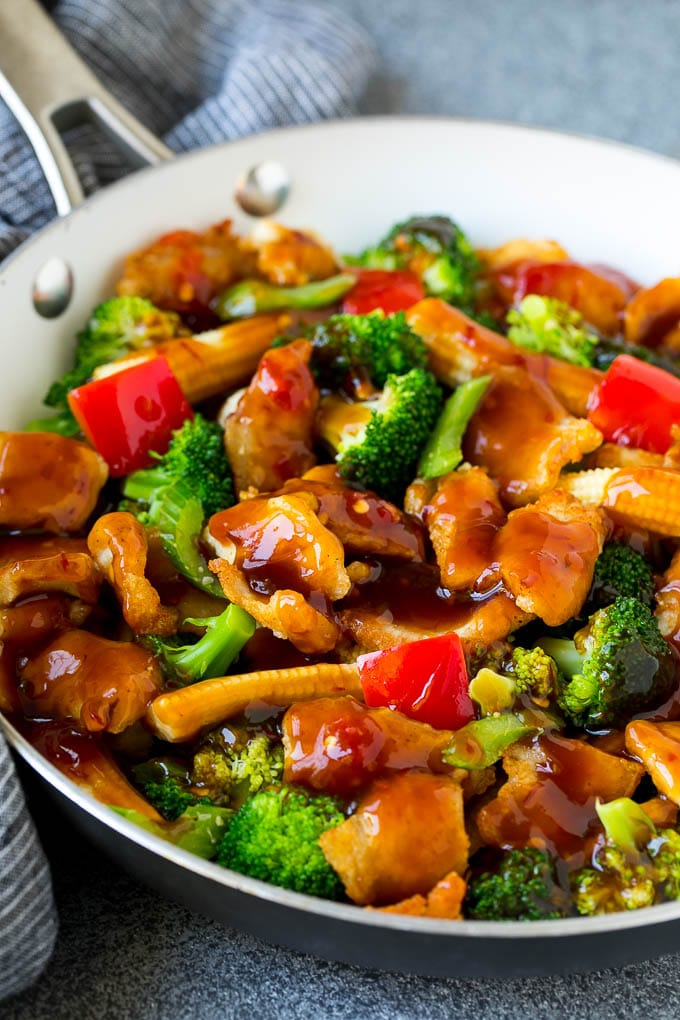 Whenever I go to my local Chinese restaurant, I have to order the Hunan chicken. The combination of seared chicken, colorful veggies and spicy sauce just can't be beat! This homemade version is actually quite simple to make; serve it over steamed rice and watch the rave reviews come in!
What is Hunan chicken?
Hunan chicken is a dish from the Hunan province of China. This region is known for their use of chili peppers and tart flavors. Hunan chicken is a delicious stir fry that incorporates the hot and sour flavors of the Hunan region in the sauce and uses plenty of delicious veggies. It is perfect for for a weeknight meal at home or a dish to share with friends. The best part is that with this recipe you can control the spice level by adding as much chili paste as you like.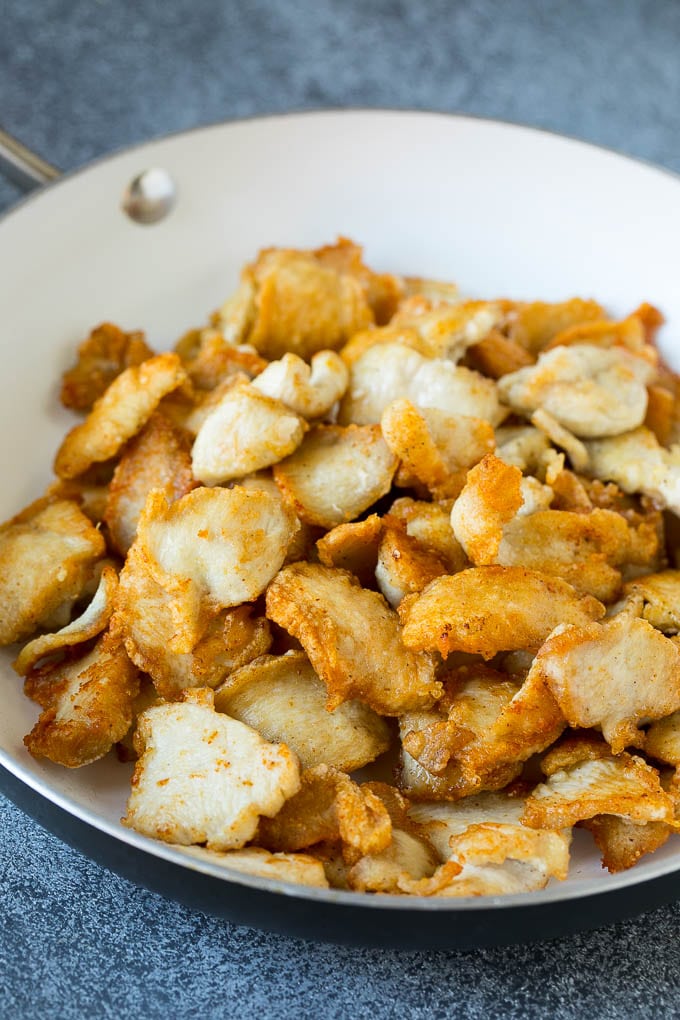 How do you make Hunan chicken?
This dish starts with thinly sliced chicken breast, which is coated in cornstarch and pan seared to golden brown perfection. After the chicken is cooked, a variety of vegetables go into the pan including broccoli, bell peppers and baby corn. A simple sauce of chicken broth, oyster sauce, chili paste, honey and soy sauce is poured over the chicken and veggies, and everything is simmered together until thickened. Serve immediately, and enjoy!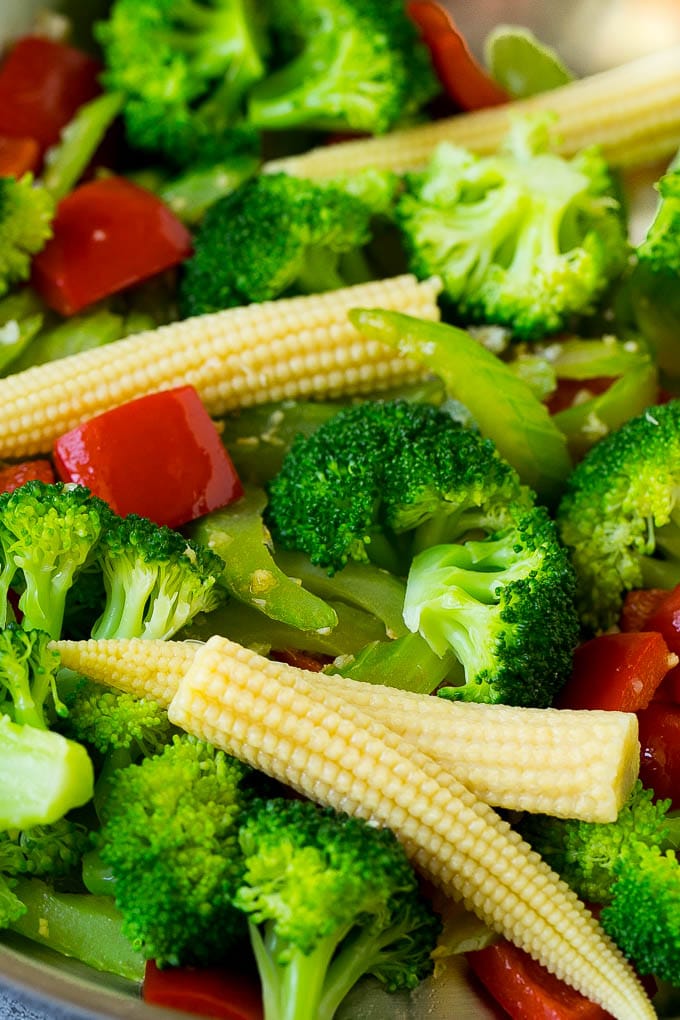 Tips for Hunan chicken
Freeze your chicken breast for 20-30 minutes to firm it up, this will make it much easier to cut thin slices.
You'll want to cook the chicken in batches, if you overcrowd the pan, the chicken will steam instead of sear.
You can make this dish as spicy as you like. The recipe is written with 2 teaspoons of chili paste, which is a medium heat level. If you prefer a spicier stir fry, add another teaspoon of chili paste to the sauce.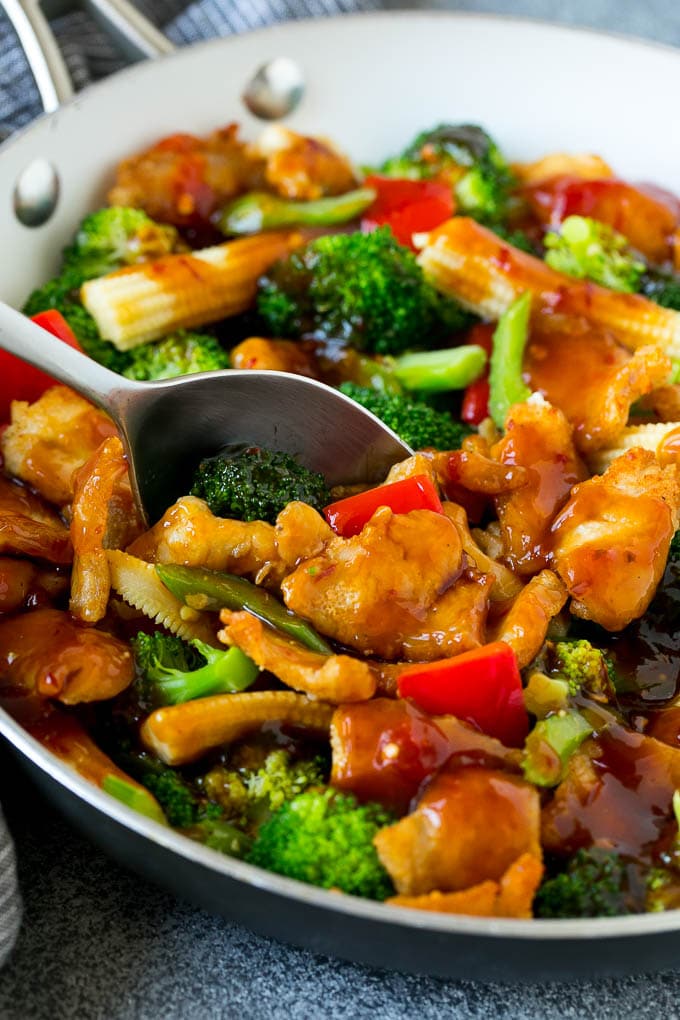 What is the difference between Hunan chicken and Szechuan chicken?
Szechuan cuisine comes from the Sichuan province to the west of the Hunan province. Both Hunan and Szechuan cuisine are known to be spicy. Hunan cuisine gets its spice from fresh chilies or chili paste. Szechuan cuisine gets it spice from dried chili peppers, but also Sichuan peppers. Szechuan cuisine often also contains a lot of garlic and onion flavors. Hunan cuisine is heavy on vegetables while Szechuan cuisine often contains nuts like peanuts or cashews or seeds like sesame seeds.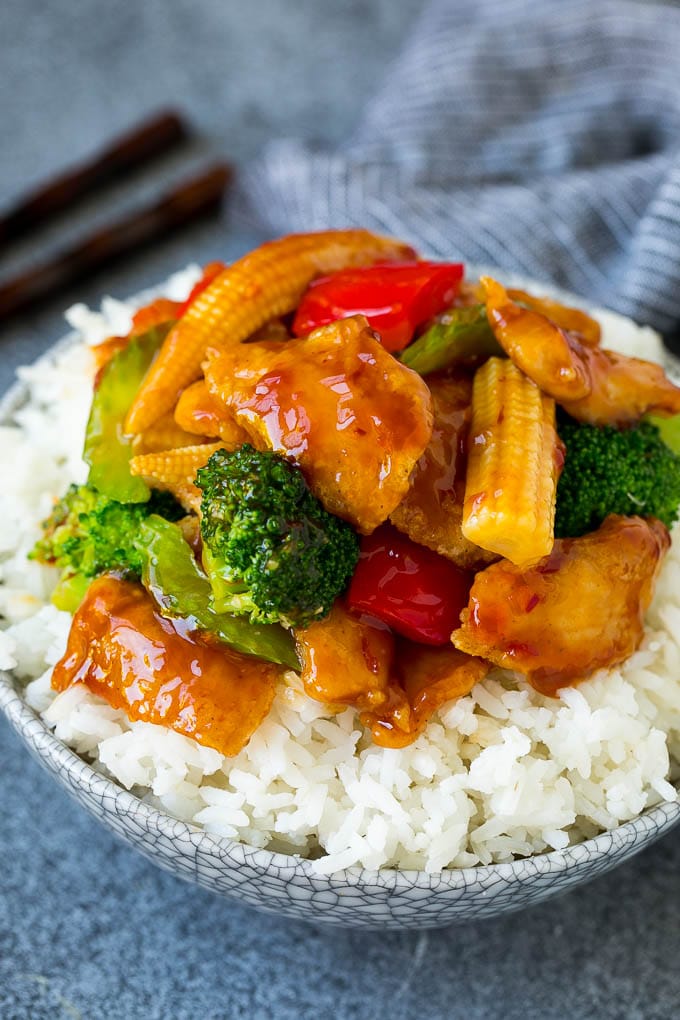 Chicken Stir Fry variations
This Hunan chicken is vibrant and delicious; however, you can make changes to suit your taste.
Vegetables: You can use any vegetables you like such as carrots, onions, mushrooms, zucchini or eggplant.
Meat: You can make this recipe with thinly sliced beef or pork.
Nuts: While not traditional, a handful of cashews, almonds or peanuts adds a nice crunch to this stir fry.
Hunan chicken is a delicious way to enjoy stir fry that is full of fresh veggies with a spicy kick. This recipe is so good, you won't need to bother with take out!
More great Asian dishes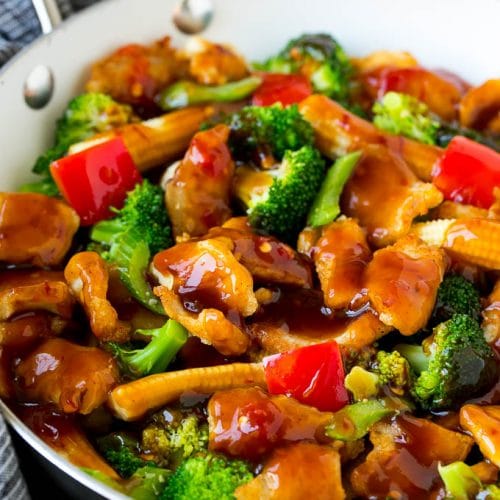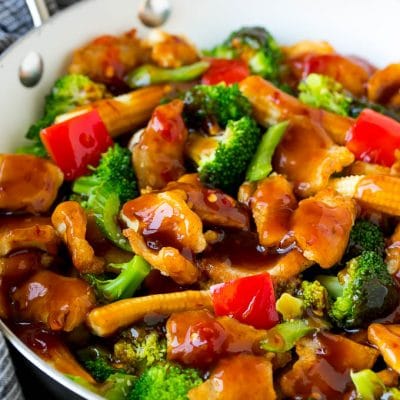 This Hunan chicken is thinly sliced chicken breast with mixed vegetables in a savory and spicy sauce. A remake of the restaurant favorite that you can enjoy in the comfort of your own home.
Ingredients
2

tablespoons

vegetable oil

1

pound

boneless skinless chicken breasts

thinly sliced

1/4

cup

+ 2 teaspoons cornstarch

divided use

salt and pepper to taste

1

cup

broccoli florets

1/2

cup

celery

thinly sliced

1

red bell pepper

cored, seeded and diced

1

cup

canned baby corn

drained and halved

1 1/2

teaspoons

minced garlic

1/2

cup

chicken broth

2

tablespoons

soy sauce

2

tablespoons

oyster sauce

2

teaspoons

rice vinegar

1

teaspoon

honey

2

teaspoons

chili paste

such as sambal oelek
Instructions
Place the chicken and 1/4 cup cornstarch in a resealable plastic bag, shake to coat evenly.

Heat the vegetable oil in a large pan over high heat.

Add the chicken to the pan in a single layer and season to taste with salt and pepper.

Cook for 3-4 minutes per side or until browned. Cook in multiple batches if needed.

Remove the chicken from the pan and place on a plate lined with paper towels.

Add the broccoli, celery and bell pepper to the pan. Cook for 4-5 minutes or until vegetables are tender. Season with salt and pepper to taste. Stir in the baby corn. Add the garlic and cook for 30 seconds more.

Add the chicken back to the pan with the vegetables.

In a small bowl, whisk together the chicken broth, soy sauce, oyster sauce, rice vinegar, honey, chili paste and 2 teaspoons cornstarch.

Pour the sauce over the chicken and vegetables; bring to a simmer. Cook for 1-2 minutes or until sauce has thickened. Serve immediately over rice if desired.
Nutrition
Calories:
230
kcal
|
Carbohydrates:
8
g
|
Protein:
26
g
|
Fat:
10
g
|
Saturated Fat:
6
g
|
Cholesterol:
73
mg
|
Sodium:
1007
mg
|
Potassium:
639
mg
|
Fiber:
1
g
|
Sugar:
4
g
|
Vitamin A:
1165
IU
|
Vitamin C:
62.9
mg
|
Calcium:
24
mg
|
Iron:
1
mg