A recipe for cake balls that uses cake mix, frosting and candy melts to create fun and festive bites. Cake balls are perfect for gift giving and they're easy to turn into cake pops!
Cake balls are a welcome addition to any gathering, and they make super cute party favors as well. I often make this recipe, chocolate covered Oreos or chocolate covered pretzels for a quick treat. This basic recipe formula can be changed up into tons of fun flavor combinations.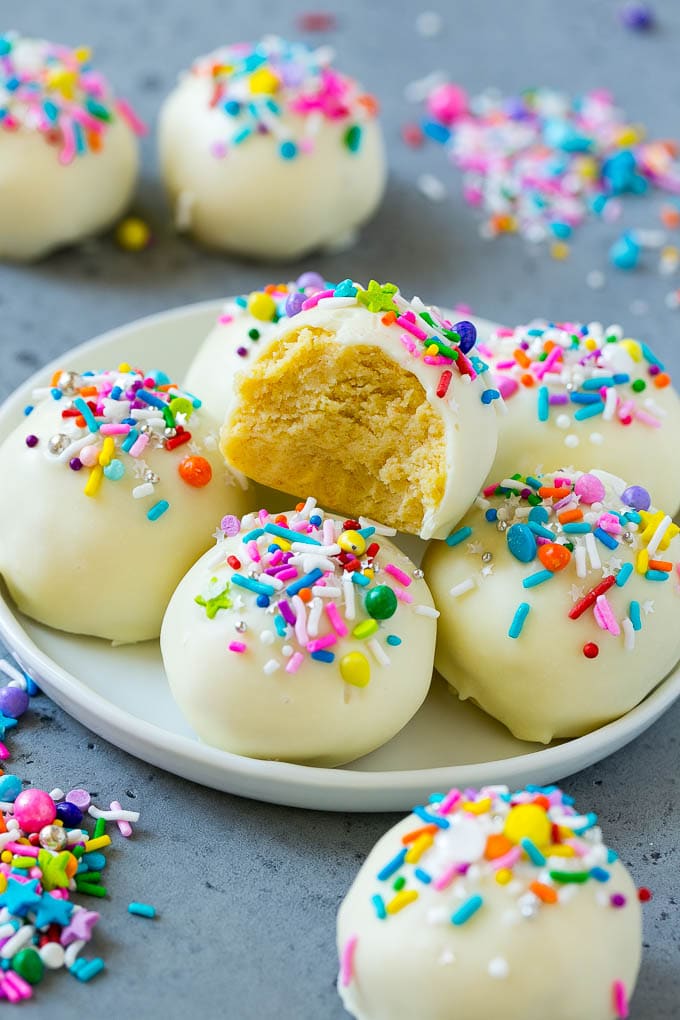 Cake balls are such a fun and festive dessert, and they're almost too pretty to eat! I love making cake balls because they're a total crowd pleaser, both kids and adults alike adore them.
What is a cake ball?
A cake ball is essentially a truffle make of a blend of cake crumbs and frosting that is dipped in candy melts. Cake balls are often topped with sprinkles or decorated in ways to look like flowers, animals, you name it!
How do you make cake balls?
The first step to making cake balls is to bake a 9″x13″ cake. I always use a cake mix because there are so many flavor options, they always come out moist and delicious, and it's just so easy. The cake gets crumbled up before it's mixed with the frosting, then shaped into balls. You can make your cake balls as big or as small as you like, I typically go for about 1 1/2 inches in size.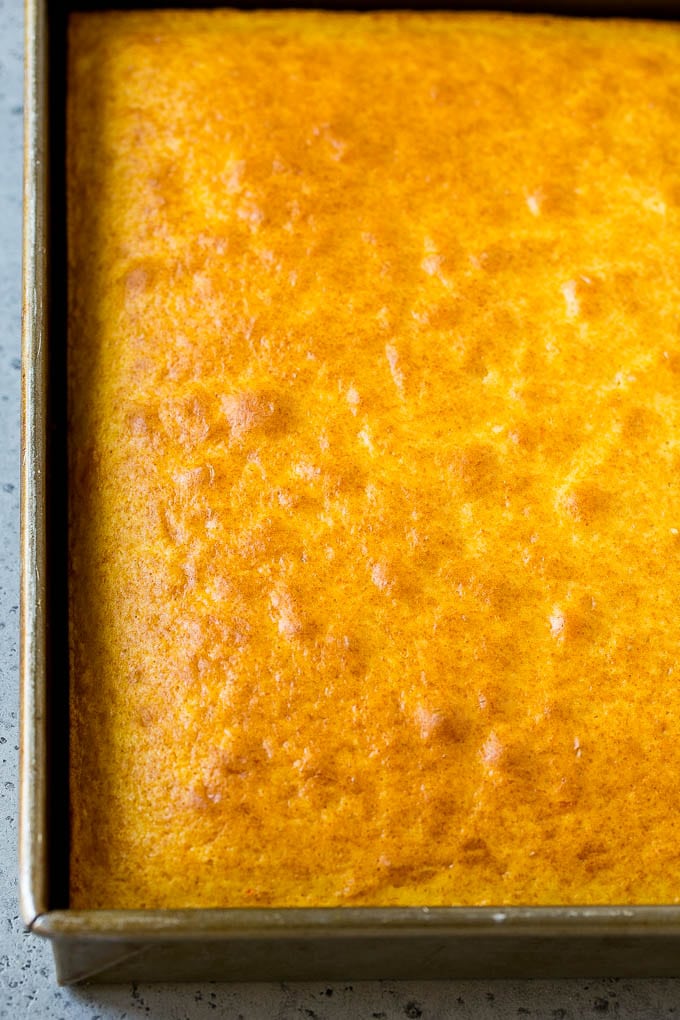 How do you make cake pops?
Looking to turn your cake balls into cake pops? It's easy! Simply place your formed cake balls onto lollipop sticks, then chill and dip into candy melts as directed in the recipe below.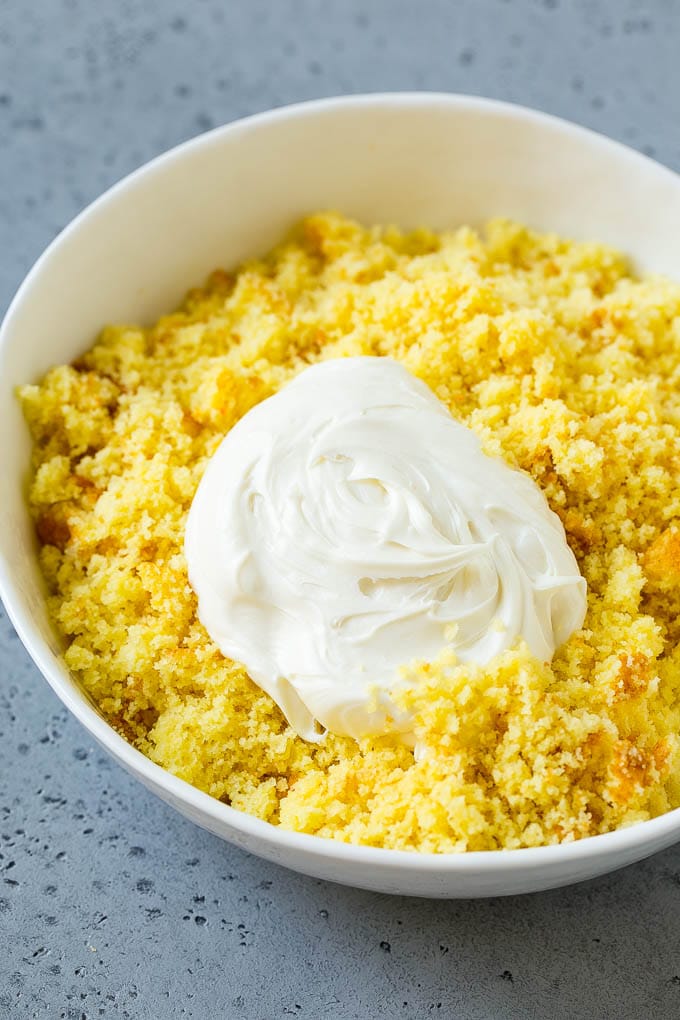 How do you dip cake balls?
I find the easiest way to dip cake balls is to place each ball on a fork, then spoon the candy melts over the top. Tap the fork lightly against the side of the bowl to remove excess chocolate. You only want a thin coating of chocolate, otherwise the excess chocolate will pool at the bottom of your cake truffle as it hardens. Gently transfer each dipped cake truffle to a sheet of parchment paper to let it harden. And don't forget to add your sprinkles while the cake balls are still wet!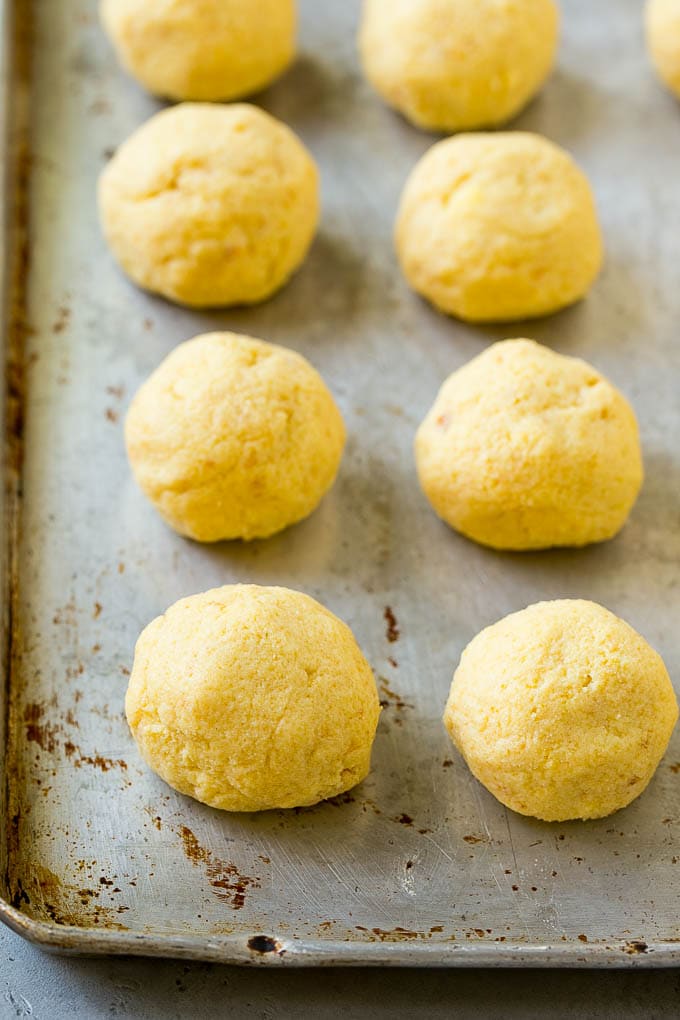 Tips for cake balls
Cake balls are typically dipped in candy melts. I highly recommend using Ghirardelli Melting Wafers which are available in most grocery stores and come in both white and dark chocolate. They taste like real chocolate and are so easy to work with because they melt smooth and thin. If you use another brand of candy melts, you may need to add a teaspoon or two of shortening when you melt them to thin them out.
When you mix your cake crumbs with the frosting, you're looking for a soft dough to form, but the dough should not be sticky. If you feel like your dough is a little dry, feel free to add a bit more frosting until you get to your desired consistency.
You can create shaped cake balls by flattening your cake mixture into a slab and using a small cookie cutter to cut out shapes.
Be sure to fully chill your cake balls before you dip them, if they're soft they will be much harder to work with.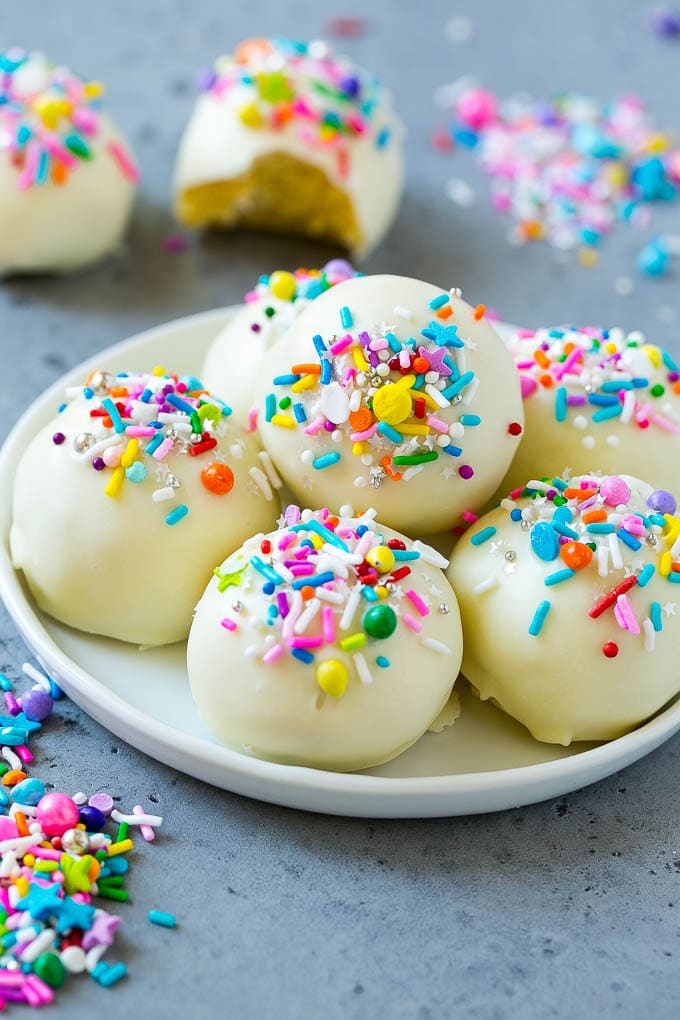 Cake ball flavors
I used a classic yellow cake with vanilla frosting here, but there are so many ways to flavor your cake balls such as
Lemon cake + lemon frosting
Spice cake + cream cheese frosting
Funfetti cake + vanilla frosting
Chocolate cake mix + chocolate frosting
Strawberry cake + strawberry frosting
Red velvet cake + cream cheese frosting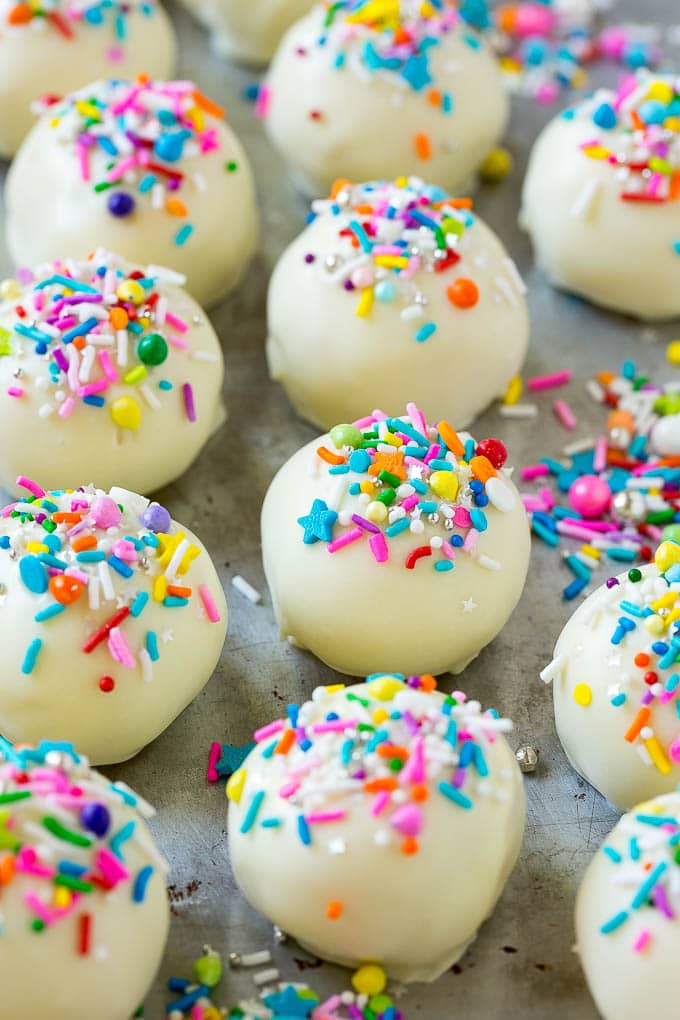 How long do cake balls last?
Cake balls will last for 5-7 days when stored in an airtight container. If you need to store them for longer than that, you can transfer them to the refrigerator where they will keep for up to 10 days.
I love that these cake balls are so versatile, and they're even great for the holidays! I make cake balls for my girls' birthday parties and they are always a huge hit.
More sweet treats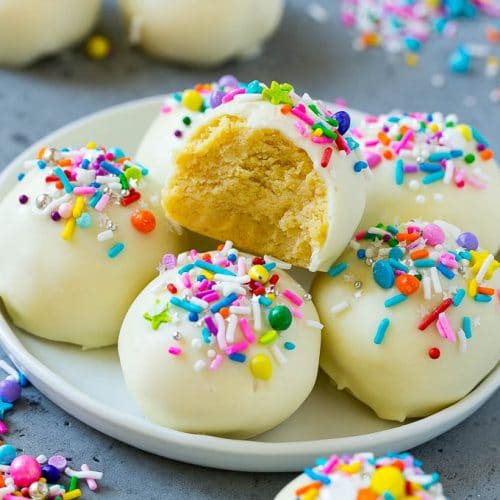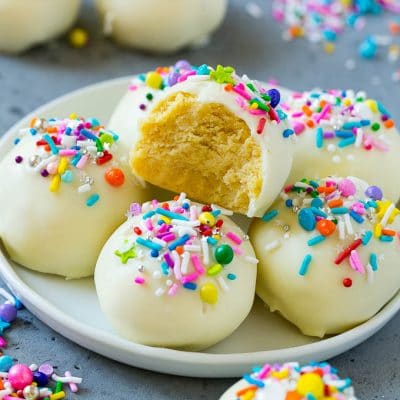 A recipe for cake balls that uses cake mix, frosting and candy melts to create fun and festive bites. Cake balls are perfect for gift giving and they're easy to turn into cake pops!
Ingredients
1

box

cake mix

flavor of your choice

eggs, oil and water

as called for on cake mix box

1

cup + 2 tablespoons

canned frosting

flavor of your choice

1

pound

candy melts

I recommend Ghirardelli Melting Wafers

1/2

cup

sprinkles
Instructions
Prepare cake mix with the amount of oil, water and eggs directed on the box. Bake in a 9"x13" pan according to package directions.


Let cake cool completely, then break apart and crumble until fine crumbs form.

Stir in the frosting until a dough forms. If the dough seems dry, you can add additional frosting, 1 tablespoon at a time, until desired consistency is reached.

Roll the cake mixture into tablespoon sized balls. Place the balls on a parchment lined baking sheet and chill for at least one hour.


Melt the candy melts in a bowl in the microwave, heating in 30 second increments, and stir until completely smooth.


Place each cake ball on a fork and use a spoon to pour the candy melts over the cake ball. Tap against the side of the bowl to remove excess candy melts.


Place each ball on a parchment lined sheet pan. Top with sprinkles.


Repeat with remaining cake balls and candy melts. Store in the refrigerator until ready to eat. Can be made up to 3 days in advance.

Nutrition
Calories:
116
kcal
|
Carbohydrates:
21
g
|
Fat:
7
g
|
Saturated Fat:
1
g
|
Sodium:
116
mg
|
Potassium:
11
mg
|
Sugar:
15
g
|
Calcium:
31
mg
|
Iron:
0.3
mg