These cheesy baked chicken fingers are coated with your favorite cheddar crackers and baked to crispy perfection in the oven.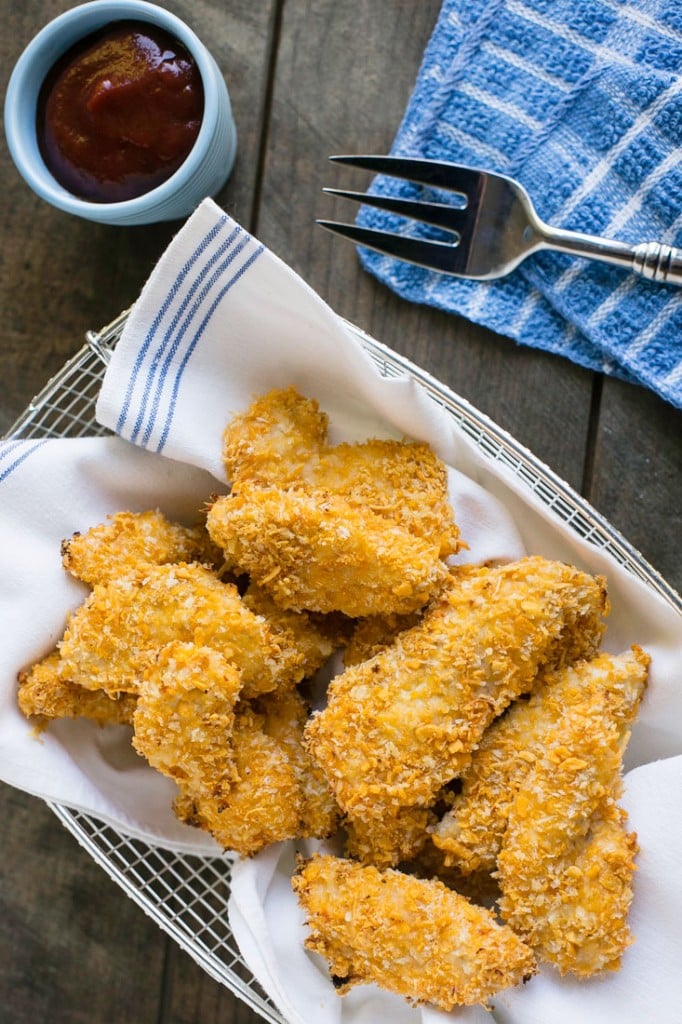 My girls hate having their hair done in the morning. I don't really blame them! To make it more tolerable we play a game where I ask them about their favorite things – favorite movie, favorite animal, favorite color, whatever else pops into my mind that day. Every single time I ask my daughter Cora what her favorite food is, she shouts out "CHICKEN!". So we eat a lot of chicken around here and I created these cheesy baked chicken fingers with her in mind. 
These cheesy baked chicken fingers are baked, not fried. I marinate the chicken in seasoned buttermilk and then coat the pieces in a mixture of cheddar crackers, panko bread crumbs and cheddar cheese.
You can use your family's favorite cheddar cracker for this recipe. I used a combination of cheez-its and goldfish because that's what was in the house. It's important to finely grate the cheese, it'll coat the chicken more evenly that way.
I serve these chicken fingers with a side of ketchup, my youngest will eat absolutely anything that involves ketchup. What is it with kids and ketchup?! The chicken fingers are also great with honey mustard.
These cheesy baked chicken fingers are kid friendly but are flavorful enough for the adults to enjoy too. Who needs processed chicken fingers that contain a million ingredients when you can easily make them yourself? They're healthier and taste so much better. Best of all, my little buddy Cora gets so excited when she sees that we're having her favorite chicken for dinner.
This post may contain affiliate links. Please see my full disclosure policy for details.
Cheesy Baked Chicken Fingers
These cheesy baked chicken fingers are coated with your favorite cheddar crackers and baked to crispy perfection in the oven..
Ingredients
1

lb

boneless skinless chicken breasts

, cut into strips (I use kitchen shears for this)

1

cup

buttermilk

1

tsp

kosher salt

1/2

tsp

onion powder

1/4

tsp

garlic powder

1/2

tsp

ground black pepper

1

tsp

smoked paprika

2

cups

cheddar crackers

, coarsely ground in the food processor

1/2

cup

panko breadcrumbs

3/4

cup

finely grated sharp cheddar cheese

cooking spray
Instructions
In a large bowl mix together the buttermilk, salt, onion powder, garlic powder, pepper and smoked paprika. Add the chicken strips. Cover with plastic wrap and marinate in the fridge for at least 30 minutes, or up to 8 hours.

Preheat oven to 425 degrees

Combine the ground cheddar crackers, panko and cheddar cheese in a shallow bowl. Line a baking sheet with parchment or foil, spray with cooking spray

Take a piece of chicken out of the buttermilk mixture, shake to remove excess buttermilk. Place the chicken in the bowl of crumbs and roll evenly to coat. Place the chicken onto the prepared pan. Repeat with remaining pieces of chicken. Lightly spray the tops of the chicken fingers with cooking spray.

Bake for 15-20 minutes until chicken is cooked through and breading has started to brown. Serve immediately. Leftovers are best reheated in the oven or toaster oven.
Recipe Notes
Make Ahead: Grate the cheese and make the cracker crumbs up to 3 days in advance. Sometime during the day throw the chicken in the marinade and your prep work at dinner time will be minimal.
Nutrition Facts
Cheesy Baked Chicken Fingers
Amount Per Serving
Calories 837
Calories from Fat 288
% Daily Value*
Total Fat 32g 49%
Cholesterol 140mg 47%
Sodium 1948mg 81%
Potassium 547mg 16%
Total Carbohydrates 88g 29%
Protein 44g 88%
* Percent Daily Values are based on a 2000 calorie diet.
Things You'll Need (or Want!)
Mini Food Processor I've owned my mini food processor for years and it's perfect for smaller jobs like grinding up the crackers for the chicken finger coating.
Silicone Baking Cups  I use these little silicone cups for all kinds of things – in this case, I fill them up with ketchup for dipping. They also make great snack cups for little hands.