This Yankee pot roast is a beef roast that's been braised to meltingly tender perfection, seasoned with bacon, and served with potatoes and vegetables. A hearty and comforting meal all in one pot!
Pot roast is a classic dish that never goes out of style, and this version with bacon is always a huge hit.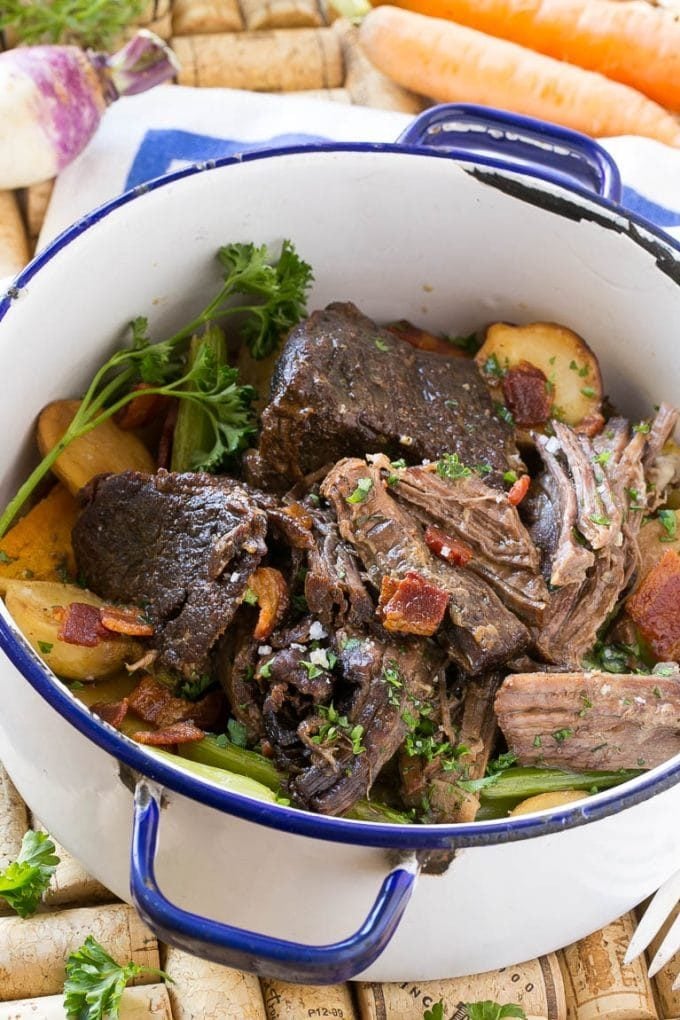 It's winter. And here in California it's been raining non stop. While we most definitely need the rain to combat the drought, it's made my three very energetic children a little stir crazy. Instead of dwelling on the negatives of being cooped up inside while the kids run in circles to burn off energy, I think about the positives of cold weather – like hearty comfort food. I mean, if you're going to spend the day inside you might as well have something delicious in the oven right? This Yankee pot roast is a family favorite made even better by the addition of bacon. Throw some vegetables and potatoes in the pot and you've got a complete meal!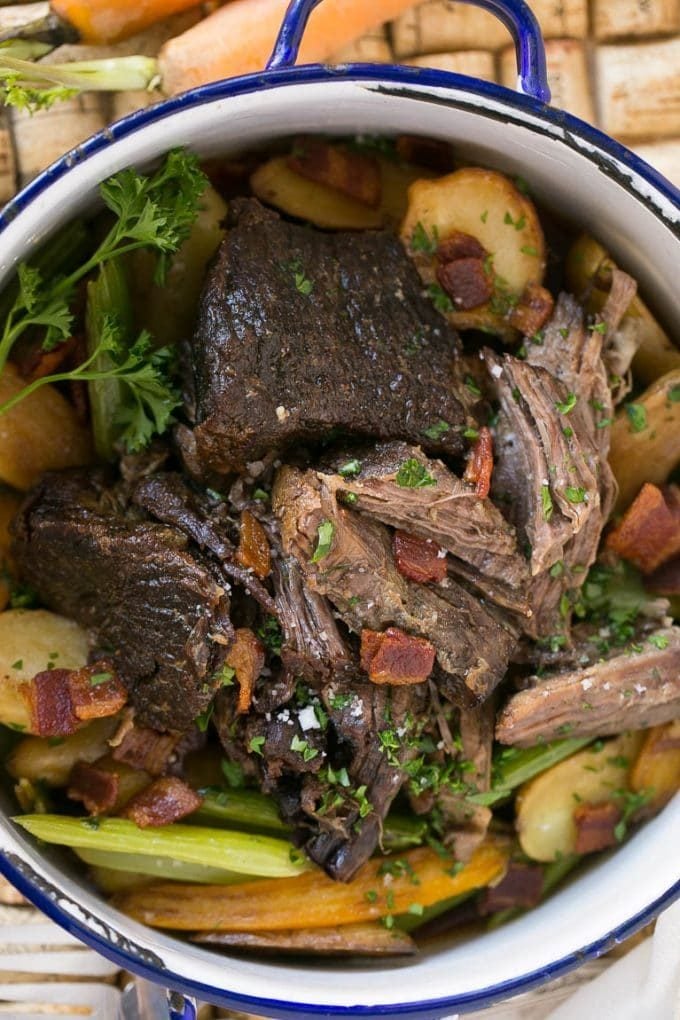 How do you make Yankee Pot Roast?
This recipe is quite simple – the beef gets browned (in bacon fat!) and then baked to perfection for hours in a low temperature oven. I prefer to use a chuck roast for this recipe, but any well marbled beef roast will do the trick. I went with baby carrots, turnips, celery and potatoes for my vegetables, but other root vegetables would also work. The beauty of a recipe like this Yankee pot roast is that you can even make it a day in advance; the meat will only get better as it sits in the braising liquid.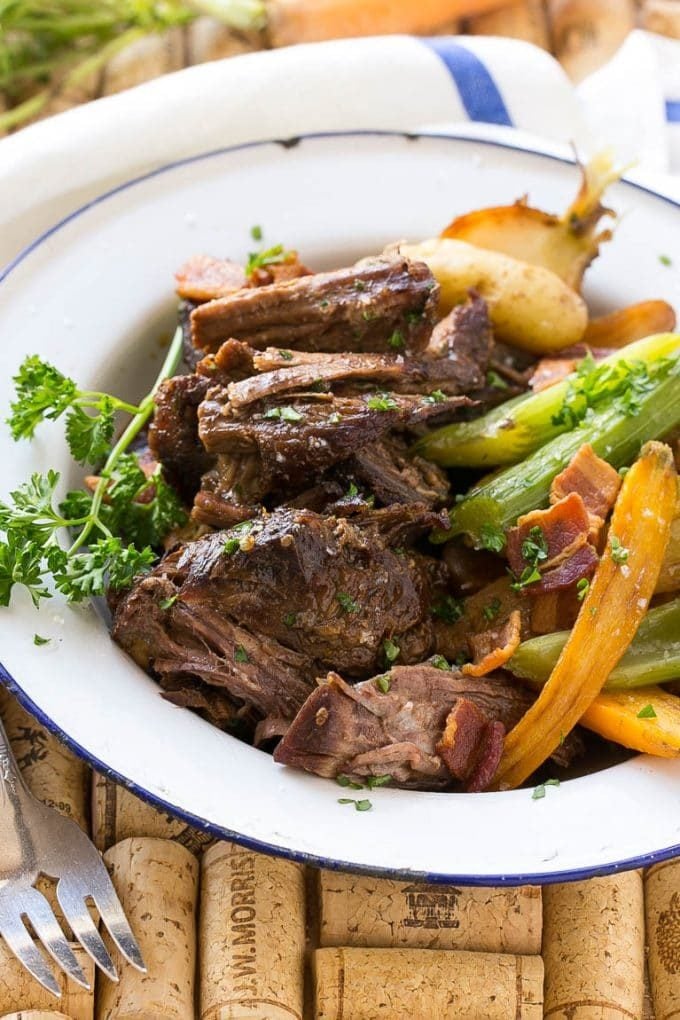 Aside from the amazingly complex flavor of the tender meat and vegetables, my other favorite part about this recipe is that it makes enough meat for two nights. I take my leftover pot roast and turn it into a delicious and hearty soup. Stay tuned for my beef noodle soup recipe coming your way soon!
Still hungry? Follow Dinner at the Zoo on Facebook, Twitter, Instagram and Pinterest for more great recipe ideas!
More comfort food recipes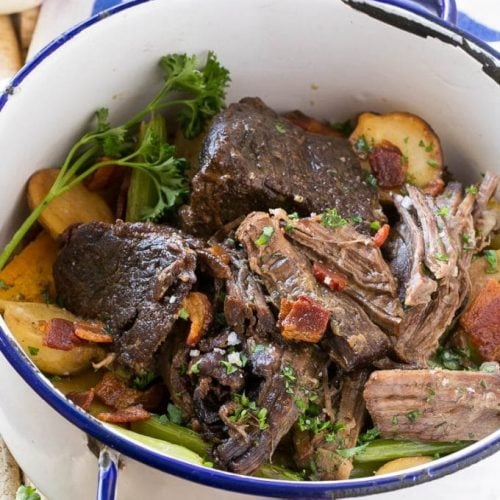 This Yankee Pot Roast is a beef roast that's been braised to meltingly tender perfection, seasoned with bacon, and served with potatoes and vegetables. A hearty and comforting meal all in one pot! ]
Ingredients
1/2

pound

of thick cut bacon

coarsely chopped

1 4-5

pound

beef chuck roast

Coarse salt and ground pepper

1

yellow onion

minced

3

sprigs of fresh rosemary or thyme

1/2

cup

dry red wine

2

cups

of beef broth

1

pound

small potatoes

halved

1/2

pound

of carrots

peeled and cut into 2-inch pieces

4

pieces

celery stalks

cut into large pieces

coarse salt and finely chopped parsley for garnish

optional
Instructions
Preheat oven to 325 degrees. In a large Dutch oven, cook bacon over medium heat, stirring occasionally, until fat is rendered and bacon is crisp. Transfer the bacon to paper towels to drain; set aside.

Season the beef generously with salt and pepper, and add beef to pot. Increase heat to high and cook, turning with tongs, until browned on all sides, about 5-6 minutes per side. Transfer beef to a plate; pour off all but 1 tablespoon of fat from the pot.

Reduce heat to medium and add the yellow onion; season with salt and pepper. Cook, stirring occasionally, until onion is lightly browned, 4-6 minutes.

Add wine to the pan and cook, stirring constantly, until the wine has reduced by half. Add the beef broth and rosemary or thyme.

Return beef to pot along with any juices and bring to a simmer over high. Cover, transfer to oven, and cook until beef is almost tender, about 3 hours.

Remove pot from oven and place potatoes, carrots, celery and reserved bacon around the pot roast. Season the vegetables with salt and pepper. Cook until vegetables and beef are tender, about 1 hour more.

Remove beef from pot and let rest 15 minutes, then slice against the grain. Arrange on a platter with vegetables and drizzle with braising liquid. If the braising liquid is overly greasy you can put it into a fat separator before pouring it over the meat.

Garnish with parsley and coarse salt if desired.
Notes
Make Ahead: You can make this a day in advance, store the meat in its braising liquid and reheat, covered, in a 350 degree oven until meat is hot.
Make sure to save your leftover meat for beef noodle soup!
Nutrition
Calories:
729
kcal
|
Carbohydrates:
19
g
|
Protein:
59
g
|
Fat:
48
g
|
Saturated Fat:
19
g
|
Cholesterol:
194
mg
|
Sodium:
1221
mg
|
Fiber:
2
g
|
Sugar:
3
g