This refreshing pineapple punch is made with just 5 ingredients and is ready in 5 minutes. The perfect sparkling fruit drink for any summer party!
Sparkling pineapple punch will make you feel like you're on a tropical vacation! It's perfect for barbecues and birthday parties, and can also be made into an adult drink for cocktail hour.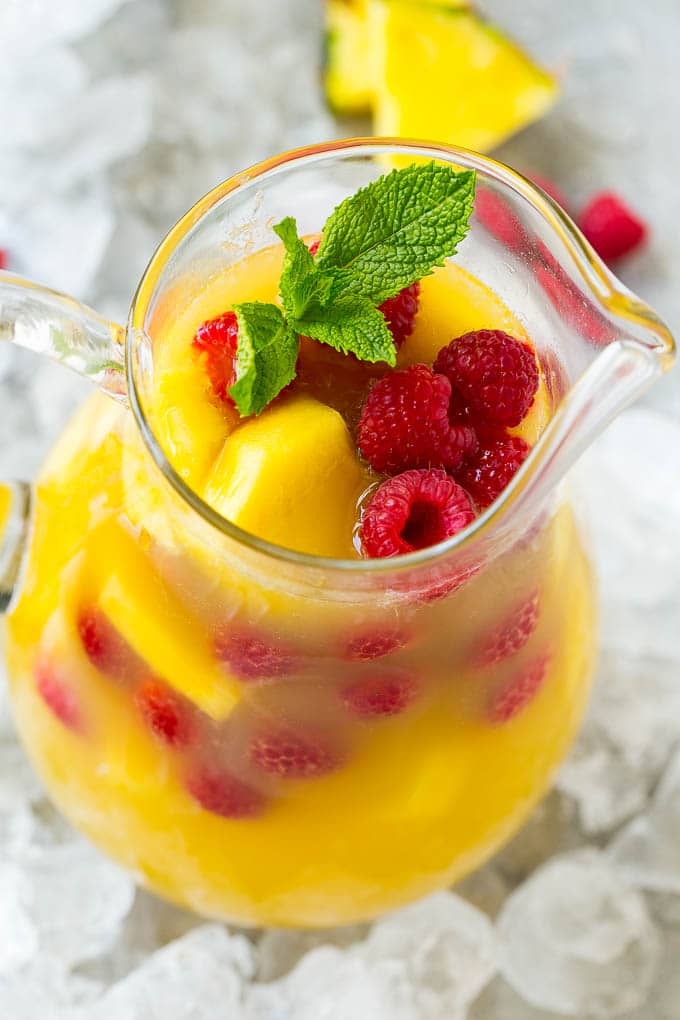 Is there anything better than a delicious citrus drink when it comes to warmer weather? When I whipped up this pineapple punch, I'm pretty sure my entire body sighed with relief from the heat. A delicious blend of pineapple, lime, and raspberry flavors, this drink really hit the spot. When I'm entertaining in the summer, I also offer an assortment of jello shots for the adults!
HOW DO YOU MAKE PINEAPPLE PUNCH?
If you've got a good stirring spoon and a pitcher, you're set to make this punch. To start, a sweet and tart blend of frozen limeade, pineapple juice, and lemon lime soda are mixed together in a pitcher. To top it off, fresh chunks of pineapple and raspberries are added and mixed in to make the perfect summer drink.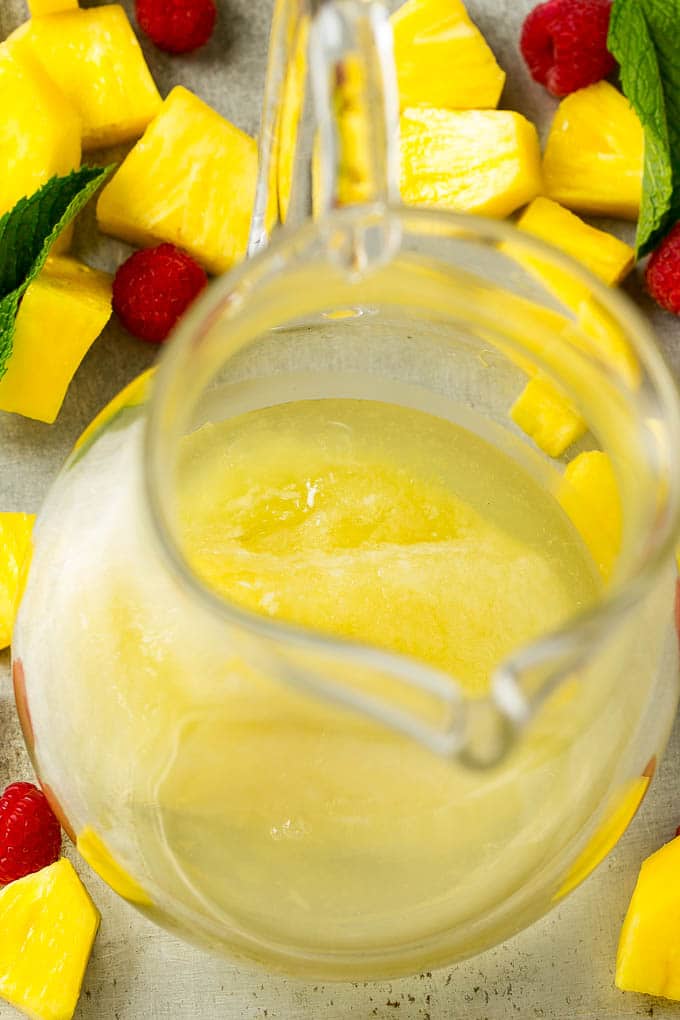 Any pineapple juice will work for this recipe just be sure to pay attention to whether it's concentrated or not, this will change what you need to add with it. If you don't like the idea of soda, plain sparkling water is a great substitution. This will make the mixture a touch healthier and less sweet.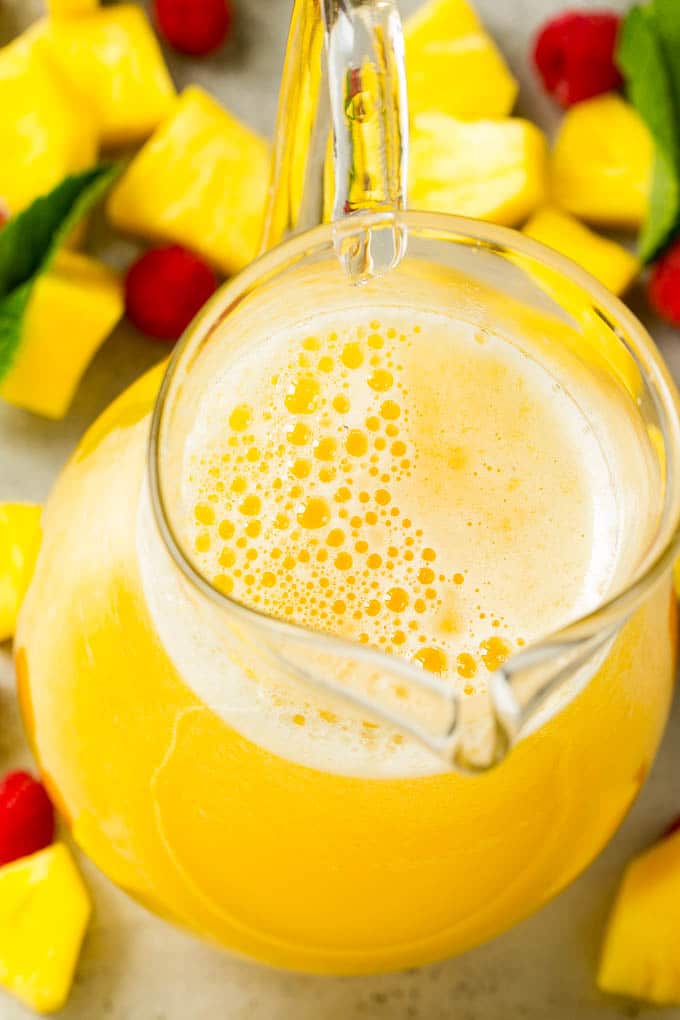 If you're not too keen on chopping up a fresh pineapple, canned pineapple chunks work just fine. However, I prefer the tart freshness of a fresh pineapple. For some reason, I can always tell the difference and prefer a fresh pineapple taste over canned any day.
Other great variations on this pineapple punch include the following substitutions and/or additions
Strawberries
Rum
Vodka
Prosecco
Ginger Ale
Mint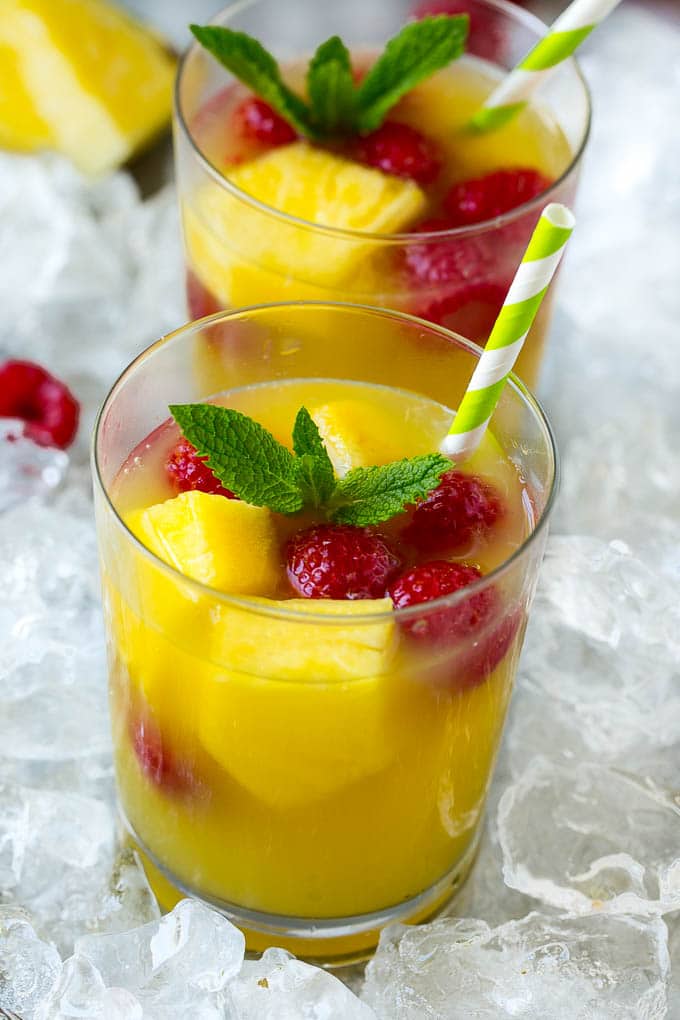 CAN YOU MAKE PINEAPPLE PUNCH WITH SHERBET?
Of course you can make it with sherbet! Sherbet is a classic ingredient to add to any punch recipe. Simply add up to 2 quarts of pineapple sherbet to your pitcher (depending on how creamy you like it), and mix well.
CAN YOU MAKE PINEAPPLE PUNCH ALCOHOLIC?
If you look at the list above, I've given the best suggestions to turning this pineapple punch into an adult drink. Let me tell you, it's delicious. It will feel like you're on vacation sitting in your living room.
I'm telling you now, I won't be in short supply of this pineapple punch throughout the summer. Not only do the kids love it, but the adults like it too! Summer can come full force now, I'm ready.
MORE PINEAPPLE RECIPES YOU'LL LOVE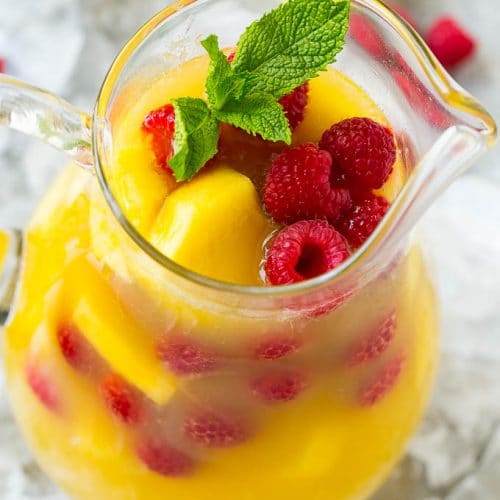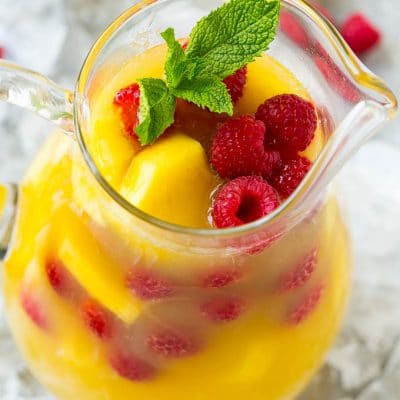 This refreshing pineapple punch is made with just 5 ingredients and is ready in 5 minutes. The perfect sparkling fruit drink for any summer party!
Ingredients
1

can

frozen limeade concentrate

thawed

46

ounces

pineapple juice

2

liters

lemon lime soda

2

cups

fresh pineapple chunks

2

cups

raspberries

mint sprigs for garnish
Instructions
Place the limeade concentrate in a pitcher.

Add the pineapple juice and stir until thoroughly combined.

Pour the soda into the pitcher and stir. Add pineapple chunks and raspberries.

Cover and chill until ready to serve. Garnish with mint sprigs before serving.
Nutrition
Calories:
150
kcal
|
Carbohydrates:
37
g
|
Sodium:
19
mg
|
Potassium:
201
mg
|
Fiber:
1
g
|
Sugar:
31
g
|
Vitamin A:
30
IU
|
Vitamin C:
29.3
mg
|
Calcium:
26
mg
|
Iron:
0.6
mg