This pasta carbonara is spaghetti tossed in a creamy egg based sauce with plenty of bacon and parmesan cheese. A classic Italian dish that can be on the table in just 20 minutes!
When I'm looking for a meal that can be on the table in minutes, I turn to shrimp stir fry, baked salmon and this simple yet satisfying spaghetti carbonara. Got a little more time? Be sure to try my slow cooker bolognese sauce for another great pasta dinner option.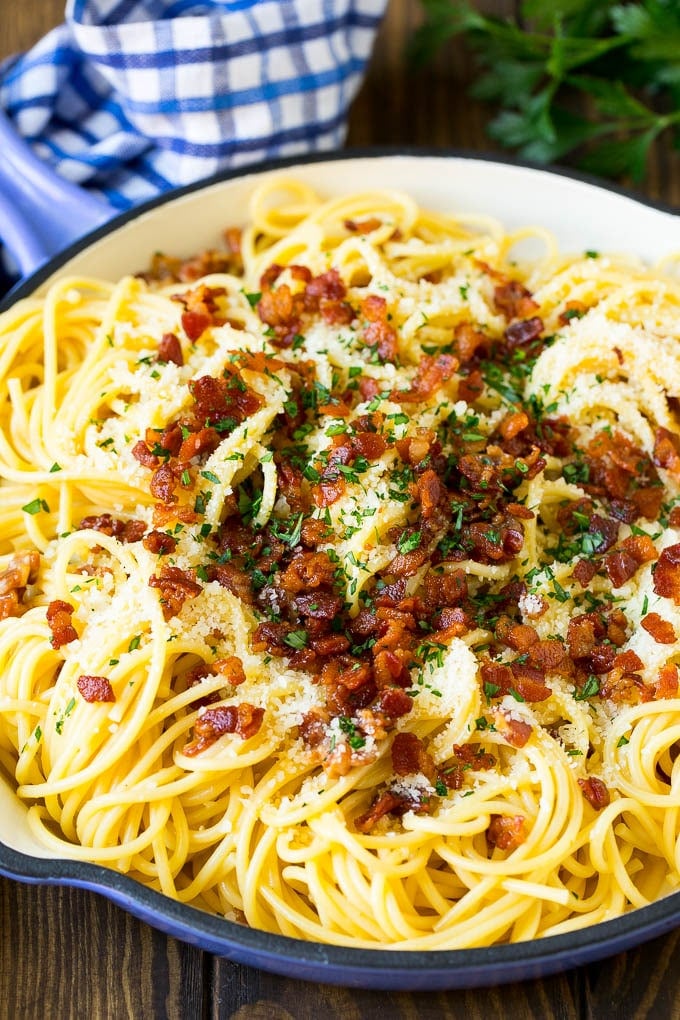 You can never go wrong with pasta, especially if there's cheese and bacon involved! This pasta carbonara is a favorite in my house – my family loves the savory flavors, and I love that I always have the ingredients on hand for an easy dinner.
What is pasta carbonara?
Pasta carbonara is a dish that hails from Rome and it always includes a hard Italian cheese, pork, egg and pepper. The result is a creamy pasta with rich flavors that isn't as heavy as an Alfredo sauce. While some recipes for carbonara require expensive or tricky ingredients, my recipe transforms everyday foods into a mouthwatering dish.
My recipe uses bacon, egg and fresh grated Parmesan cheese. These ingredients may be more authentic than some versions of carbonara as some believe the dish gained popularity after World War II when Italians ate bacon and eggs provided by the United States.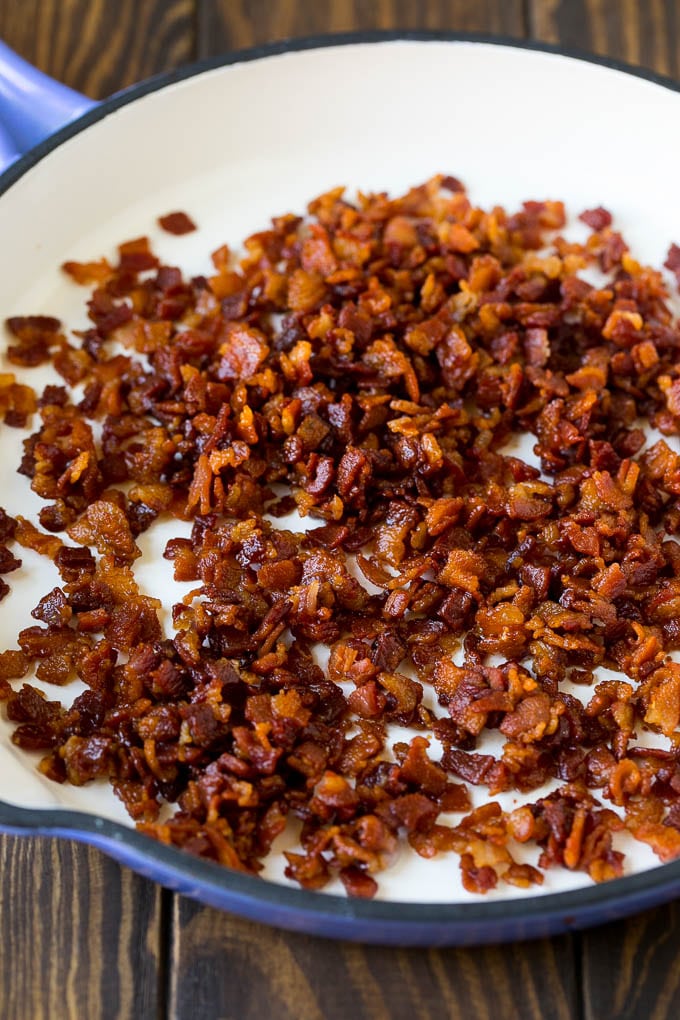 How do you make pasta carbonara?
To make carbonara, the first step is to make the pasta. Be sure to reserve some of the cooking water, you'll need it later on to thin out the sauce. The pasta is poured into a pan along with cooked bacon, and a sauce of eggs and parmesan cheese goes over the top. The heat from the pasta will gently cook the egg mixture without curdling the sauce. Add a little more bacon and cheese with a sprinkle of parsley, then dinner is served.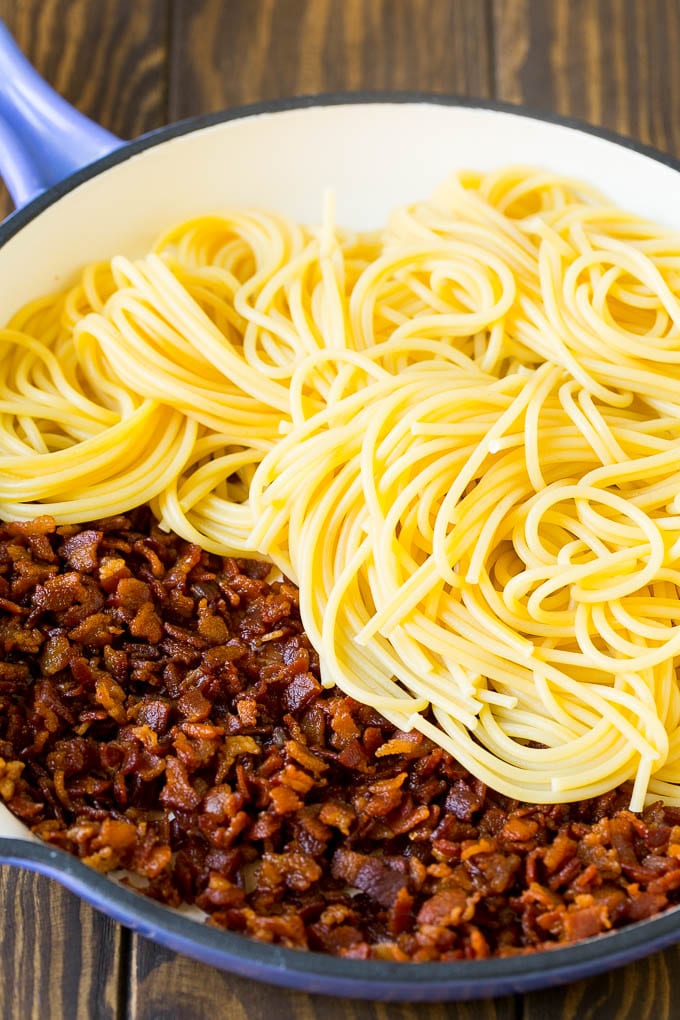 Tips for spaghetti carbonara
Be careful not to have heat on the bacon pan when you pour in the eggs and cheese to avoid scrambling the eggs.
For a smoother sauce, you can add 1/4 cup heavy cream to the eggs and Parmesan cheese mixture.
For a spicier dish, add some red pepper flakes to the eggs and Parmesan cheese mixture.
You will likely not have to use all of the reserved pasta water to thin the sauce – just add a little at a time until you reach a consistency that you like.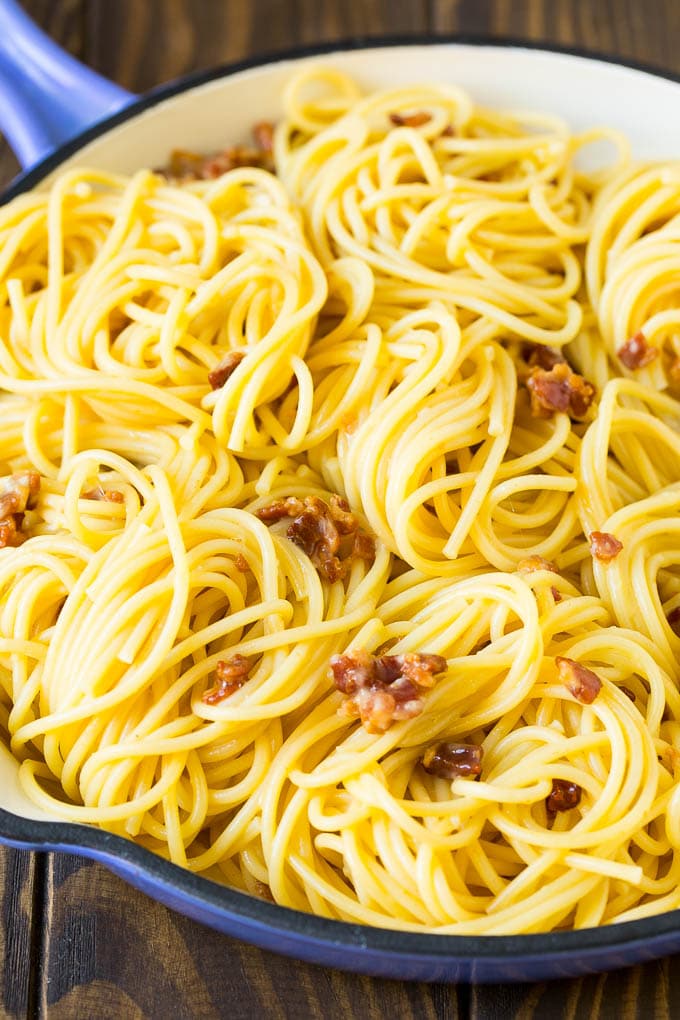 Carbonara variations
Classic pasta carbonara is delicious but you can also easily customize it to suit your taste preferences.
You can use diced ham, prosciutto or pancetta instead of bacon for a meatier dish.
Try adding peas to the pan while you are tossing the pasta to have a vegetable component in the dish.
Other long types of pasta can be used such as linguine, fettuccine or angel hair pasta.
Use pecorino romano instead of parmesan for a bolder cheese flavor.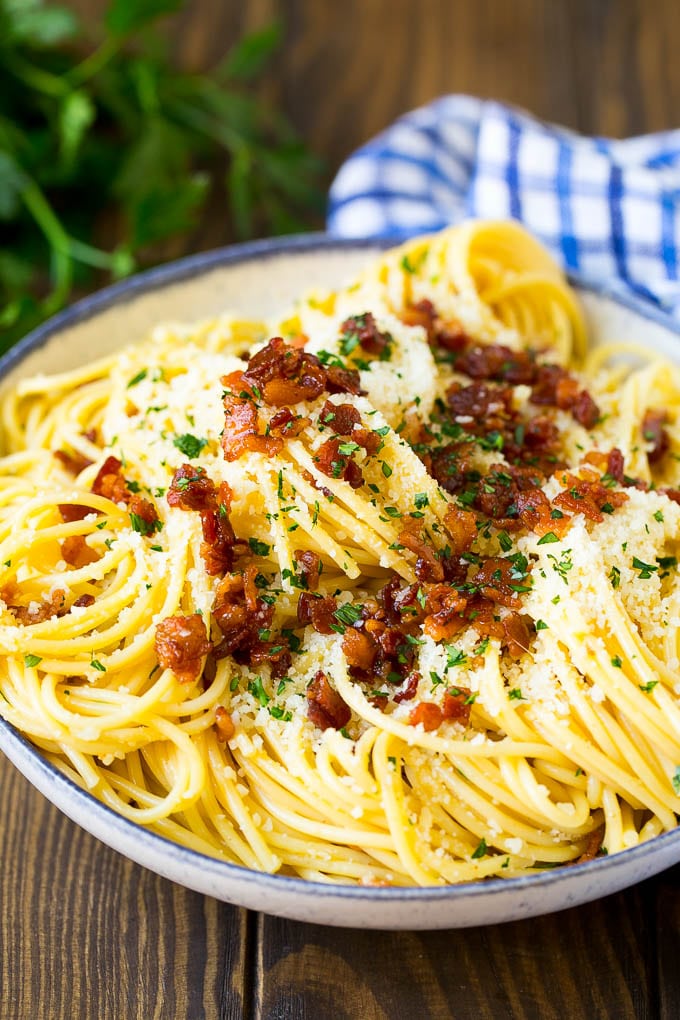 This carbonara is an excellent way to enjoy the flavors of Rome with every day ingredients. You'll love this satisfying dish!
More great pasta recipes
Pasta Carbonara Video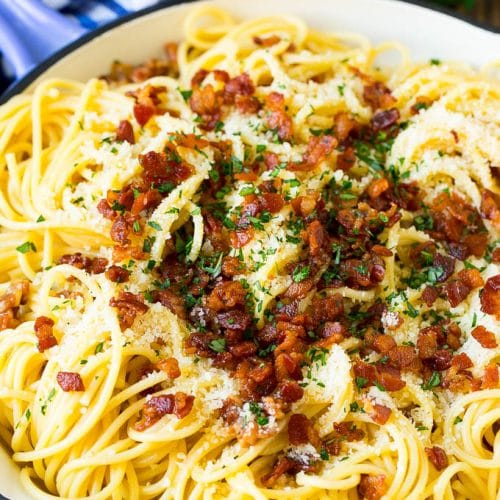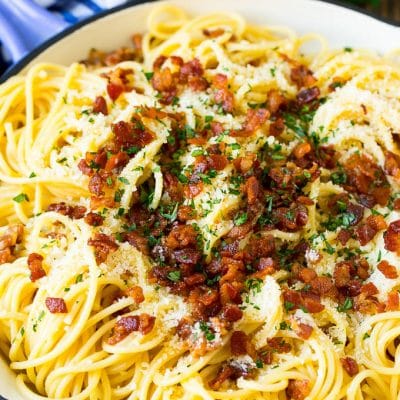 This pasta carbonara is spaghetti tossed in a creamy egg based sauce with plenty of bacon and parmesan cheese. A classic Italian dish that can be on the table in just 20 minutes!
Ingredients
1

pound

spaghetti

or other long pasta such as linguine or fettuccine

3/4

pound

bacon

cut into 1/4 inch pieces

1

teaspoon

minced garlic

2

whole eggs

4

egg yolks

1

cup

parmesan cheese

plus more for garnish

salt and pepper to taste

2

tablespoons

chopped parsley
Instructions
Bring a pot of salted water to boil. Add the spaghetti and cook according to package directions. Reserve 1/2 cup of the pasta cooking water.

While the pasta is boiling, cook the bacon in a large pan over medium high heat. After the bacon is cooked, drain all the grease off except for 1 tablespoon. Add the garlic and cook for an additional 30 seconds.

Remove 1/3 cup bacon from the pan.

In a medium bowl, whisk together the eggs, egg yolks and parmesan cheese.

Add the cooked spaghetti to the pan with the remaining bacon and toss to coat in the bacon fat.

Remove the pan from the heat and pour the egg and cheese mixture in the pan. Toss the sauce with the hot pasta for 2-3 minutes or until sauce has thickened.

Whisk in 1 tablespoon of cooking water at a time, as needed to thin the sauce to your desired consistency. Add salt and pepper to taste.

Sprinkle the reserved bacon over the top along with chopped parsley and additional parmesan cheese. Serve immediately.
Nutrition
Calories:
603
kcal
|
Carbohydrates:
58
g
|
Protein:
27
g
|
Fat:
27
g
|
Saturated Fat:
12
g
|
Cholesterol:
234
mg
|
Sodium:
674
mg
|
Potassium:
330
mg
|
Fiber:
2
g
|
Sugar:
2
g
|
Vitamin A:
405
IU
|
Vitamin C:
0.2
mg
|
Calcium:
240
mg
|
Iron:
1.9
mg
This recipe was originally published on July 22, 2019 and was updated on March 4, 2020 with new content.