These cheese blintzes are thin pancakes filled with a creamy cheese mixture, then pan fried until golden brown. A classic recipe that's great when served with fresh fruit or berry sauce!
Whenever I'm hosting a brunch, I offer family favorites such as sausage casserole, french toast casserole, baked oatmeal and these irresistible homemade cheese blintzes.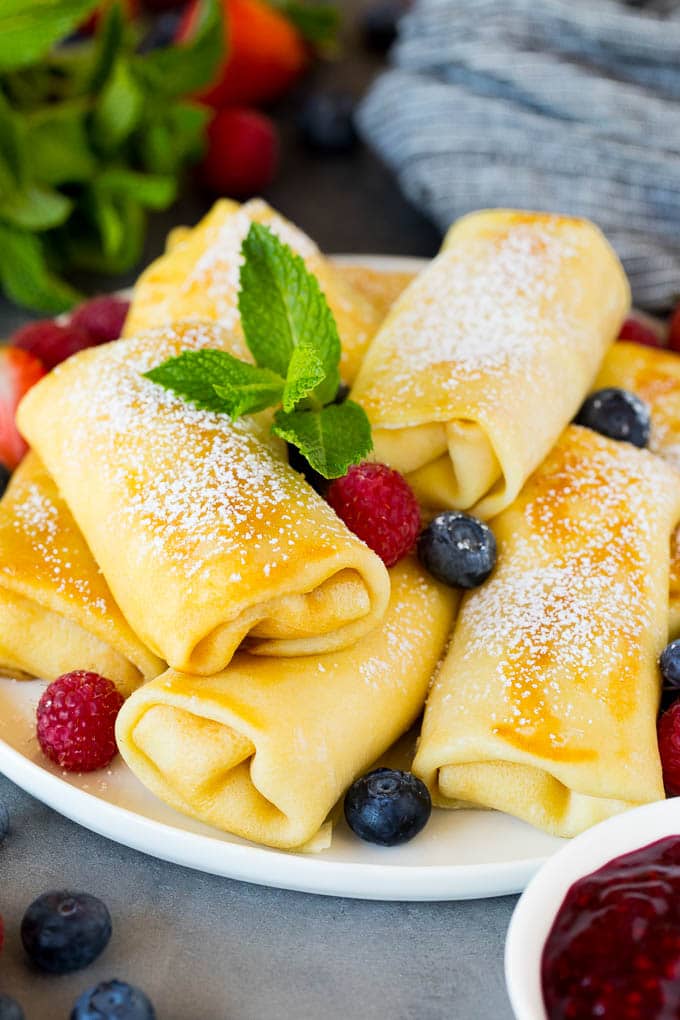 I happen to love cheese blintzes, that creamy filling inside a paper thin pancake gets me every time! This homemade blintz recipe is so much better than blintzes from the freezer section of the grocery store, an it's actually quite easy to make this delicacy at home.
Where do cheese blintzes come from?
It is thought that blintzes originated from Central and Eastern European countries, especially among Jewish populations, and became popular in other parts of the world during the 1800's.
How do you make cheese blintzes?
Start by preparing your pancake batter which is a combination of flour, milk, sugar and eggs. Puree the batter in a blender until it's smooth. Let the batter rest at room temperature for 30 minutes, then proceed with making the pancakes. Pour a small amount of batter into a hot pan, then swirl the batter around to coat the bottom of the pan. Repeat the process with the remaining batter until you have a stack of pancakes. While the pancakes are cooking, prepare the filling by mixing together ricotta cheese, cream cheese, sugar and lemon. Place a dollop of the cheese filling onto each pancake, then fold up the filling inside the pancake. Chill the blintzes in the freezer for a few minutes until they're firm. The final step is to pan fry the blintzes in butter until they're golden brown. Add a drizzle of raspberry sauce if desired, then serve and enjoy.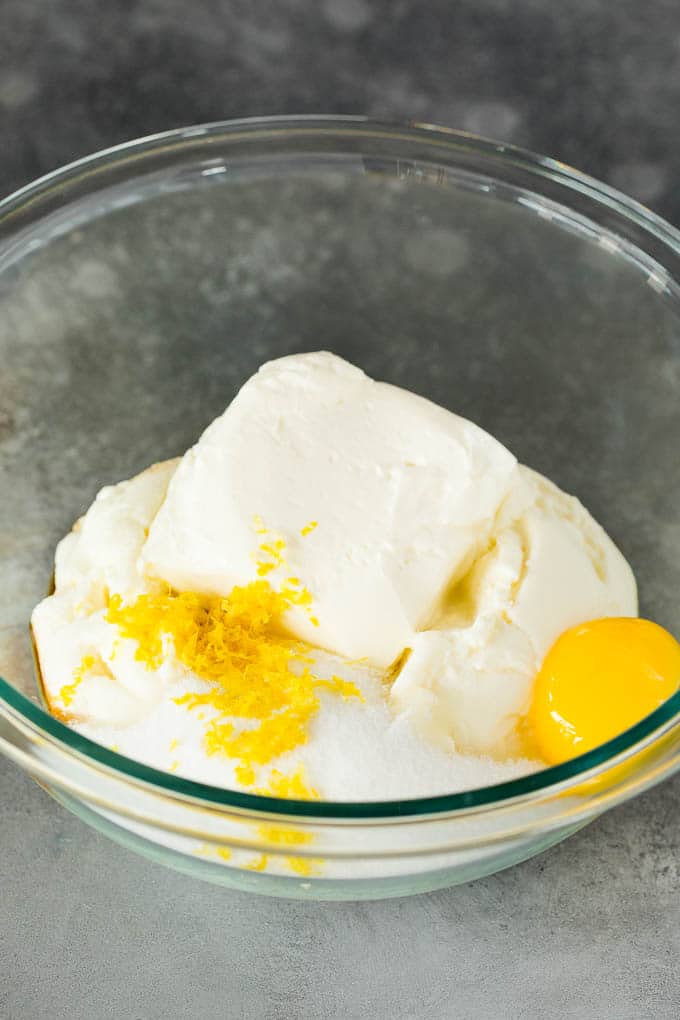 Are crepes and blintzes the same thing?
Crepes and blintzes are very similar dishes. They both involve thin pancakes made of virtually identical ingredients, wrapped around fillings. Typically blintzes contain a sweet filling, whereas crepes could have either sweet or savory fillings. Blintzes are also pan fried, which typically does not occur with crepes.
Tips for the perfect meal
Use a measuring cup when portioning out batter for the pancakes so that they all end up the same size and thickness.
After your pour the batter in the pan, quickly swirl it around to coat the bottom for the thinnest pancakes.
The pancakes and filling can both be prepared up to one day in advance. You can even do all of the folding a day ahead of time, and simply pan fry the cheese blintzes right before you're ready to eat.
I prefer to chill my blintzes before I cook them in the pan, I find that they hold together better this way, and it keeps the cheese mixture from oozing out into the pan.
Blintzes can be frozen for up to 2 months. I recommend baking them from frozen, then finishing them in a pan of melted butter to crisp up the outside.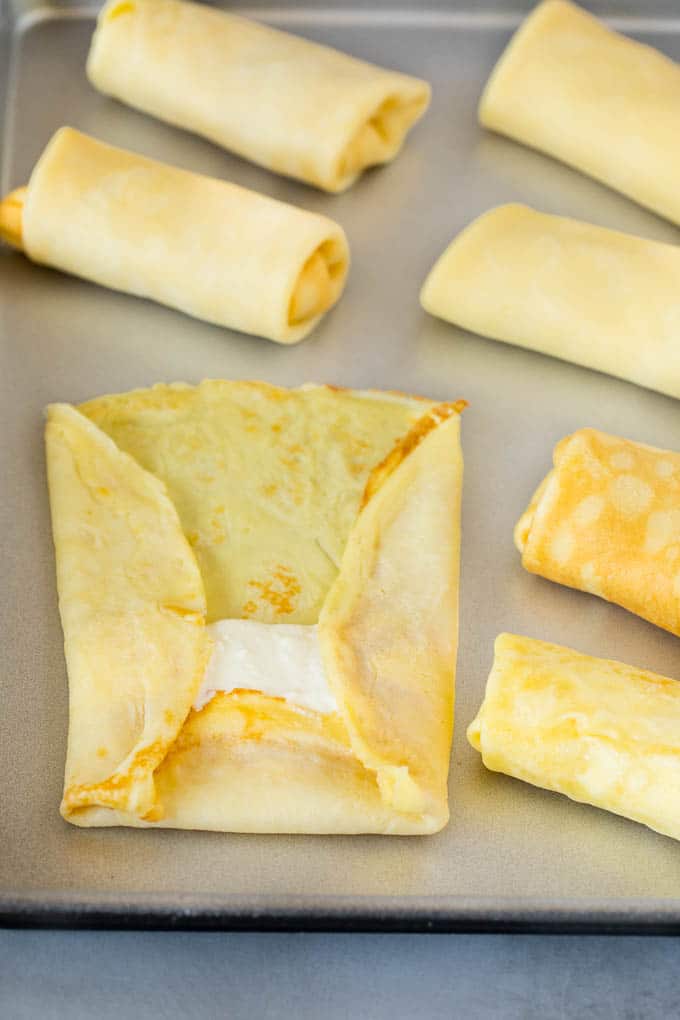 Flavor Variations
While this recipe is fantastic as-is, feel free to change up some of the ingredients to customize the flavors to your tastes.
Cheese: This recipe is often made with farmer's cheese, which can be difficult to locate. I used a blend of ricotta and cream cheeses because they taste great and are widely available. If you prefer, you can use farmer's cheese or a small curd cottage cheese.
Fillings: While cheese is the most common filling for blintzes, I've also enjoyed this delicacy stuffed with cooked fruit such as blueberries, cherries and apples.
Toppings: I typically top my blintzes with homemade raspberry or blueberry sauce, as well as a few fresh berries. Other great options include sweetened sour cream, whipped cream, chocolate sauce, bananas or sauteed apples.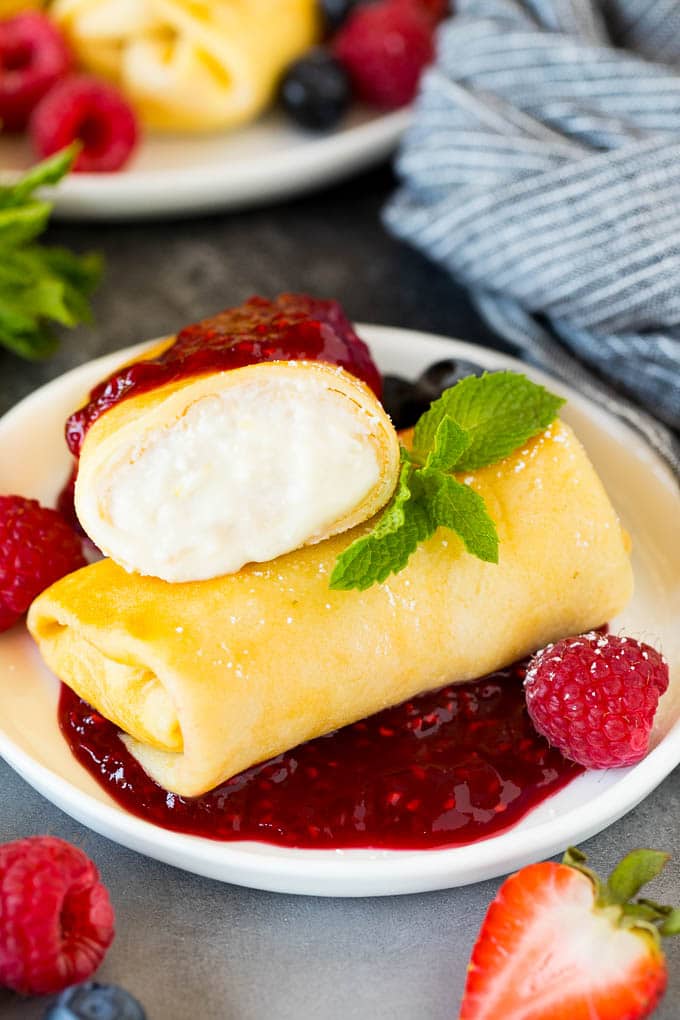 Once you see how delicious homemade cheese blintzes are, you'll never buy the store bought variety again!
More brunch favorites to try
Cheese Blintzes Video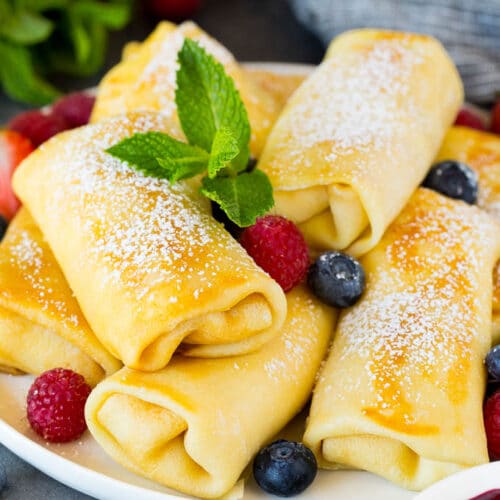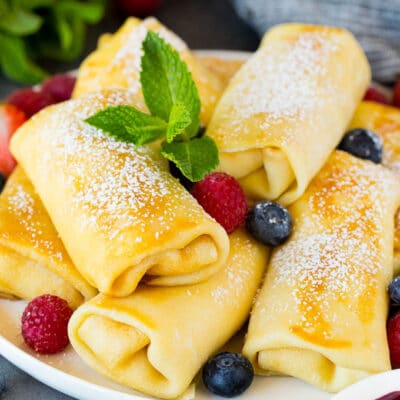 These cheese blintzes are thin pancakes filled with a creamy cheese mixture, then pan fried until golden brown. A classic recipe that's great when served with fresh fruit or berry sauce!
Ingredients
For the pancakes
1

cup

all-purpose flour

1

tablespoon

granulated sugar

1/4

teaspoon

kosher salt

1 1/2

cups

milk

(I use 1%)

4

large eggs

6

tablespoons

unsalted butter

divided use, plus more for coating the pan
For the filling
1 1/2

cups

ricotta cheese

4

ounces

cream cheese

softened

1/4

cup

granulated sugar

1

egg yolk

1/2

teaspoon

lemon zest

1

teaspoon

vanilla extract
For serving
1

recipe

raspberry sauce

1

cup

fresh berries

mint sprigs for garnish

1

tablespoon

powdered sugar
Instructions
For the pancakes
Pour flour, sugar, salt, milk, eggs, and 3 tablespoons of melted butter into a blender.

Puree until mixture is smooth, about 30 seconds. Let batter sit at room temperature for 30 minutes before you use it.

Heat a 10-inch nonstick skillet on medium heat. Lightly coat with additional butter. Add 1/4 cup batter and swirl to completely cover bottom of skillet. Cook until underside of pancake is golden brown, 2-3 minutes.

Loosen edge of pancake with a spatula, then with your fingertips, quickly flip. Cook 1 minute more. Slide pancake out of skillet and repeat with remaining batter.
For the filling
Place the filling ingredients in a bowl, then stir until well combined.
For assembly
Lay a pancake out on a flat surface. Place 3 tablespoons of the filling onto the pancake, about 1 inch away from the bottom of the pancake.

Fold the bottom edge over the filling. Fold both sides in, then gently roll the blintz all the way up. Repeat the process with remaining pancakes and filling.

Place the blintzes in the freezer for 10-15 minutes or until firm,

Melt the remaining 3 tablespoons of butter in a skillet. Place the blintzes in the skillet in a single layer and cook for 4 minutes per side or until golden brown. You may need to work in batches.

Serve the blintzes with raspberry sauce, powdered sugar and berries. Garnish with mint sprigs if desired.
Nutrition
Calories:
262
kcal
|
Carbohydrates:
19
g
|
Protein:
8
g
|
Fat:
17
g
|
Saturated Fat:
10
g
|
Cholesterol:
73
mg
|
Sodium:
143
mg
|
Potassium:
116
mg
|
Fiber:
1
g
|
Sugar:
9
g
|
Vitamin A:
612
IU
|
Vitamin C:
1
mg
|
Calcium:
135
mg
|
Iron:
1
mg