These stuffed tomatoes are full of spaghetti and topped with plenty of cheese. They're a fun and unique vegetarian side dish or main course!
You've never had spaghetti like this before! The unique presentation of these pasta stuffed tomatoes makes them elegant enough for entertaining, yet easy enough to serve on a busy weeknight.
I used to subscribe to a ton of magazines, mostly food related but also some trashy tabloids thrown in for good measure. A few years ago I let most of my subscriptions lapse. I much prefer to use Pinterest as an electronic recipe box rather than actually having to tear things out of magazines and file them away. There is one magazine I still get, and that's Martha Stewart Living. Every issue is beautiful and Martha Stewart was one of my original inspirations back in 2001 when I started cooking. When I was reading the latest issue a picture of spaghetti stuffed peppers caught my eye. I thought my girls would get a kick out of the presentation but I knew they wouldn't want to eat a whole bell pepper. I came up with the idea to do easy baked stuffed tomatoes with spaghetti instead, all three of them love tomatoes. And so this recipe was born.
How do you make stuffed tomatoes?
I went looking for the biggest tomatoes I could find and ended up with half a dozen beefsteak tomatoes. You want the tomatoes to be firm so that they won't fall apart when you hollow them out. I used a grapefruit spoon to easily scoop all the tomato flesh out.
The spaghetti that Martha used in her recipe was flavored with capers and anchovies. Not exactly kid friendly, but I don't think she intended it to be! I decided to go with a combination of sauteed red onion, parsley, parmesan, olive oil and finely diced tomato from the flesh I just scooped out, then finished the stuffed tomatoes off with a generous sprinkle of mozzarella cheese.
The spaghetti mixture gets mounded into the tomato shells and baked. Make sure you generously season the insides of your tomatoes. As the stuffed tomatoes bake in the oven they'll let off juice which will water down the seasoning a bit but this juice is also what keeps the pasta from drying out. You'll also want to put the tomato lids on during the baking process to keep the moisture in.
These easy baked stuffed tomatoes exceeded my expectations. The herbs and cheese in the spaghetti worked perfectly with the roasted tomato exterior. As I predicted, the girls thought it was super fun to eat their noodles out of a tomato bowl. I bet Martha would be proud too!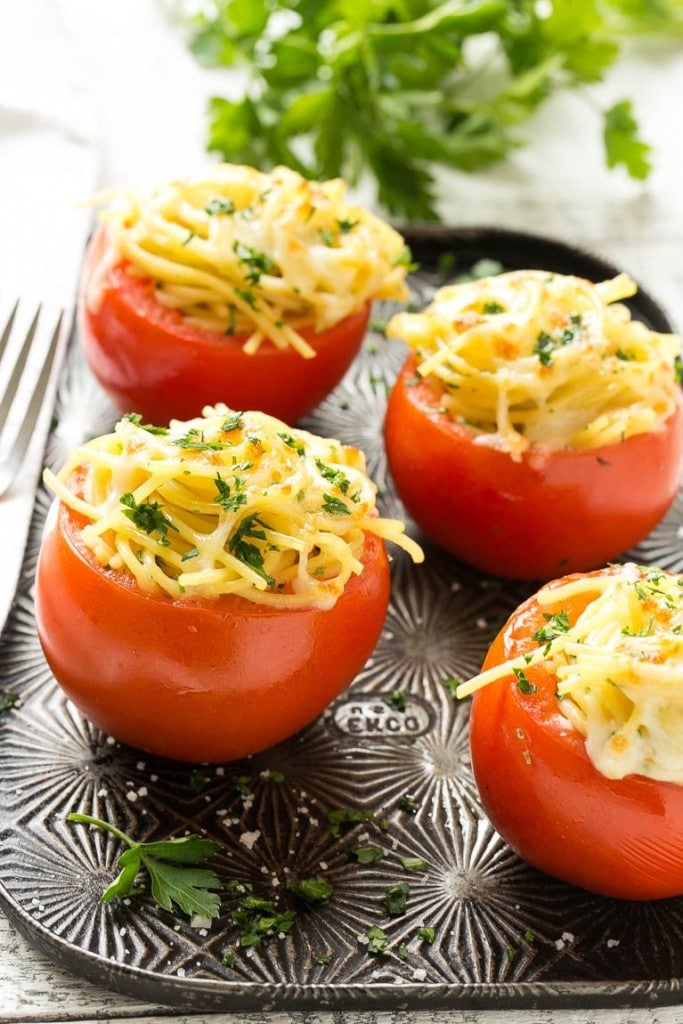 Still hungry? Follow Dinner at the Zoo on Facebook, Twitter, Instagram and Pinterest for more great recipe ideas!
More pasta recipes you'll love
Stuffed Tomatoes
These easy baked stuffed tomatoes are filled with a mixture of spaghetti, cheese and herbs.
Ingredients
6

very large firm tomatoes

(I recommend beefsteak)

2

tablespoons

olive oil

10

ounces

spaghetti

1/2

cup

red onion

, finely diced

1

cup

of finely diced tomato pulp

3/4

cup

parmesan cheese

1/4

cup

parsley

, minced

1/2

cup

shredded mozzarella cheese

kosher salt and pepper

cooking spray
Instructions
Cut the tops off the tomatoes. Hollow out the insides of the tomatoes with a knife or grapefruit spoon. Discard the tomato seeds; reserve the remaining tomato pulp. Dice up 1 cup of the pulp, set aside.

Preheat the oven to 350 degrees.

Bring a pot of salted water to a boil. Cook the spaghetti as directed on the package.

While the spaghetti is cooking, heat up a large pan on medium-high heat. Add 1 tablespoon of olive oil.

Add the red onion to the pan, saute for 5 minutes or until the onion has softened and is starting to brown.

Add the tomato to the pan, cook for 1 minute. Season the onion and tomato mixture with salt and pepper to taste.

Drain the spaghetti and add it to the pan. Stir in the remaining tablespoon of olive oil, parmesan cheese and parsley. Add more salt and pepper to taste.

Put the tomato shells into a pan greased with cooking spray. I used an 8x8 square pan. Mound the pasta evenly into the tomato shells. You may have a little pasta leftover. Sprinkle the mozzarella evenly over the spaghetti mixture.

Place the tops back on the tomatoes. Bake the tomatoes for 30 minutes. Serve immediately.
Notes
Make Ahead: The tomatoes can be hollowed out earlier in the day and stored in the fridge. Little Helpers: The kids can help hollow out the tomatoes and stuff them with the spaghetti.
Nutrition
Calories:
333
kcal
|
Carbohydrates:
44
g
|
Protein:
14
g
|
Fat:
11
g
|
Saturated Fat:
4
g
|
Cholesterol:
15
mg
|
Sodium:
281
mg
|
Potassium:
621
mg
|
Fiber:
3
g
|
Sugar:
6
g
|
Vitamin A:
32.4
%
|
Vitamin C:
30.1
%
|
Calcium:
22.9
%
|
Iron:
11.2
%