This recipe for shrimp tempura roll is crispy shrimp with avocado and cucumber, all wrapped up in seasoned rice. Making sushi at home is actually quite fun and easy to do!
I love eating sushi at a restaurant, but now that I've learned how to make it myself, I skip the restaurant and prepare some for my family in the comfort of my own home. For an extra special treat, serve your shrimp tempura roll with some yum yum sauce for dipping and a side of Japanese cucumber salad!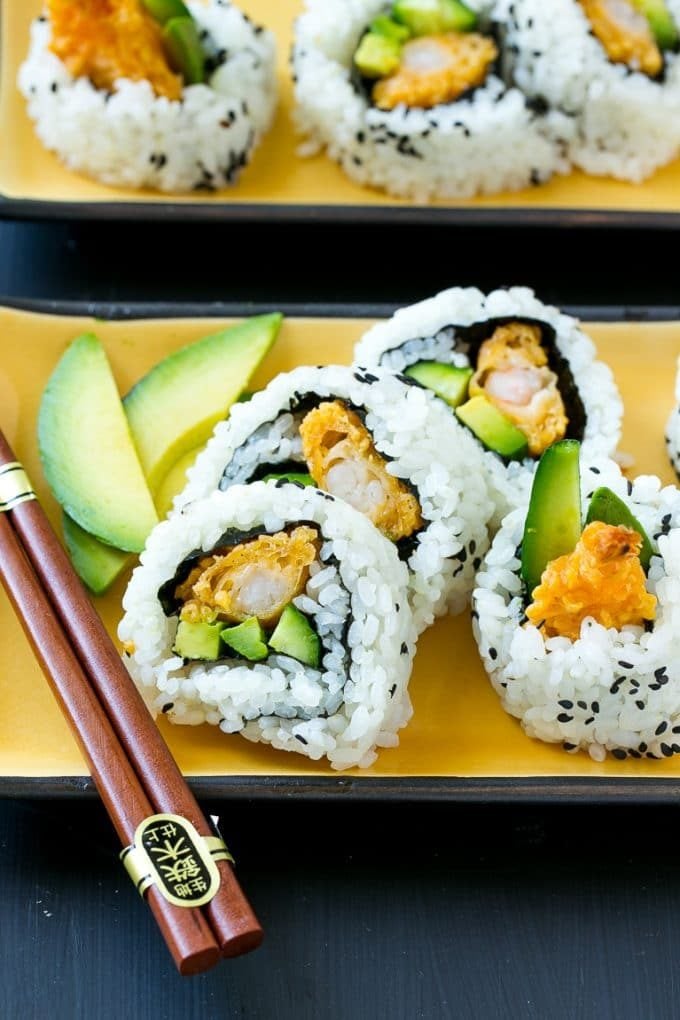 I absolutely love sushi, but for whatever reason, Japanese restaurants are crazy expensive around here! I feel like every time we go out for sushi it's a minimum of $60 for two people. I decided it was time to learn to make sushi at home and started with this shrimp tempura roll. I was surprised by how easy it actually is to make sushi – this roll pictured here was my very first attempt – not too shabby right?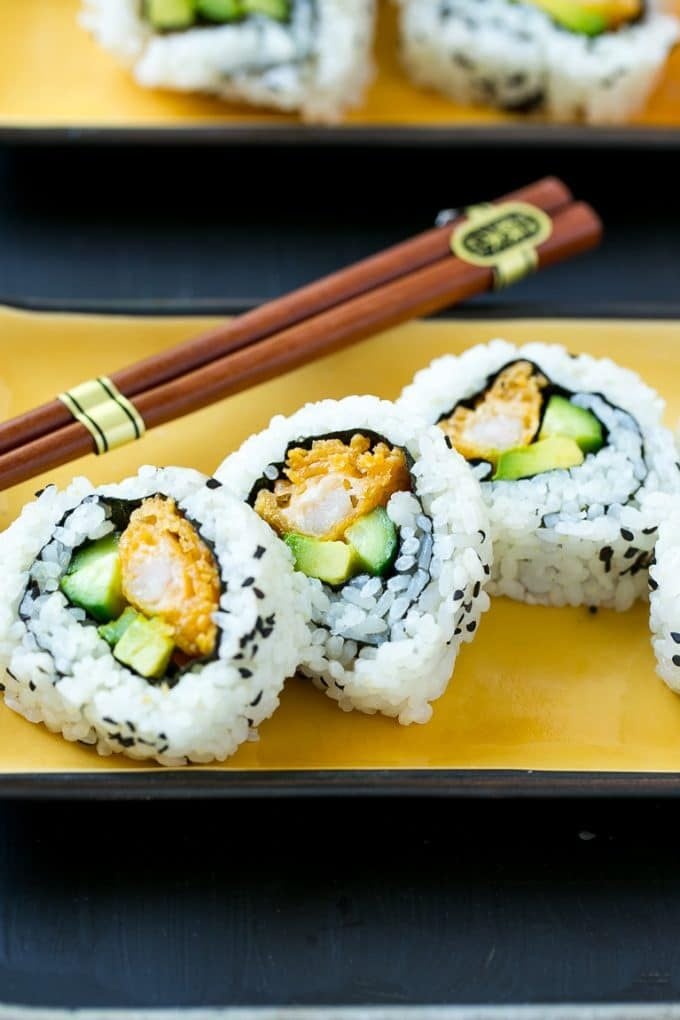 How do you make shrimp tempura roll?
The trickiest part of making sushi is the rice – you definitely need to hunt down some short grain sushi rice for this recipe. I have been able to find sushi rice pretty easily in most of my local grocery stores so it shouldn't be a big problem. I also picked up a package of nori seaweed sheets in the Asian food section of my grocery store. I cheated a bit here and used frozen tempura shrimp to make these rolls. I baked them in the oven and it worked out just fine.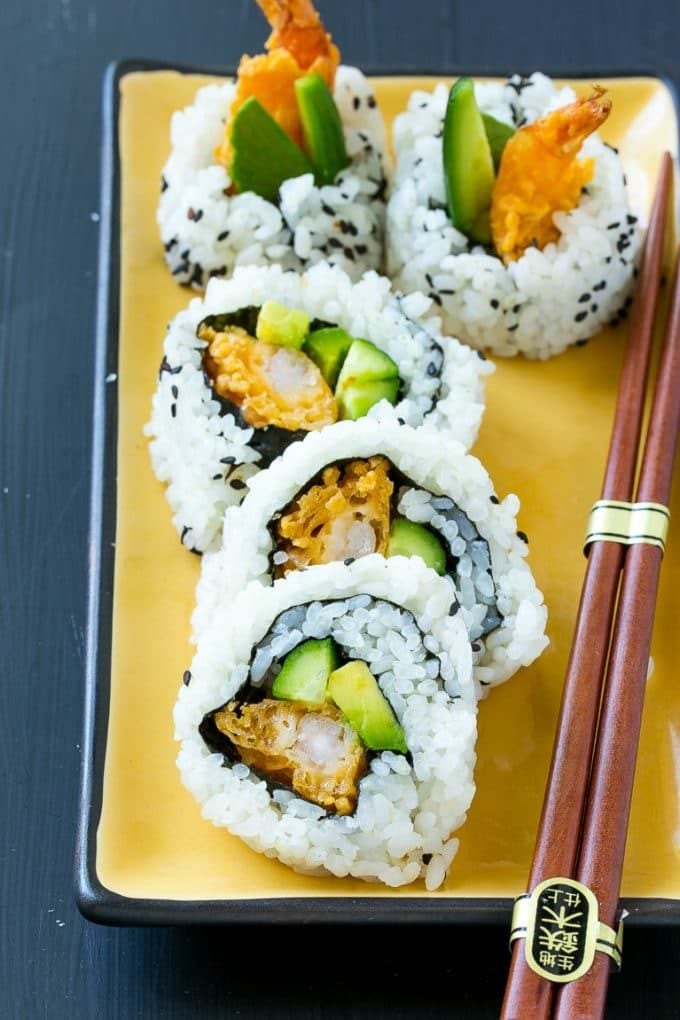 These shrimp tempura rolls are filled with tempura shrimp, avocado and cucumber. I used a handy little bamboo rolling mat to roll up my sushi, but if you don't feel like buying one, you can use a thin towel like a tea towel. However you do it, line the towel or rolling mat with plastic wrap before layering on the ingredients. I watched a video before I started rolling my sushi to make sure I had the technique down.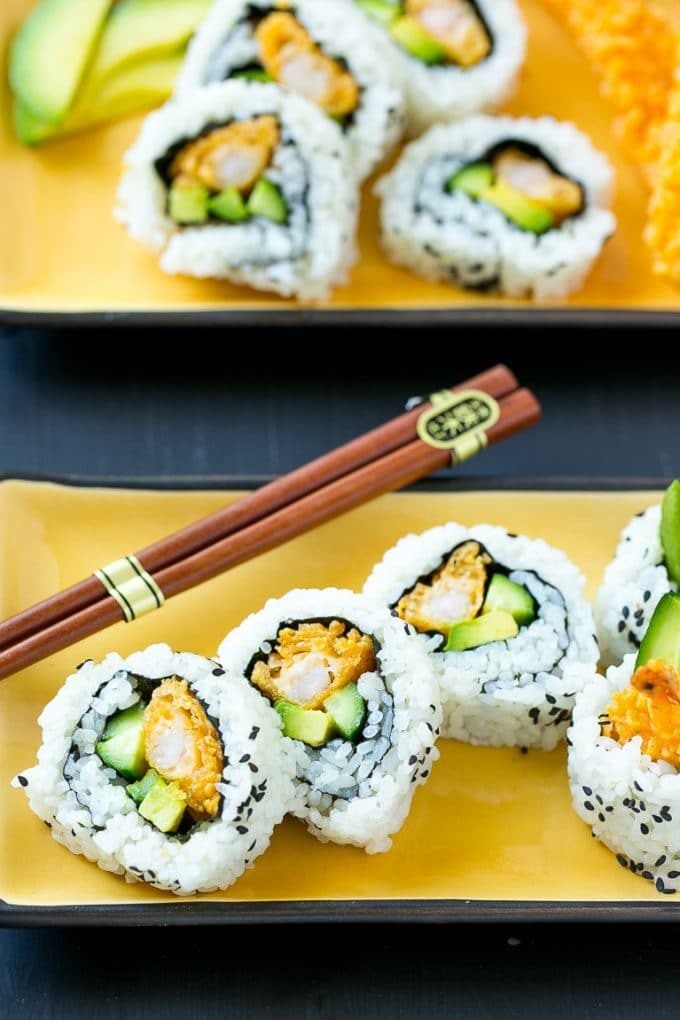 These shrimp tempura rolls were a big hit with the whole family. It's a great way to introduce sushi to kids since there's no raw fish, and if you keep a box of tempura shrimp in the freezer you can whip up some sushi whenever the craving arises. Now that I feel like I have the sushi making basics down, I'm going to branch out a bit and try some new varieties. Have you ever made sushi at home? If so, leave a comment with your best tips!
Still hungry? Follow Dinner at the Zoo on Facebook, Twitter, Instagram and Pinterest for more great recipe ideas!
More great shrimp recipes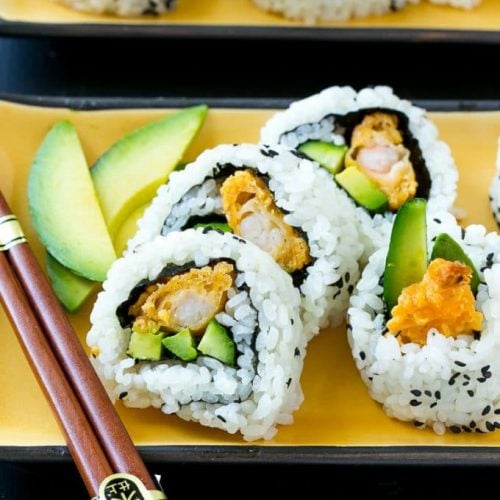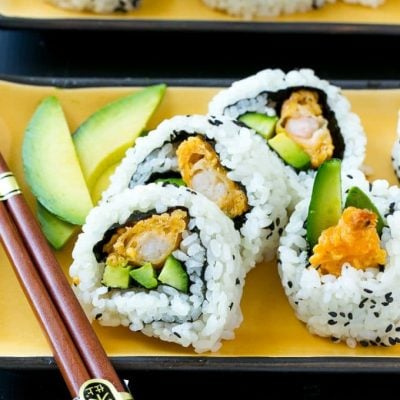 This recipe for shrimp tempura roll is crispy shrimp with avocado and cucumber, all wrapped up in seasoned rice. Making sushi at home is actually quite fun and easy to do!
Ingredients
For the sushi rice:

2

cups

uncooked sushi rice

2

cups

water

2

tablespoons

rice vinegar

2

tablespoons

sugar

1 1/2

teaspoons

salt
For the sushi rolls:

4

sheets of nori

8

pre-cooked tempura shrimp

8

strips of cucumber

8

slices

of avocado

3

tablespoons

black and/or white sesame seeds
Instructions
Place the rice into a colander and rinse until the water runs clear.

Add the rice and 2 cups of water into a medium saucepan over high heat. Bring to a boil, uncovered. Once it begins to boil, reduce the heat to low and cover. Cook for 15 minutes. Remove the pot from the heat and let stand, covered, for 10 minutes.

Combine the rice vinegar, sugar and salt in a small bowl and heat in the microwave for 20-30 seconds. Transfer the rice to a large bowl and add the vinegar mixture. Fold thoroughly to combine. Allow the rice to cool to room temperature

Place one sheet of nori on a flat surface and press approximately 1/3-1/2 cup rice across the surface of the nori, going all the way to the edges. This is easiest if your fingers are slightly damp.

Place a piece of plastic wrap over the rice covered nori and invert on top of a sushi rolling mat so that the seaweed side is up.

Place 2 shrimp, 2 strips of cucumber and 2 slices of avocado along one side of the nori.

Pick up the edge of the rolling mat closest to the shrimp mixture and tightly roll up the sushi.

Press approximately 2 teaspoons of sesame seeds into the rice on the sushi roll.

Using a sharp knife, slice the sushi then serve immediately.
Nutrition
Calories:
593
kcal
|
Carbohydrates:
124
g
|
Protein:
19
g
|
Fat:
12
g
|
Saturated Fat:
1
g
|
Cholesterol:
41
mg
|
Sodium:
624
mg
|
Fiber:
7
g
|
Sugar:
9
g