Light and fluffy pumpkin french toast sticks coated in cinnamon sugar. They're super fun to eat and they taste like a churro!
Pumpkin french toast is a fall classic and these delicious french toast sticks are no exception.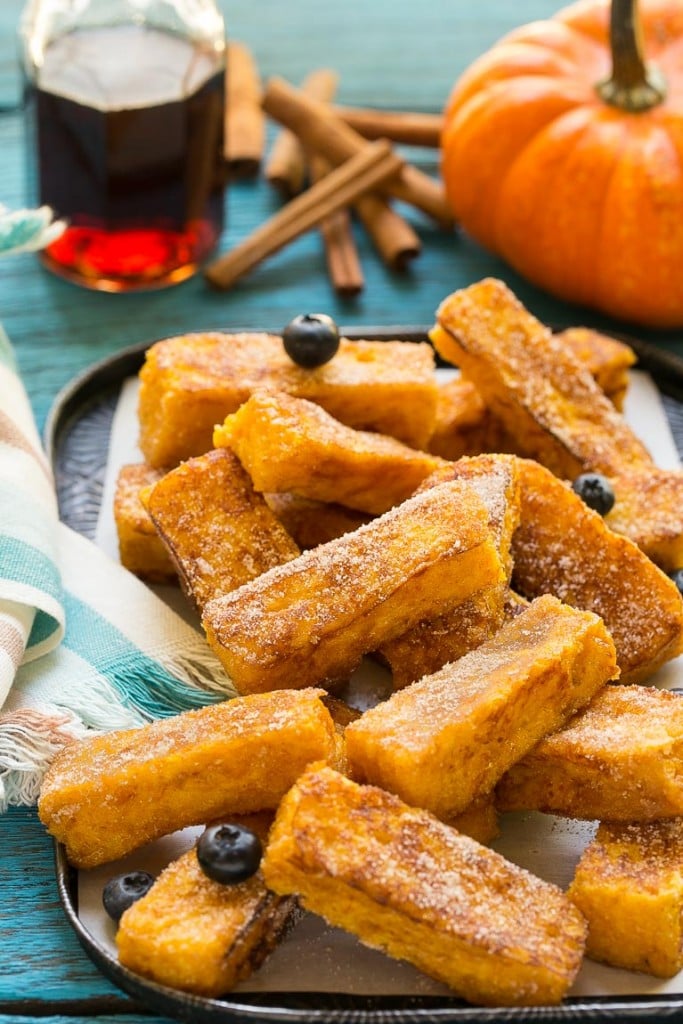 I did it again. I created another must-make recipe. These pumpkin churro french toast sticks are now my favorite breakfast of all time. My older girls were in awe and were still talking about them hours later. My youngest begged for more "punkin bread sticks". Needless to say, I'll be stocking up on pumpkin so that I can make these french toast sticks year round.
How do you make french toast sticks?
There are a few things you need to know to make perfect french toast sticks. First of all, the bread type is very important. If you use a thinly cut loaf of bread the french toast sticks will not have enough structure to hold up to dipping. They'll still taste good, but they'll bend when you go to pick them up. I bought an unsliced loaf of brioche bread and cut it myself into thick slices to make these sticks. Any sturdy bread will work, like texas toast or another loaf of egg or white bread where you can control the thickness of the slices.
Second, the bread should be stale. I cut my bread slices and let them sit out overnight. If you don't have the time to do that, you can lightly toast the bread or bake it in a low temperature oven to dry it out. Third, don't overdo it on the batter. You want to lightly dip these sticks in the batter; they're small so they'll absorb the liquid quickly. If you leave them in the batter too long they'll end up soggy.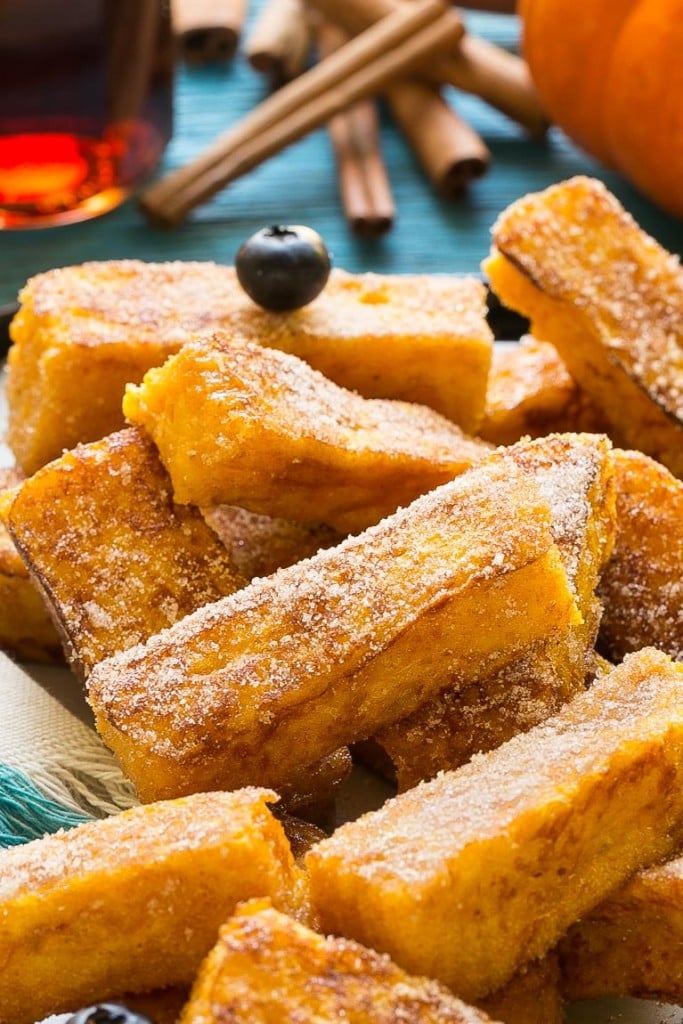 The french toast sticks are cooked on all 4 sides on a griddle. After they're cooked through, it's time to add the coating – the french toast sticks get rolled in a pile of cinnamon sugar to coat. It's best to do the coating as soon as the french toast comes off the pan; the sugar will adhere better if they food is still warm.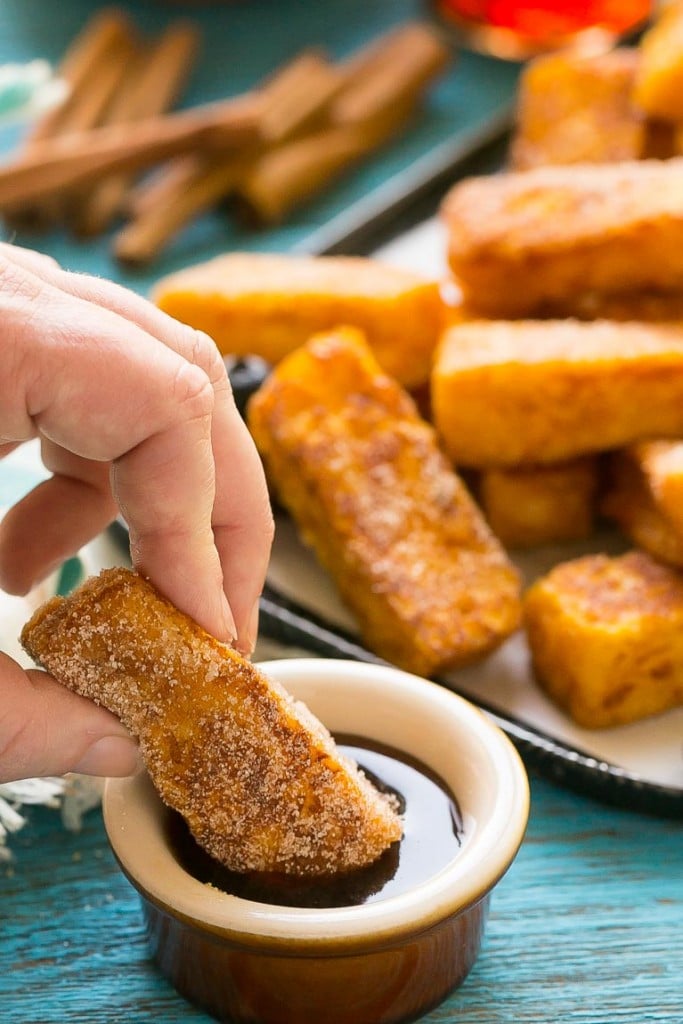 These french toast sticks truly taste like a churro – if churros were made in a pumpkin flavor that is! If you can find brioche bread, use it for these sticks – it really adds a lot of richness. You can serve the french toast with syrup for dipping, although frankly I think they're perfect as is. As I mentioned earlier, my kids were enamored with these. They definitely beat any french toast I've ever had before.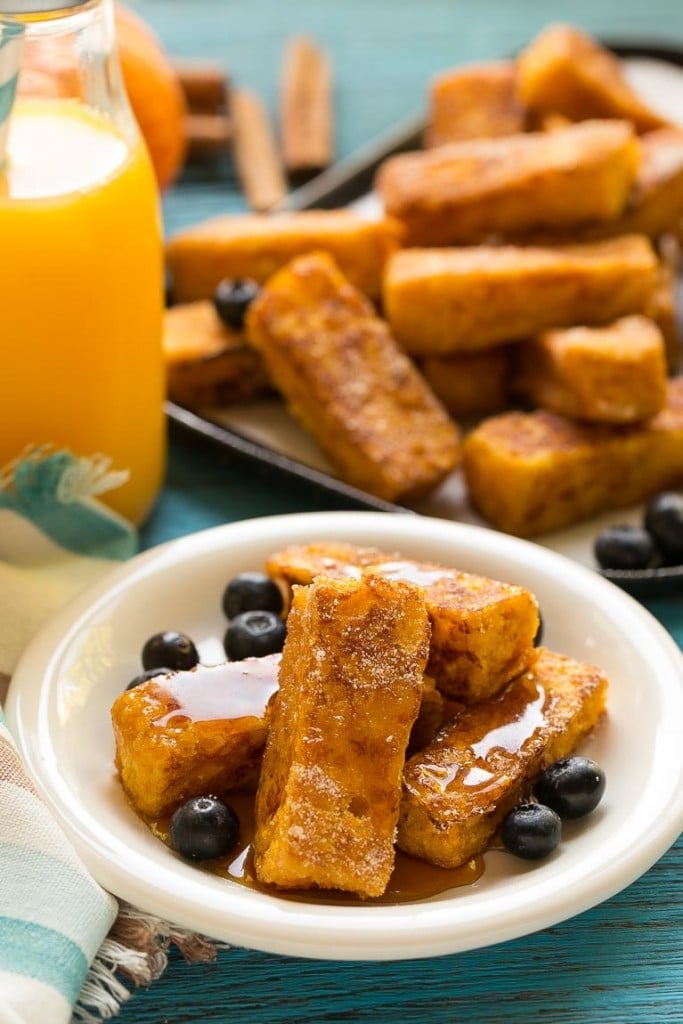 Treat your family to something special this weekend and whip up a batch of these breakfast treats. Everyone will be happy that you did!
Still hungry? Follow Dinner at the Zoo on Facebook, Twitter, Instagram and Pinterest for more great recipe ideas!
More great breakfast recipes
Pumpkin Churro French Toast Sticks Video
Pumpkin Churro French Toast Sticks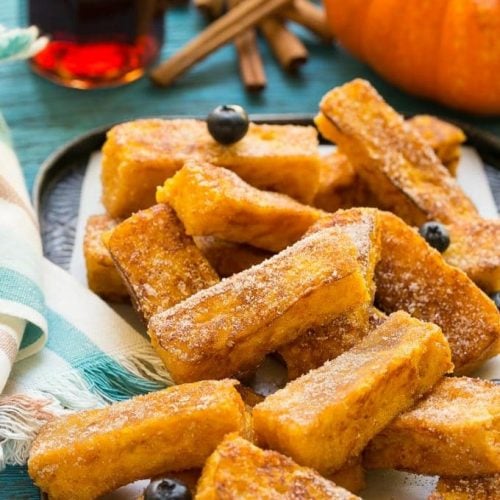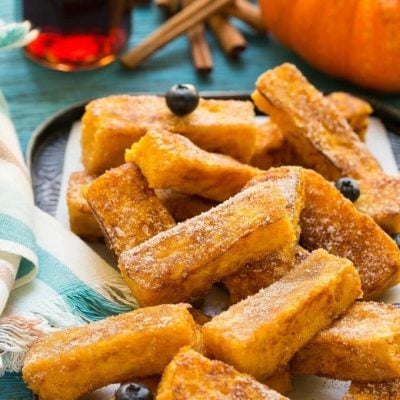 Light and fluffy pumpkin french toast sticks coated in cinnamon sugar.
Ingredients
1

one loaf of stale white or brioche bread

sliced into 1 inch thick pieces. You can buy a whole loaf and slice it yourself or get a pre-cut thickly sliced loaf.

3/4

cup

milk

1/2

cup

pumpkin puree

4

eggs

1

tablespoon

packed brown sugar

1

teaspoon

vanilla extract

1/4

teaspoon

ground cinnamon

butter for the griddle

1/2

cup

of granulated sugar

1

teaspoon

of ground cinnamon

maple syrup for serving
Instructions
Cut the slices of bread lengthwise into sticks. It's your choice as to whether or not you want to cut the crusts off; my kids aren't crust fans so I removed it all.

Heat a large griddle or skillet over medium.

In a large bowl whisk together the milk, pumpkin, eggs, brown sugar, vanilla and 1/4 teaspoon cinnamon until thoroughly incorporated.

Combine the granulated sugar and 1 teaspoon cinnamon and pour it onto a plate.

Melt approximately 1 tablespoon of butter on the griddle, or enough to coat the entire pan.

Quickly dip the bread sticks into the pumpkin batter, making sure they're fully coated.

Place the bread onto the griddle. Cook on all 4 sides for 2-3 minutes per side or until lightly browned and cooked through.

As the french toast sticks come off the griddle, quickly roll them in the cinnamon sugar until coated. Repeat in batches until all of the french toast sticks are cooked and coated in cinnamon sugar.

Serve immediately with maple syrup for dipping if desired.
Notes
Make Ahead: The batter can be made earlier in the day and stored in the fridge until you're ready to use it. Stir well before use.
Nutrition
Calories:
335
kcal
|
Carbohydrates:
62
g
|
Protein:
9
g
|
Fat:
5
g
|
Saturated Fat:
1
g
|
Cholesterol:
124
mg
|
Sodium:
395
mg
|
Fiber:
2
g
|
Sugar:
27
g