This recipe for bagel dogs is made with homemade bagel dough which is wrapped around hot dogs and baked to golden brown perfection. A great snack or meal that the kids will absolutely love!
My family loves to order bagel dogs at our local bagel shop. I've now learned to make them at home with great results! Serve your bagel dogs with baked potato wedges and glazed carrots for a complete meal.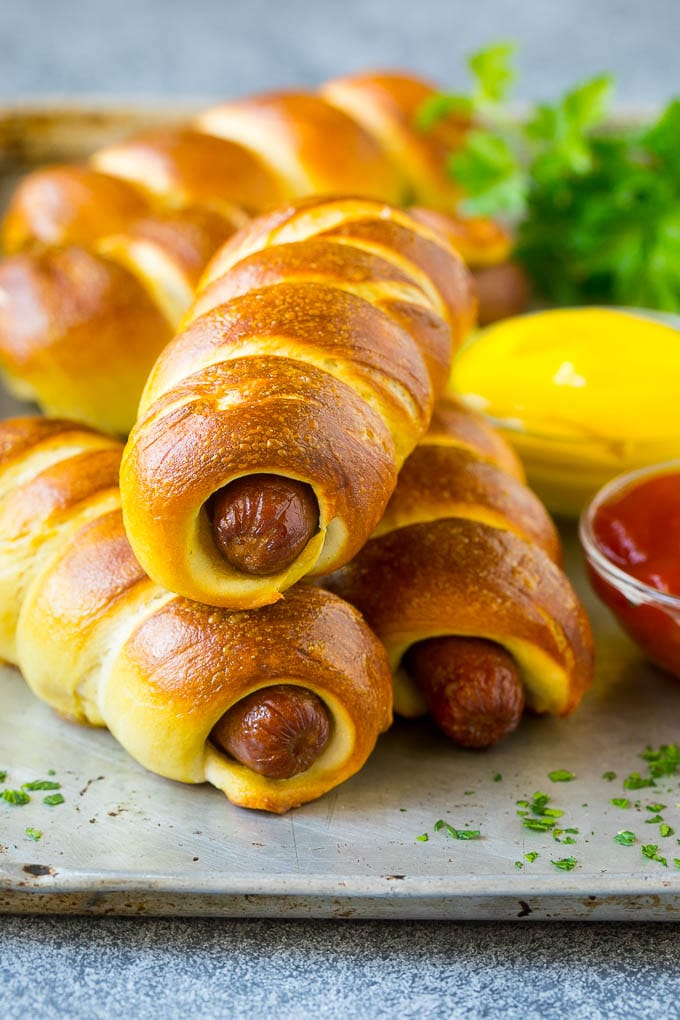 I love recreating my favorite restaurant meals at home. This time around I made bagel dogs for the kids, and they were a huge hit! These bagel dogs can easily be reheated for a quick meal on the go.
How do you make bagel dogs?
This recipe is actually easier than it looks – a simple yeast dough is wrapped around hot dogs. The dough wrapped dogs are then briefly dipped in boiling water, brushed with egg and then baked in the oven. You can add your favorite bagel toppings such as sesame or poppy seeds, or bake them plain like I've done here.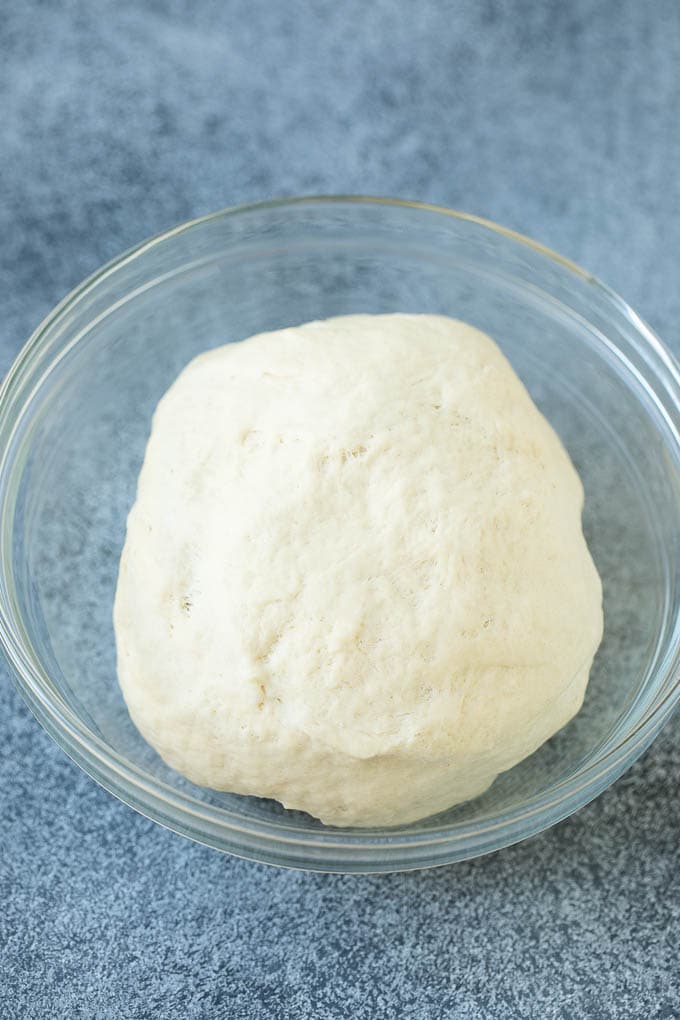 Tips for bagel dogs
The yeast needs to be dissolved in very warm water to activate it. The water should not be boiling or it will kill the yeast. I run my kitchen faucet at its warmest setting and have never had a problem.
The rise time can be variable. For example, this recipe says the dough should rise for an hour. If it's 85 degrees in your house it may rise quicker. Conversely, if it's the middle of winter it will likely take longer.
You can use whatever brand of hot dog or pre-cooked sausage that you like. I typically use either Hebrew National hot dogs or chicken apple sausages.
Bagel dogs can be kept in the fridge for up to 3 days, or you can freeze them for 2 months. I reheat my dogs in the toaster oven so that the outer crust gets crispy again. If you're in a hurry, you can reheat them in the microwave.
I use a deep pot like a stockpot when I boil the hot dogs; I've found that sometimes with a shallow pot the dogs can stick to the bottom. You're only going to boil them for 60 seconds, a slotted spoon or handled strainer works great to transfer the dogs to the baking sheet.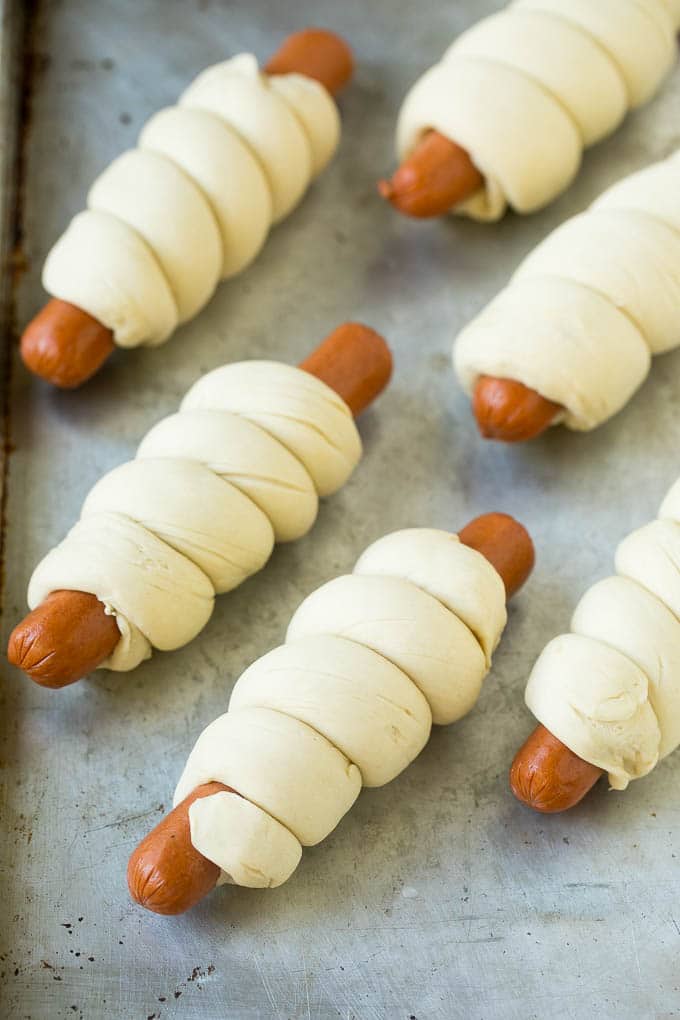 Why do you have to boil bagels?
Bagels are boiled to create that characteristic chewy exterior. While it seems like extra work, it's absolutely essential to get that bagel style flavor into the dough of your hot dogs.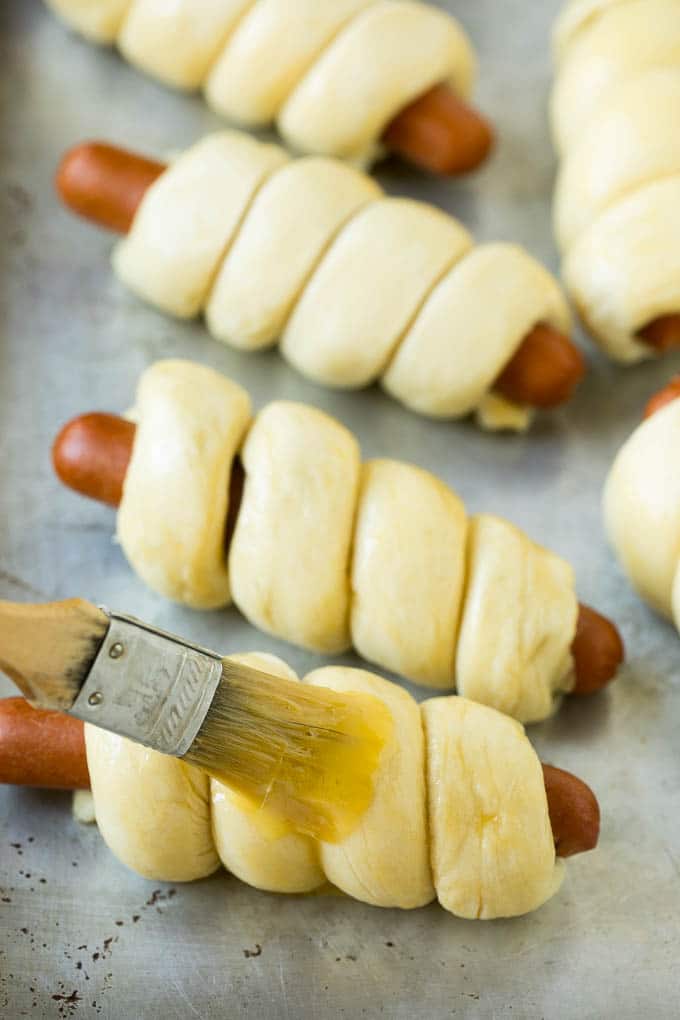 This recipe makes 6 dogs, and I often double the recipe so that I can keep some hot dogs in the freezer for future meals. My kids will never turn down one of these homemade delights, and I'm guessing your kids will be the same way! That being said, adults love these bagel dogs too – how could you resist?!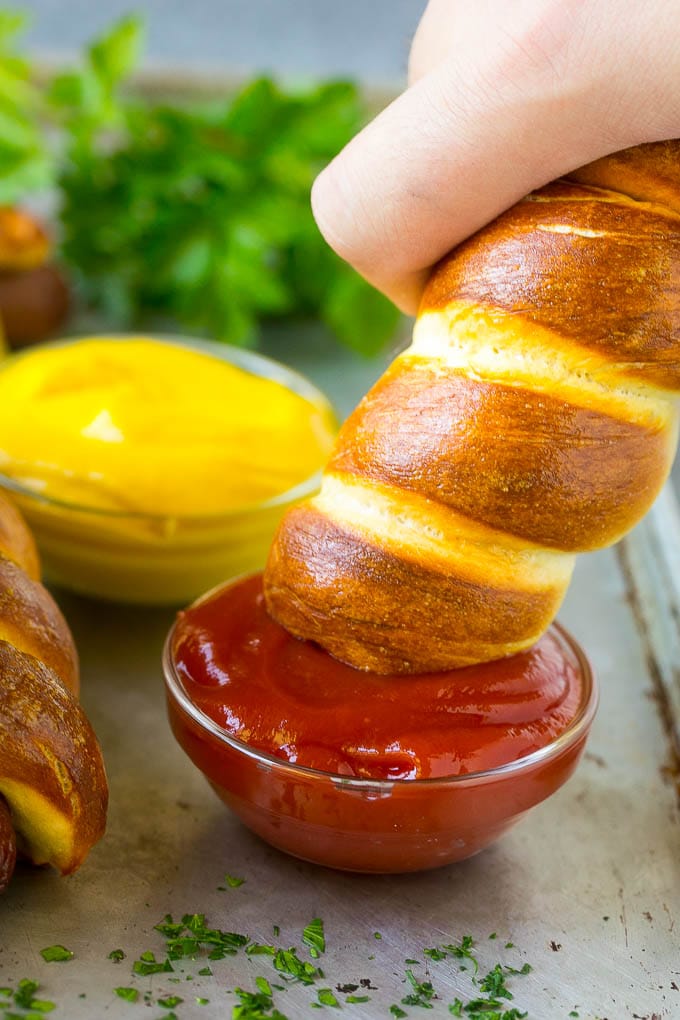 More dinner options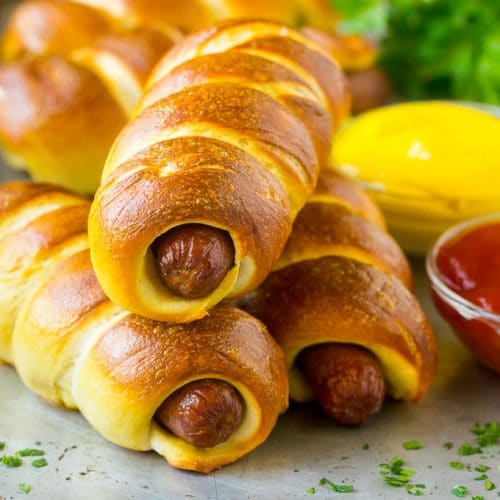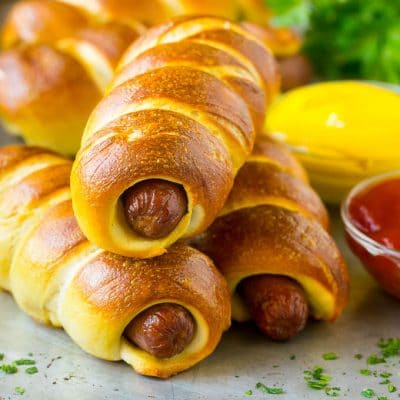 This recipe for bagel dogs is made with homemade bagel dough which is wrapped around hot dogs and baked to golden brown perfection. A great snack or meal that the kids will absolutely love!

Ingredients
3/4

cup

warm water

1 1/2

teaspoons

sugar

1

package

active dry yeast

(2 1/4 teaspoons)

1

teaspoon

kosher salt

2 1/4

cups

all purpose flour

1

tablespoon

butter

melted

6

hot dogs

12

cups

water

2

tablespoons

baking soda

1

egg

beaten

optional: toppings such as sesame seeds, poppy seeds, dried onion or coarse salt
Instructions
Mix together the warm water, sugar and yeast in the bowl of a stand mixer. Let the mixture sit for 5 minutes or until yeast has started to bubble.

Add the flour, salt and butter to the yeast mixture. Place the bowl on a stand mixer fitted with the dough hook. Mix the dough on medium speed for about 5 minutes, until the dough forms a ball that pulls away from the sides of the bowl. If the dough seems a little dry, add a bit more water (1/4 teaspoon at a time)

Remove the ball of dough from the bowl; spray the bowl with cooking spray and return the dough to the bowl. Cover with plastic wrap.

Place the bowl in a warm area until the dough has doubled in size, about 1 hour.

Preheat the oven to 450 degrees. Line a sheet pan with a silicon baking mat or parchment paper.

In a large pot, combine the 12 cups of water and baking soda and bring to a boil. I find a deeper pot works best to prevent the dogs from sticking to the bottom.

Place the dough on a floured surface and divide into equal pieces. Each piece should be about 3 ounces.

Roll each piece of dough into a rope about 10-12 inches long. Wrap the dough around each hot dog, pinching the ends of the dough together to seal. Place the hot dogs on the lined sheet pan.

Using a slotted spoon or flat strainer, dip each hot dog into the baking soda boil for 30 seconds per side. Place each hot dog back onto the sheet pan.

Brush the bagel dogs with the beaten egg. At this point you can add any bagel toppings if you desire. Bake until deep golden brown, about 15 minutes.
Notes
Make Ahead: The dough can be made earlier in the day. After it's doubled in size, punch in down and place in the fridge. Take it out of the fridge about an hour before you want to use it to let it come to room temperature.
Little Helpers: Your kids can help measure the ingredients for the dough and shape the dough into "snakes" to wrap around the sausages.
Nutrition
Calories:
423
kcal
|
Carbohydrates:
48
g
|
Protein:
20
g
|
Fat:
16
g
|
Saturated Fat:
4
g
|
Cholesterol:
102
mg
|
Sodium:
5836
mg
|
Potassium:
72
mg
|
Fiber:
1
g
|
Sugar:
2
g
|
Vitamin A:
440
IU
|
Vitamin C:
1.2
mg
|
Calcium:
31
mg
|
Iron:
3.5
mg
This post was originally published on April 9, 2015 and was updated on April 18, 2019 with new content.