This recipe for Mexican pork carnitas is tender meat slow cooked with citrus and spices, then broiled to crispy perfection. Carnitas is the perfect taco filling and tastes even better if it's made a day in advance.
Pork carnitas is a restaurant worthy dish that's actually quite easy to make at home. You can even make a double batch and freeze the leftovers for another night. I serve my carnitas with sides of beans and rice, along with homemade pico de gallo.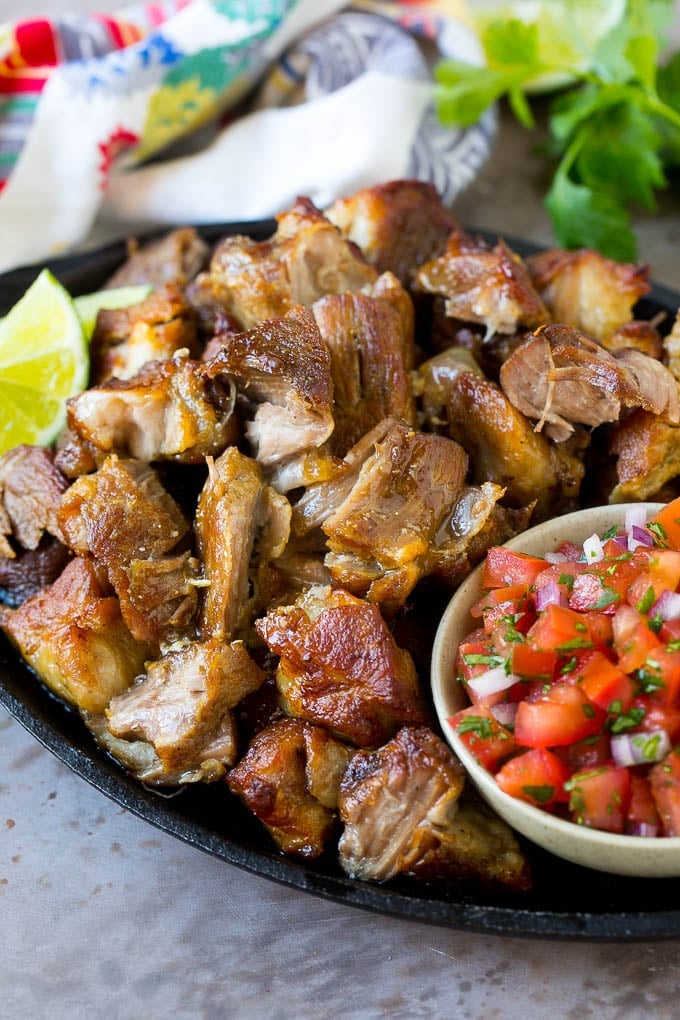 Whenever I go to a Mexican restaurant, I find myself ordering carnitas. That crispy, flavorful pork just can't be beat, and it makes an awesome addition to nachos, tacos, burritos, taquitos, you name it! Carnitas is actually quite simple to make at home, and tastes even better than what you'd get at your local restaurant.
What is carnitas?
Carnitas is a Mexican dish where pork is cut into large chunks then slow cooked with citrus, onions and spices. After the meat is fall-apart tender, it gets broiled for a crispy exterior. Carnitas is traditionally served on its own with a side of tortillas, or as a filling to any number of Mexican dishes.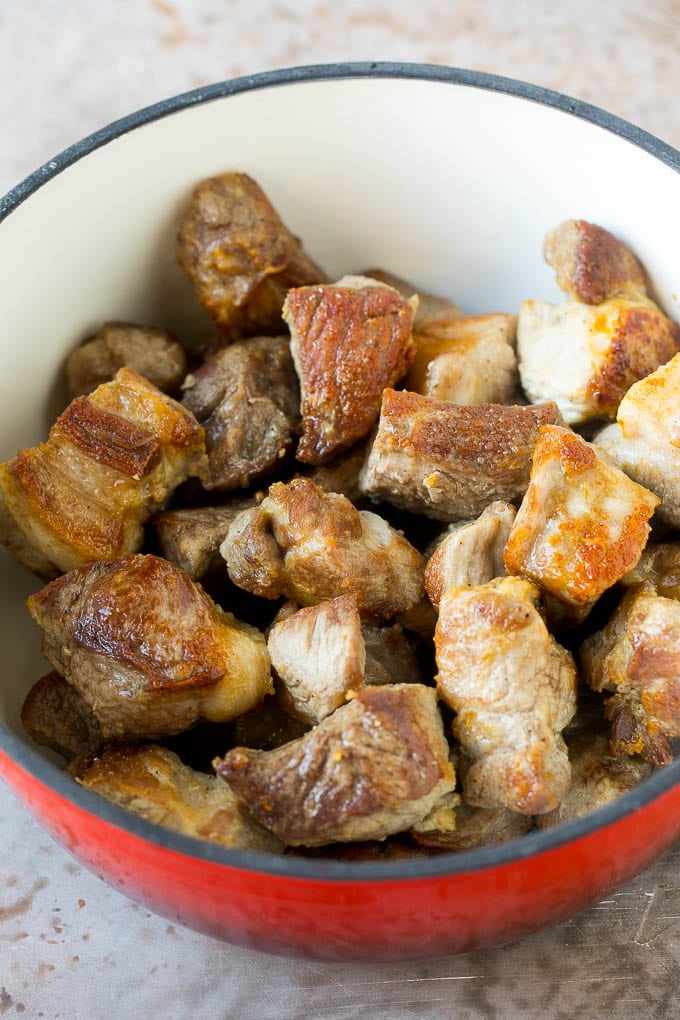 How do you make carnitas?
This pork carnitas takes about 3 hours to cook so plan accordingly. There's not a ton of prep work and the ingredient list is pretty minimal; you're really just waiting for your oven to do its magic as the pork slowly transforms into something tender and succulent.
You can use pork butt or boneless pork country ribs for this recipe. Both cuts are well marbled and are from the shoulder area of the pig. I tend to use the pork country ribs because they're really inexpensive and they're already cut into strips which makes it even easier to cut the meat into cubes for the recipe. You basically just brown the meat, add in some herbs, aromatics and oranges and then wait.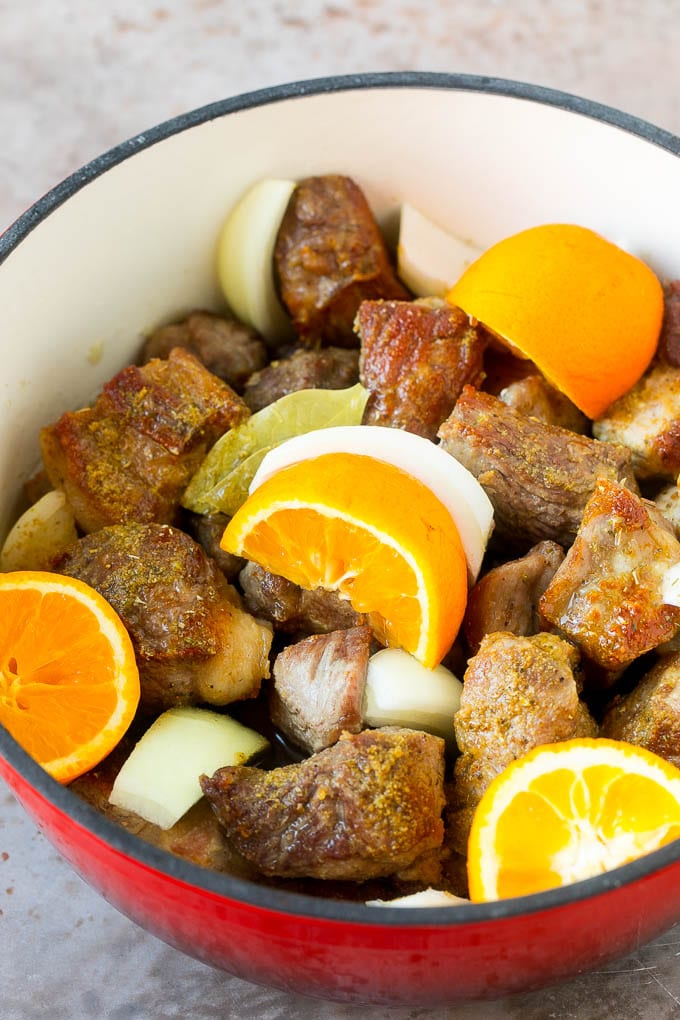 Tips for Carnitas
Now, you can absolutely serve this meat on the day you make it. But it does get better when it sits overnight in the braising liquid.
When I make this pork carnitas recipe I set up a taco bar with my easy Mexican pinto beans and rice, taco shells and tortillas, olives, sour cream, pico de gallo, lettuce, shredded cheese and guacamole. Then everyone makes their own creations. It is awesome for your picky eaters because they are in total control of their own meal.
Carnitas is great for meal prep, because it makes a large batch and will last for 4 days in the fridge, or up to 2 months in the freezer.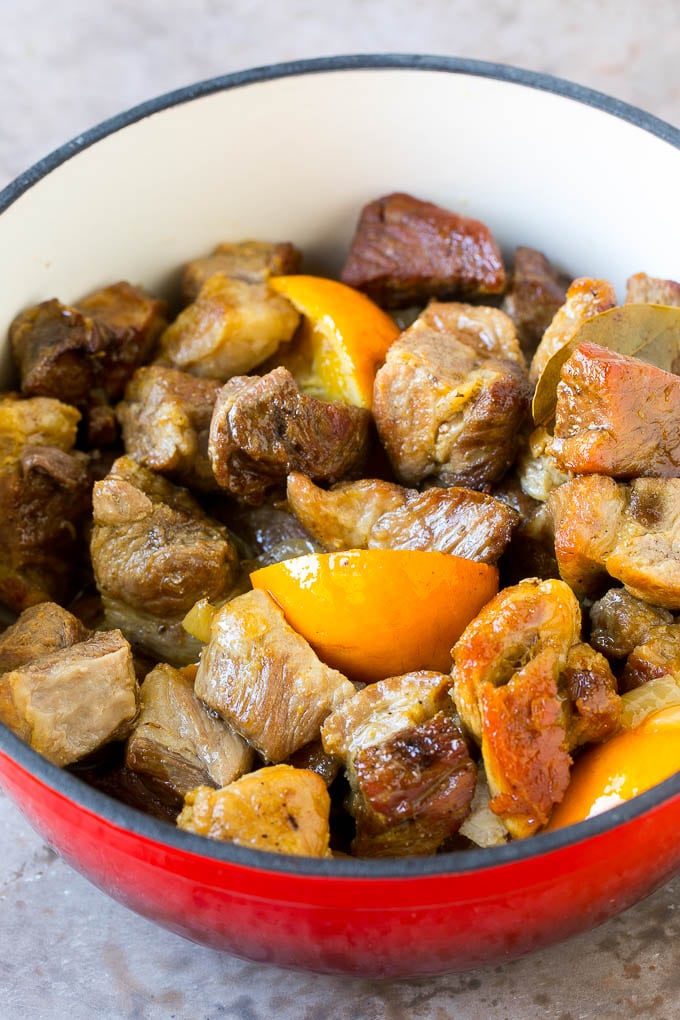 Slow Cooker Carnitas
If you prefer, you can prepare your carnitas in the slow cooker. Simply brown the meat and then add the pork and flavoring ingredients into a slow cooker. Cook on high for 4-6 hours or low for 6-8 hours. Transfer your meat to an oven safe pan, shred, then broil according to recipe directions.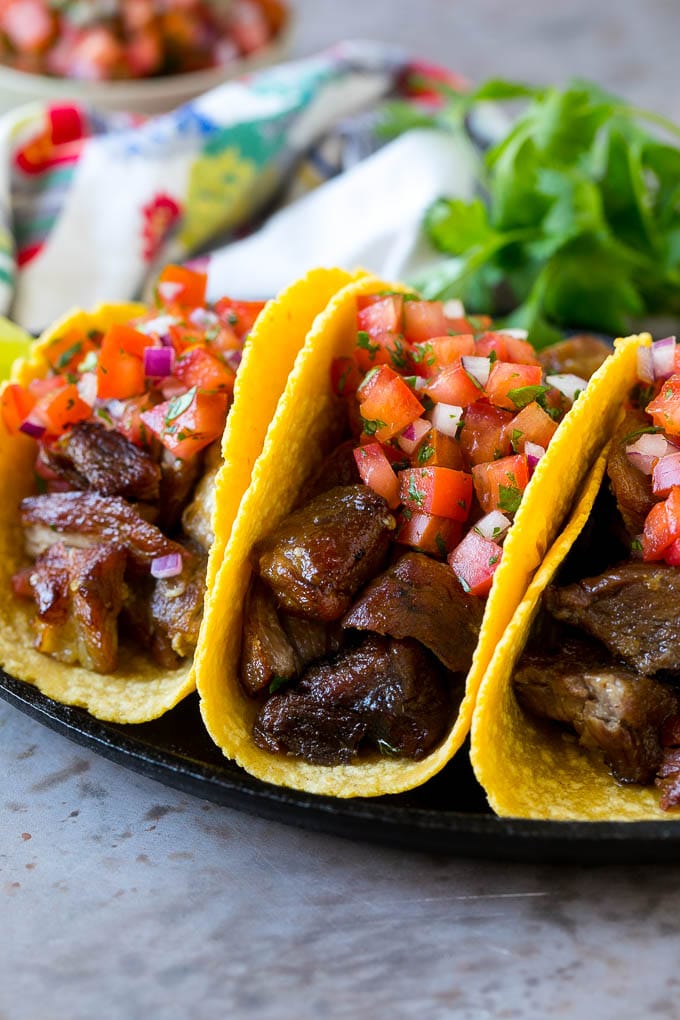 I find myself making this dish all the time; it's easy, has a short ingredient list, and the end result is positively amazing!
More mexican food recipes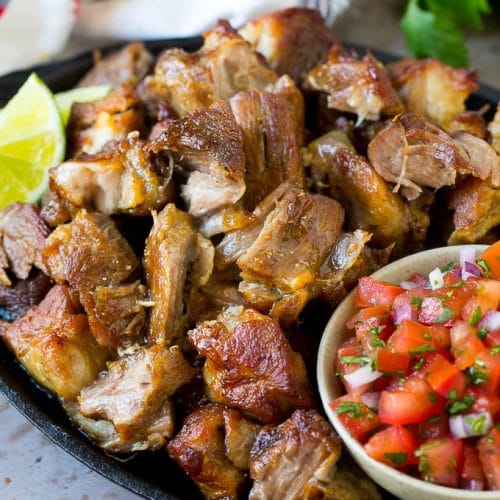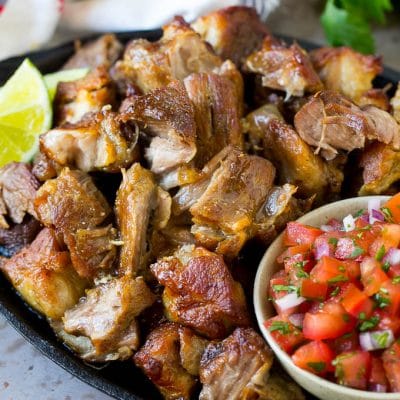 This recipe for pork carnitas (Mexican Pulled Pork) is tender meat slow cooked with citrus and spices, then broiled to crispy perfection. It's a perfect taco filling and tastes even better if it's made a day in advance.
Ingredients
4

pound

boneless pork butt or boneless country ribs

fat trimmed and cut into 2 inch cubes

2

teaspoons

canola oil or other vegetable oil

1 1/2

teaspoons

salt

3/4

teaspoon

pepper

1

teaspoon

ground cumin

1

onion

peeled and quartered

2

bay leaves

1

teaspoon

dried oregano

2

tablespoons

fresh lime juice

2

cups

chicken stock

1

medium orange

quartered and juiced (keep the rinds)
Instructions
Adjust oven rack to lower middle position and preheat to 300 degrees. Heat a large pot over medium heat, add oil. Season the meat with salt and pepper and brown it in batches. Transfer the browned meat to a plate.

After all the meat is browned, combine the meat with the rest of the ingredients in the pot, including the orange rinds. Bring the mixture to a simmer over medium-high heat, uncovered. Once it simmers, cover pot and transfer it to the oven. Cook until the meat falls apart when prodded with a fork, about 3 hours.

Transfer the meat to a 9x13 dish. Degrease the braising liquid by skimming with a large spoon or using a fat separator. Pour the remaining liquid over the meat. Cover the dish with foil and transfer to the fridge; chill overnight.

The next day preheat the oven to 350 degrees. Remove the dish from the fridge. Bake, uncovered for 30 minutes or until juices are bubbling. Switch the oven to broil. The meat needs to broil for about 6-8 minutes, until the top is well browned and slightly crisp. Taste and add additional salt and pepper. Serve immediately with your favorite mexican fixings.
Notes
Freeze It: This recipe makes a lot of servings. After the meat has gone through the initial braise, you can portion off some of it for the freezer. I freeze the meat in a resealable bag. When you're ready to use the meat, thaw it in the fridge and then proceed with the broiling step of the recipe.
I think the calorie estimate here is too high, it doesn't take into account the grease removed from the braising liquid. I can't figure out exactly how to account for that. I figured you'd rather have a ballpark estimate on the nutritional stats rather than nothing at all.
Nutrition
Calories:
346
kcal
|
Carbohydrates:
6
g
|
Protein:
44
g
|
Fat:
14
g
|
Saturated Fat:
4
g
|
Cholesterol:
137
mg
|
Sodium:
670
mg
|
Potassium:
886
mg
|
Sugar:
3
g
|
Vitamin A:
35
IU
|
Vitamin C:
11
mg
|
Calcium:
50
mg
|
Iron:
3.1
mg
This post was originally published on March 10, 2015 and was updated on February 28, 2019 with new content.