Chicken. We eat a lot of it. The girls love chicken so I know that it's usually a safe choice for dinner. I however crave more variety. When I was at the grocery store I spotted some nice looking chicken wings. On a whim, I decided to forgo our usual breast/thigh combo and buy wings instead, hoping that the girls would approve. Not only did they approve of my crispy lemon chicken wings, they loved them! This recipe is now part of our regular dinner rotation and the girls happily eat it every time.
These crispy lemon chicken wings are baked not fried, but you'd never know it because they come out of the oven super crispy. I use a simple lemon, honey and rosemary brine to flavor the chicken and it's the ingredients in this brine that make the wings deep golden brown, almost caramelized.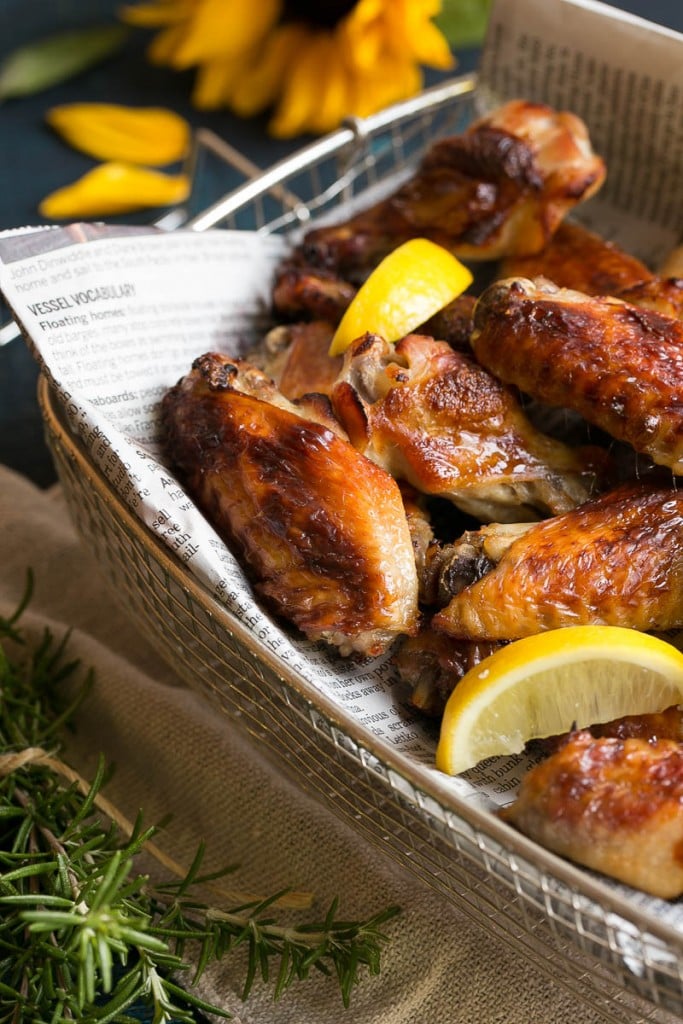 So here's the deal: make the brine, drop the chicken wings in, come back a few hours later then roast at high heat and serve. I recommend my ranch dip on the side but you can certainly eat them plain too. I buy the party wings where they're cut into two pieces, my girls eat all of the drumettes and leave the other pieces behind for me and my husband.
If you've never tried brining chicken before, now is definitely the time to start. It adds so much flavor and moisture to the meat. That being said, it is possible to over brine your meat, so it's important to stick to the time guidelines in the recipe. These crispy lemon chicken wings are a great choice for dinner and they also make a fun party appetizer. Who needs a deep fryer when you can bake your wings and get the same result?!
Still hungry? Follow Dinner at the Zoo on Facebook, Twitter, Instagram and Pinterest for more great recipe ideas!