This spinach lasagna is layers of noodles, sauteed spinach, marinara sauce and three different kinds of cheese, all baked to golden brown perfection. A hearty vegetarian main course option that's perfect for feeding a large group.
You can never go wrong with a cheesy baked pasta, some of my favorite renditions include chili mac, buffalo chicken pasta, and this lasagna loaded with plenty of spinach and cheese.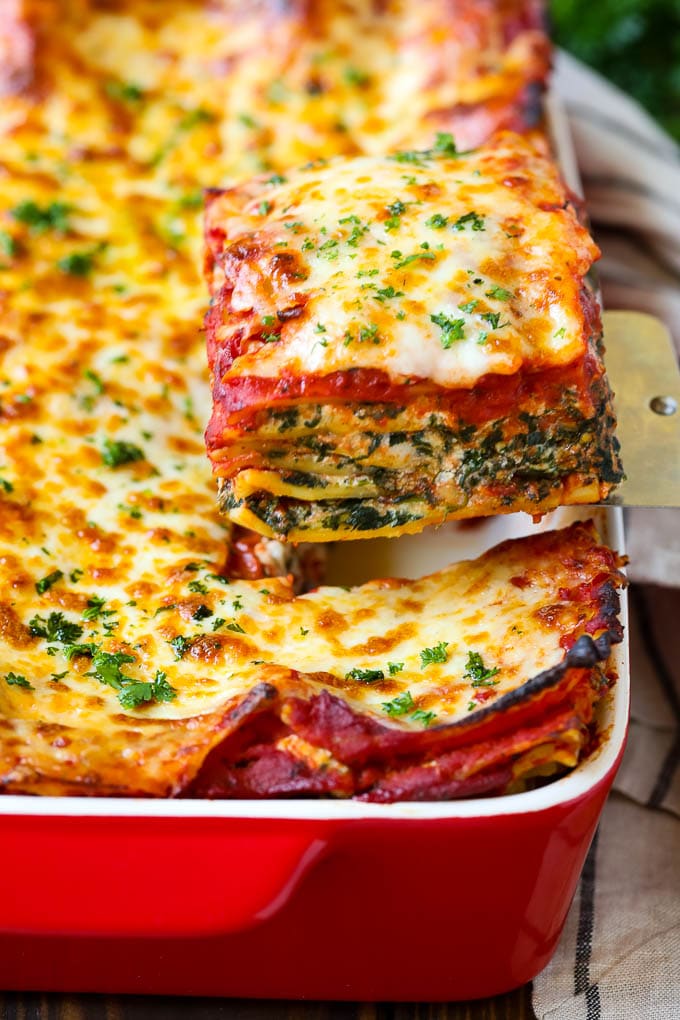 Lasagna is a comfort food classic, no one can resist all those layers of tender pasta with plenty melted cheese. This spinach lasagna contains a generous amount of greens, and is loaded with flavor. You won't miss the meat, I promise!
How do you make spinach lasagna?
This dish starts with a spinach and ricotta filling, which is a mixture of cooked chopped spinach, ricotta, mozzarella, parmesan, herbs and spices. Build the lasagna by placing marinara sauce in the bottom of a baking pan. Layer on cooked lasagna noodles, the spinach-ricotta mixture and the marinara sauce. Repeat the layers until the pan is full, making sure that the marinara sauce is the top layer. Bake the lasagna covered, then uncover, add a layer of shredded cheese, and bake the lasagna until the cheese is melted and golden brown. Once the dish is baked, let it cool for a few minutes, slice it and serve.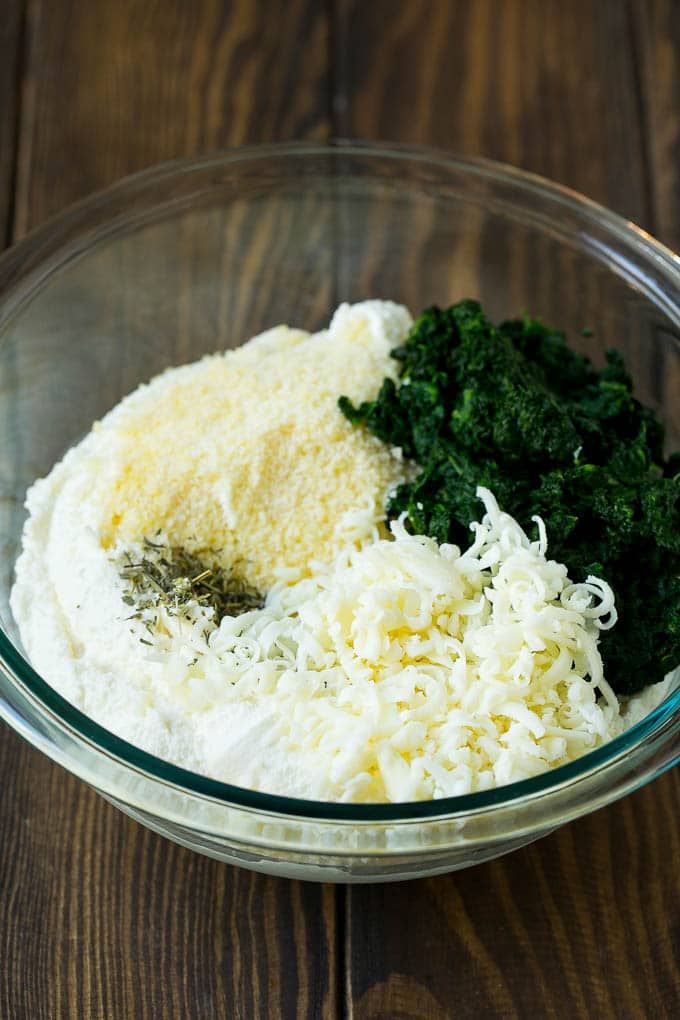 Tips for spinach lasagna
I recommend using whole milk ricotta and mozzarella cheese for the best flavor. That being said, if you're looking to save a few calories, you can substitute in the part skim versions.
Use freshly shredded cheese, not a bag of pre-shredded cheese. The bagged shredded cheese from the grocery store often contains anti caking agents and does not melt smoothly.
Use your favorite brand of marinara sauce. I typically use Newman's Own or Classico brand.
This dish can be assembled up to 6 hours before you plan to bake it. Store it covered in the fridge until you're ready to eat.
You can store any leftover lasagna in the fridge for up to 3 days.
Make sure to squeeze all the excess water out of the cooked spinach. This will prevent your lasagna from getting watery as it bakes.
You can use 2 boxes of frozen spinach instead of fresh spinach. If you use frozen spinach, make sure to squeeze the water out of the spinach after you thaw it.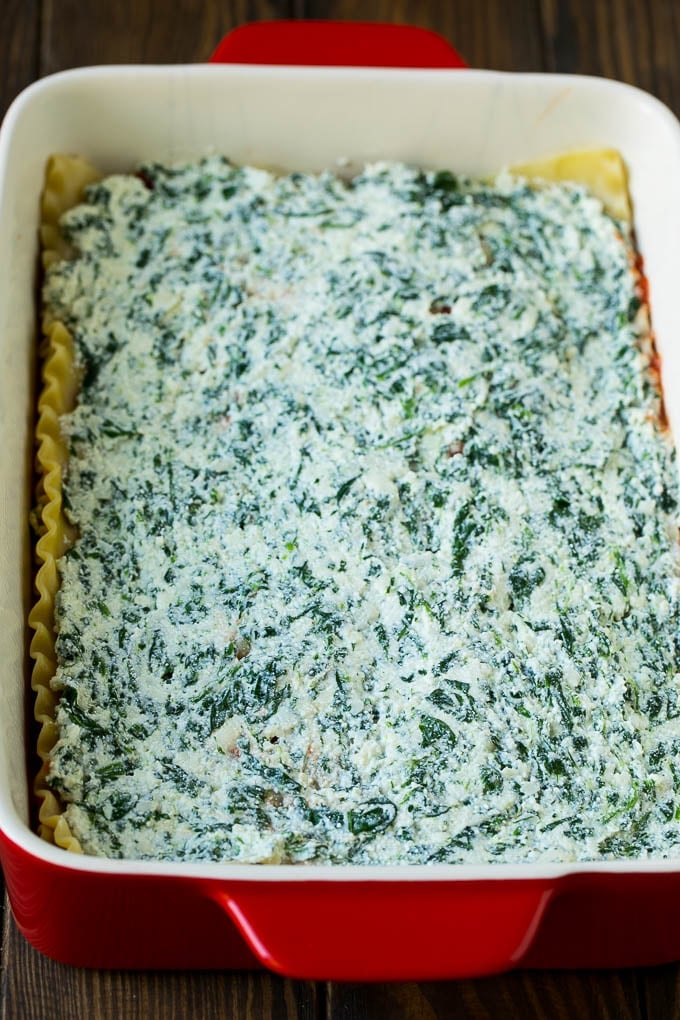 Spinach lasagna variations
This spinach lasagna is a delicious as-is, but you can add some of your favorite flavors to customize it to your tastes.
Meat: Add meat to the marinara sauce such as crumbled and cooked Italian sausage, cooked ground beef or diced grilled chicken.
Veggies: Feel free to add other vegetables such as mushrooms, zucchini, bell peppers or carrots.
Greens: You can substitute kale, escarole or other cooked greens for the spinach.
Cheese: Try adding some other cheeses such as fontina, provolone, or pecorino romano.
Do you have to cook lasagna noodles?
For this recipe, you have to cook the lasagna noodles before building the lasagna. Cook the noodles in salted boiling water according to the directions on the package, then lay the cooked noodles on a flat surface so that they won't stick together.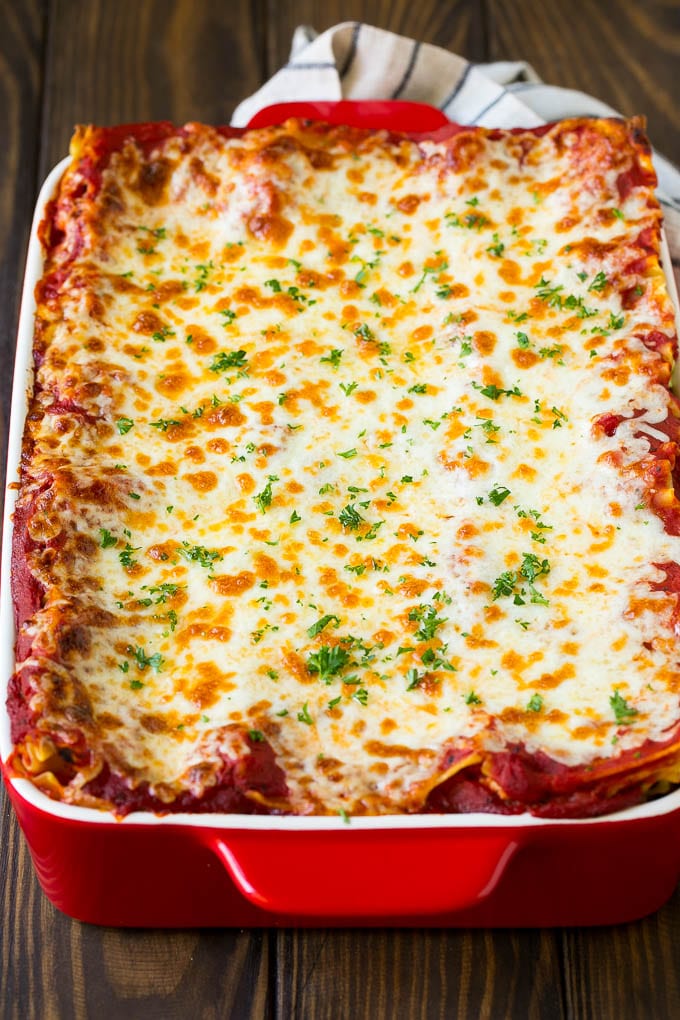 How to reheat lasagna
To reheat a pan of refrigerated lasagna in the oven, simply cover it with foil and bake it at 350 degrees F. The lasagna will take around 30 – 40 minutes to reheat. You can reheat a single slice of refrigerated lasagna in the microwave by cooking it on high for 2 minutes. If the lasagna is not heated all the way through after two minutes, rotate it and microwave in 20 second increments until it's hot.
Can you freeze lasagna?
You can freeze lasagna in a pan or as individual servings. Make sure the lasagna is in an airtight container or bag. You can bake a lasagna from frozen, just make sure to add another 20-30 minutes to the cooking time. To reheat individual slices, heat in the microwave for 3-4 minutes or until warmed through.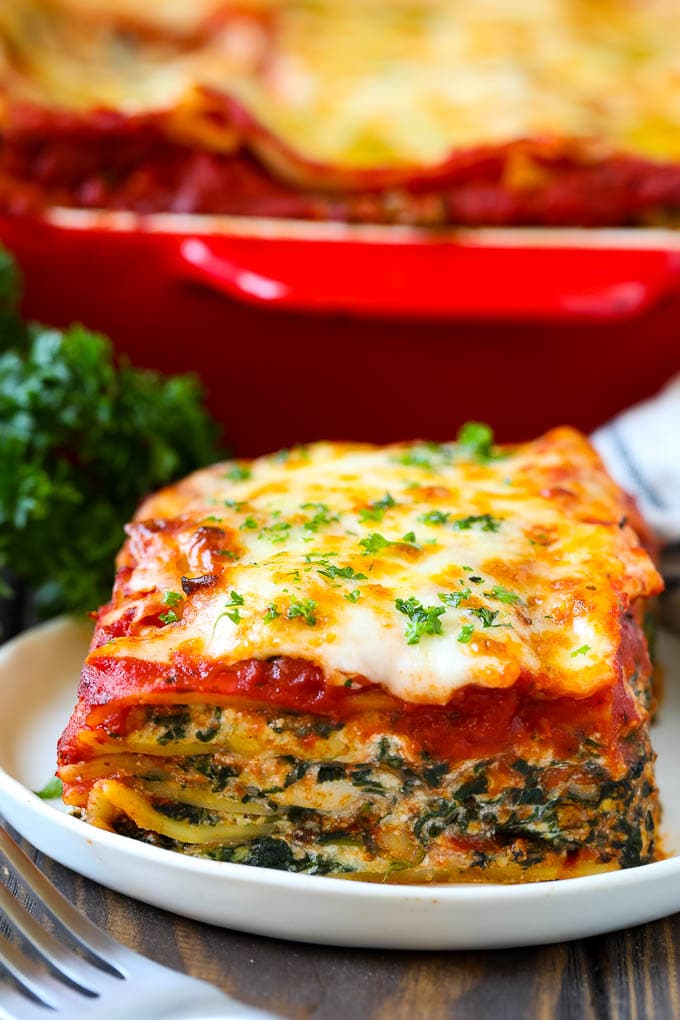 This lasagna will delight your friends and family and is perfect for parties, pot lucks and everyday dinners!
More pasta recipes you'll enjoy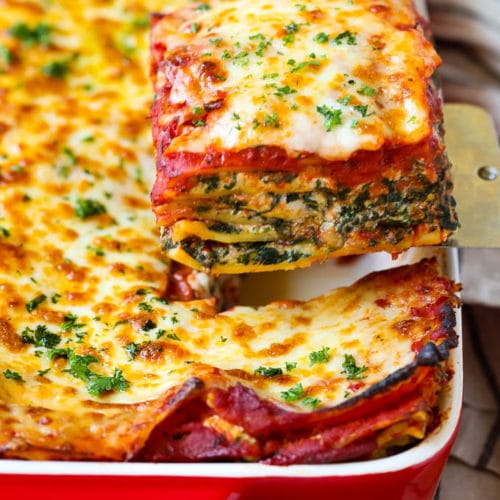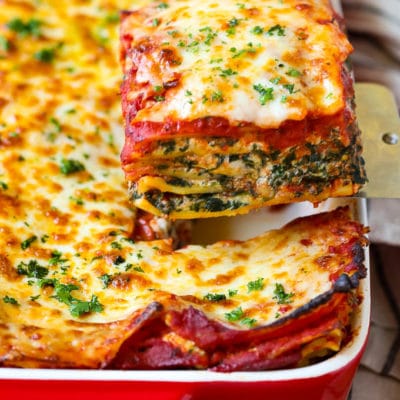 This spinach lasagna is layers of noodles, sauteed spinach, marinara sauce and three different kinds of cheese, all baked to golden brown perfection. A hearty vegetarian main course option that's perfect for feeding a large group.
Ingredients
For the filling
1

tablespoon

butter

24

ounces

fresh spinach leaves

15

ounces

ricotta cheese

2

eggs

3/4

cup

grated Parmesan cheese

1

cup

shredded mozzarella cheese

1/2

teaspoon

salt

plus more to taste

1/4

teaspoon

pepper

plus more to taste

1/2

teaspoon

Italian seasoning
For assembly
1

box

lasagna noodles

24

ounce jar

marinara sauce

2

cups

shredded mozzarella cheese

cooking spray

2

tablespoons

chopped parsley
Instructions
For the filling
Melt the butter in a large pan over medium high heat. Add as much spinach as will fit in the pan and cook until it wilts. Continue adding handfuls of spinach to the pan until it's all wilted. Season with salt and pepper to taste.

Let the spinach cool slightly, then squeeze the excess water out of the spinach. Coarsely chop the spinach.

Place the spinach, ricotta, eggs, Parmesan, 1 cup mozzarella, salt, pepper and Italian seasoning in a large bowl. Stir to combine.
For assembly
Cook the lasagna noodles according to package directions.

Preheat the oven to 375 degrees F. Coat a 9"x13" pan with cooking spray.

Spread a small amount of sauce on the bottom of the pan. Add a layer of noodles, then spread 1/3 of the cheese mixture over the noodles.

Top the cheese mixture with 1/3 of the marinara sauce.

Repeat the layers, ending with the marinara sauce.

Cover the lasagna with foil, then bake for 45 minutes.

Uncover the lasagna, then add the remaining 2 cups of mozzarella cheese. Bake for an additional 15 minutes or until cheese is melted and browned.

Sprinkle lasagna with parsley. Let stand for 5-10 minutes, then cut into slices and serve.
Nutrition
Calories:
364
kcal
|
Carbohydrates:
37
g
|
Protein:
20
g
|
Fat:
15
g
|
Saturated Fat:
8
g
|
Cholesterol:
73
mg
|
Sodium:
814
mg
|
Potassium:
512
mg
|
Fiber:
3
g
|
Sugar:
6
g
|
Vitamin A:
2450
IU
|
Vitamin C:
22
mg
|
Calcium:
315
mg
|
Iron:
2
mg