These smoked ribs are baby back pork ribs coated in homemade spice rub and cooked to tender perfection. The easiest, most flavorful ribs that you'll ever make!
I'm all about my smoker in the warmer weather months; all summer long I make smoked chicken, smoked pork chops, and of course these fabulous smoked pork ribs.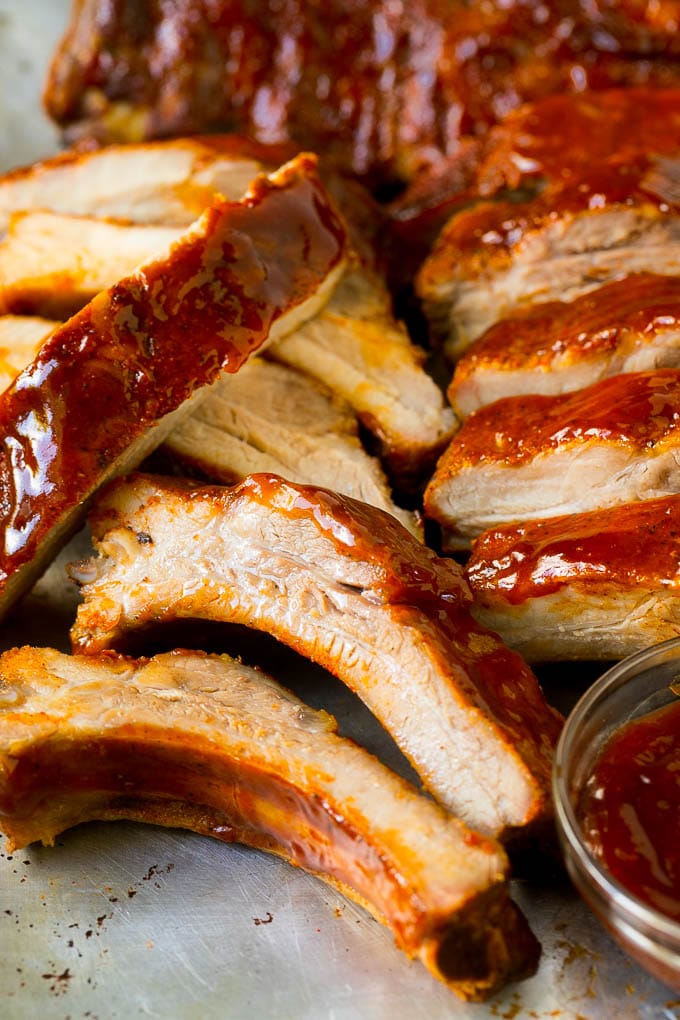 When it comes to barbecue, smoked ribs are about as good as it gets. The meat is tender and flavorful and it's so fun to eat off the bones. Ribs are the perfect party food because it's easy to double or triple the recipe to serve a crowd. My baby back ribs also happen to be easy to make, just give yourself enough time to let the smoker do its work and you'll be good to go!
How do you make smoked ribs?
This recipe starts with 2 racks of baby back ribs, which are coated in spice rub. You can use my BBQ spice rub recipe, or choose your favorite store bought rub. The ribs are smoked for 3 hours, and occasionally basted with a little apple juice for moisture. The next step is to coat the ribs in sauce, then wrap them in foil. This helps to ensure that the meat becomes tender and doesn't dry out on the smoker. The final step is to brush the ribs with more sauce, then smoke them uncovered at higher heat to get a glossy and flavorful outer coating. Slice your ribs, then enjoy!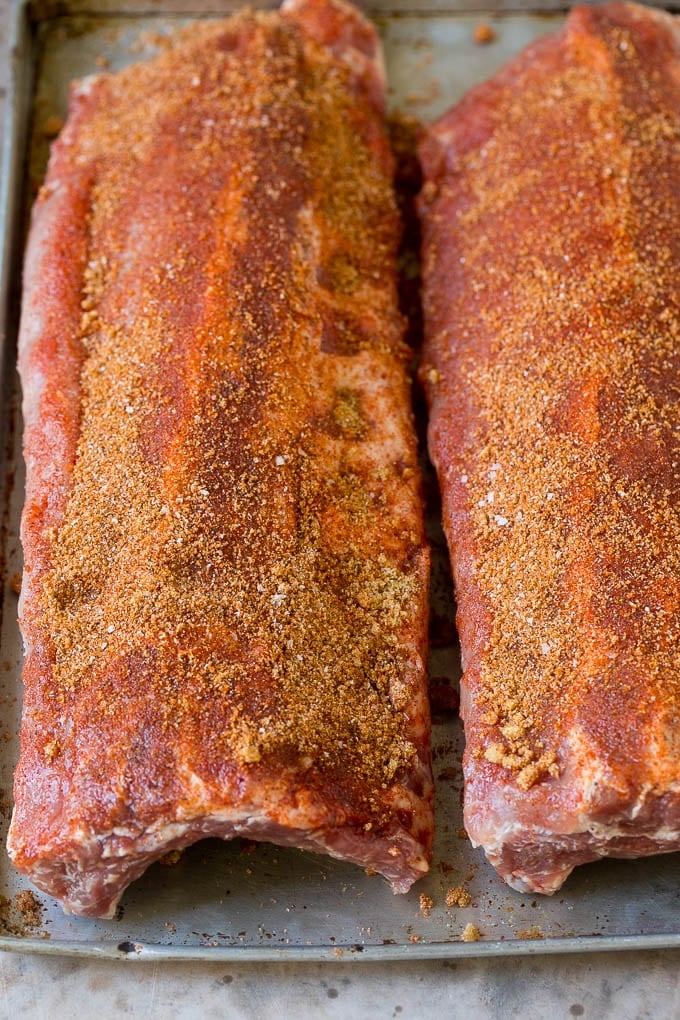 How long do ribs take to smoke?
These ribs take approximately 6 hours to smoke, start to finish. You want your meat to be tender, but the best ribs actually have a little texture to them, so we're not looking for meat that falls right off the bone. The thickest part of the ribs should be at least 160 degrees F when measured on a digital meat thermometer.
Tips for smoked ribs
I often put the spice rub on my ribs the night before I plan to smoke them. It makes prep time quicker in the morning, and it gives the spices more time to penetrate the meat.
I find these ribs are best served immediately upon slicing. That being said, if you want to serve your ribs later on, you can wrap the racks in foil and store them in the fridge. Bake the ribs in foil at 325 degrees F for about 20 minutes or until warmed through, then slice and serve.
I prefer to use my own homemade BBQ sauce, but store bought sauce will work too!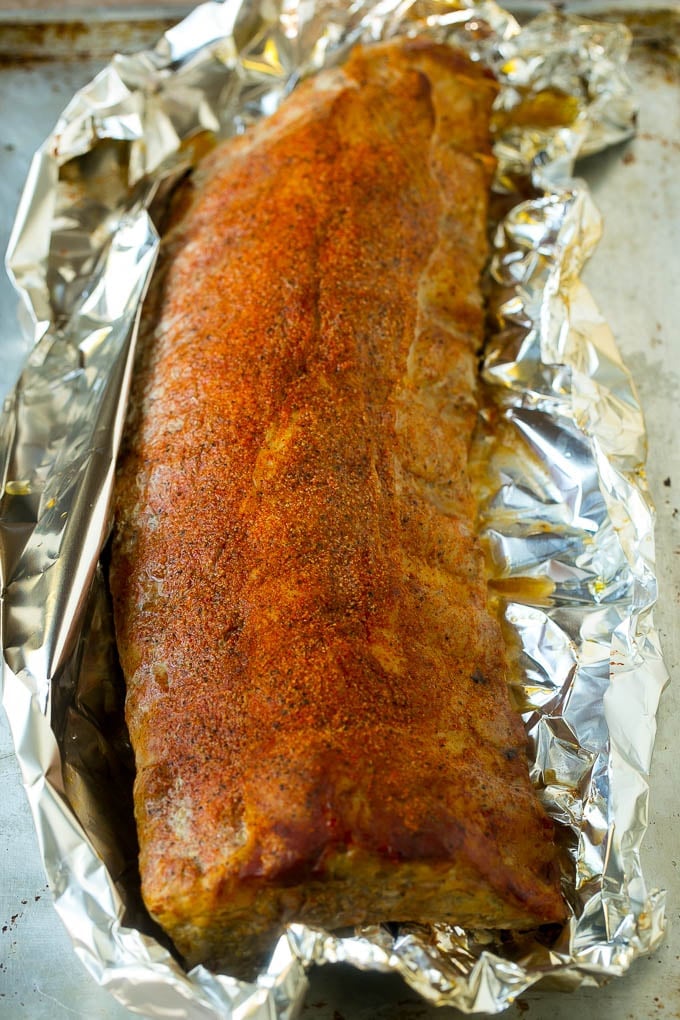 HOW DO YOU PREPARE RIBS?
Ribs may seem intimidating, but they're actually quite easy to prep to go into the smoker. Simply trim off any excess fat/gristle on the sides of the rack, then turn your ribs over. You'll want to remove the membrane that runs across the back side of the sides. Use a small knife to carefully loosen the membrane on one side, after that you should be able to pull off the entire membrane in one piece.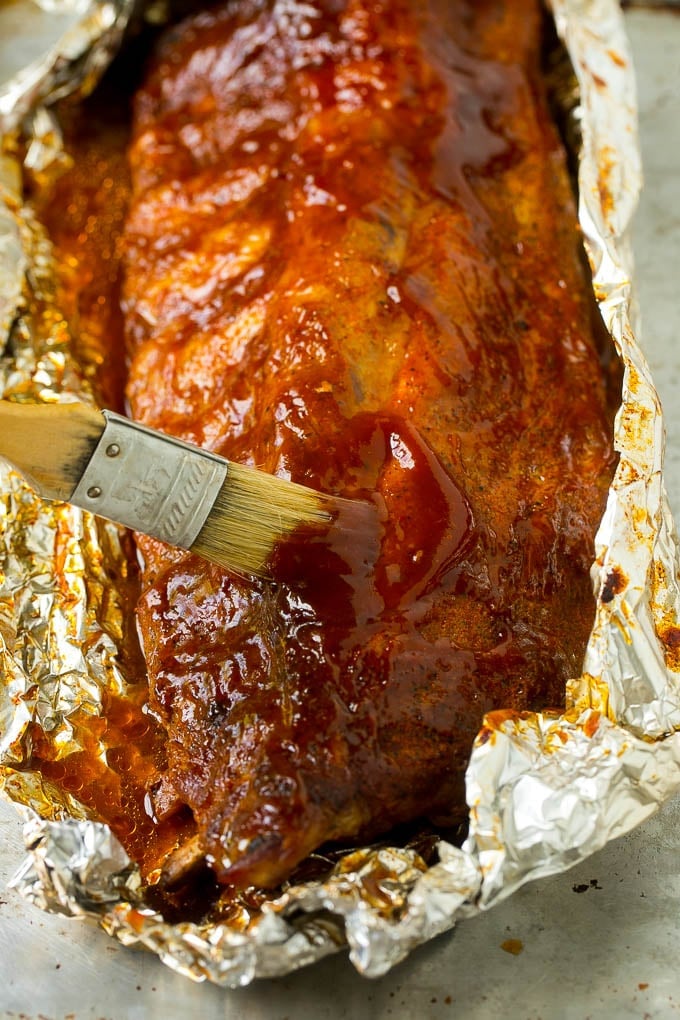 WHAT ARE BABY BACK RIBS?
Baby back ribs are the smaller ribs that come from the upper part of the rib cage. The longer ribs are typically called spare ribs, or St. Louis style ribs. Baby back ribs are very tender and are often leaner than spare ribs, and are more expensive for that reason. While I typically use baby back ribs in this recipe, you can use a different type of ribs if you prefer.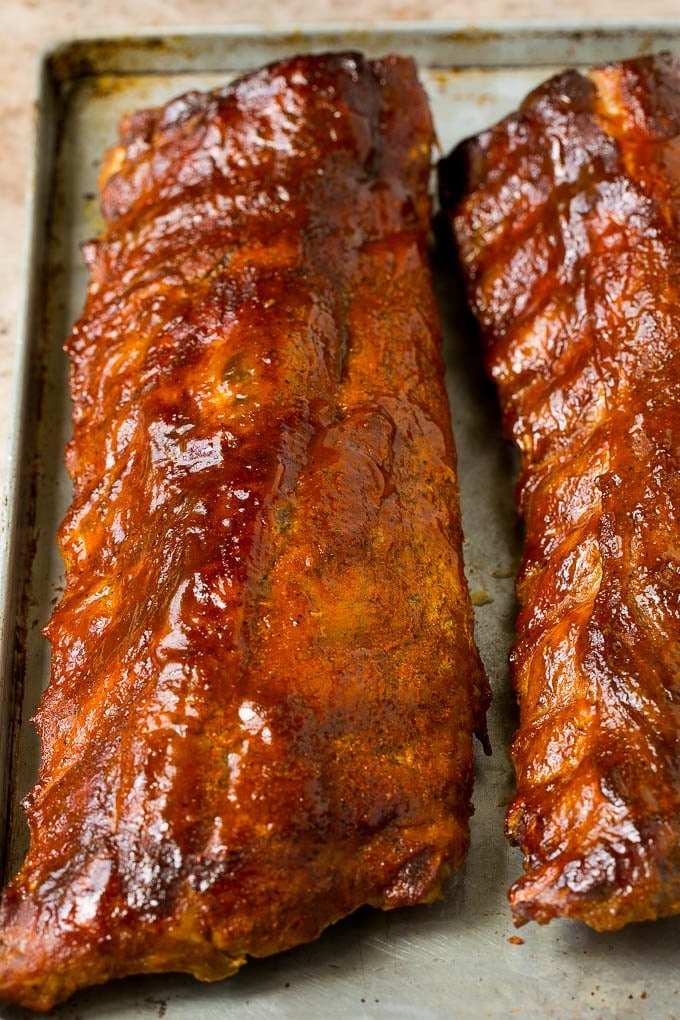 Once you try these smoked ribs, you'll find yourself making them all summer long! They're perfectly smoky and succulent; you're sure to get plenty of rave reviews from family and friends.
More great smoker recipes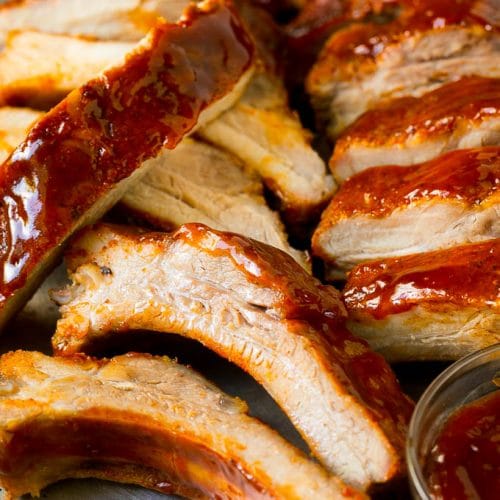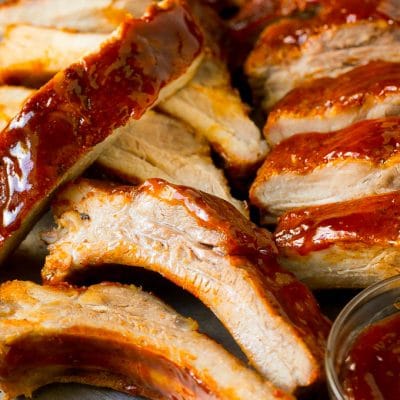 These smoked ribs are baby back pork ribs coated in homemade spice rub and cooked to tender perfection. The easiest, most flavorful ribs that you'll ever make!
Ingredients
2

racks

baby back ribs

about 6-8 pounds total

2/3

cup

BBQ spice rub

1 1/2

cups

apple juice

divided use

2

cups

BBQ sauce

divided use

1/4

cup

brown sugar
Instructions
Preheat an electric smoker to 225 degrees F. Load the smoker with apple wood, cherry wood or hickory chips. Fill the smoker pan with water.

Remove membrane from ribs. Coat the ribs all over with the BBQ rub.

Place the ribs on the rack (bone side down) and smoke for 3 hours, basting every 30 minutes with 1/2 cup of apple juice.

After 3 hours, remove the ribs from the smoker.

In a small bowl, whisk together 1 cup apple juice, 1 cup BBQ sauce and the brown sugar.

Pour the apple juice mixture over the ribs. Wrap each rack of ribs in foil.

Return the ribs to the smoker and smoke for 2 more hours.

Remove the foil from the ribs. Brush the remaining BBQ sauce over the ribs.

Turn the smoker temperature up to 250 degrees F. Smoke the ribs for 1 more hour. Let the ribs rest for 10 minutes, then slice and serve.
Nutrition
Calories:
488
kcal
|
Carbohydrates:
41
g
|
Protein:
27
g
|
Fat:
23
g
|
Saturated Fat:
8
g
|
Cholesterol:
97
mg
|
Sodium:
861
mg
|
Potassium:
572
mg
|
Sugar:
34
g
|
Vitamin A:
190
IU
|
Vitamin C:
0.8
mg
|
Calcium:
77
mg
|
Iron:
1.6
mg