This post has been sponsored by Blue Diamond Almonds. Thank you for supporting the brands that make Dinner at the Zoo possible!
This recipe for tropical fruit salad is a colorful mixture of tropical fruit seasoned with lime juice and served with an ultra creamy coconut almond dip. Perfect for summer entertaining!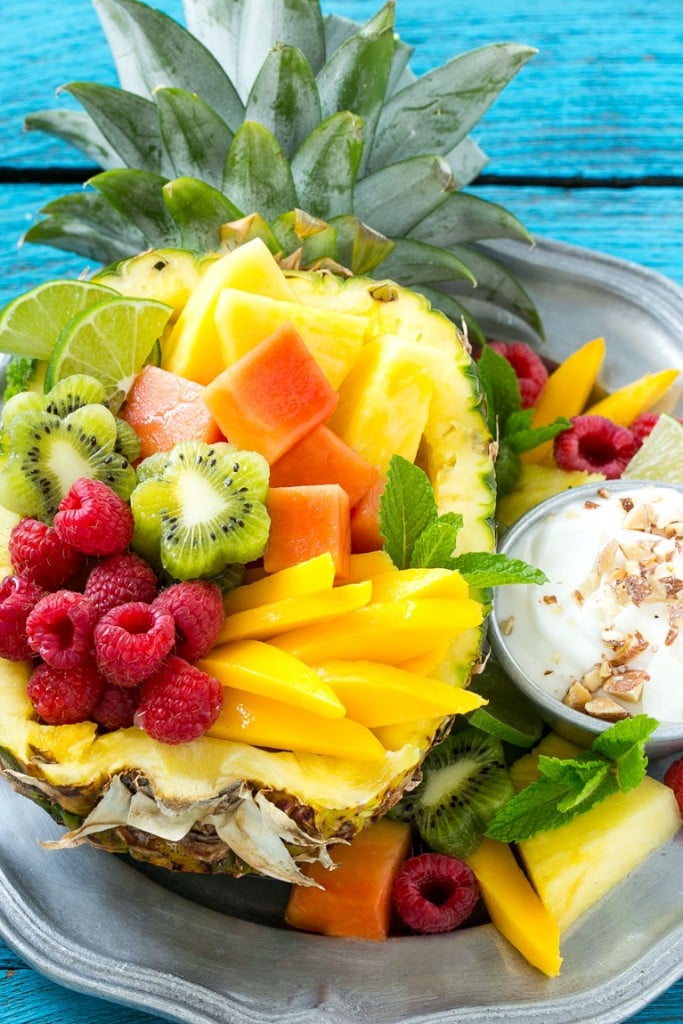 When I think warm weather, I think tropical – I just can't help it! It's been a long time since taken a Hawaiian vacation but I'm still constantly creating dishes with island flare. This tropical fruit salad is the perfect summer entertaining recipe – it's great for brunch, the perfect make-ahead potluck fare, or the ultimate refreshing side dish for a barbecue. And while fresh fruit is great on its own, it's even more amazing when you pair it with coconut almond dip!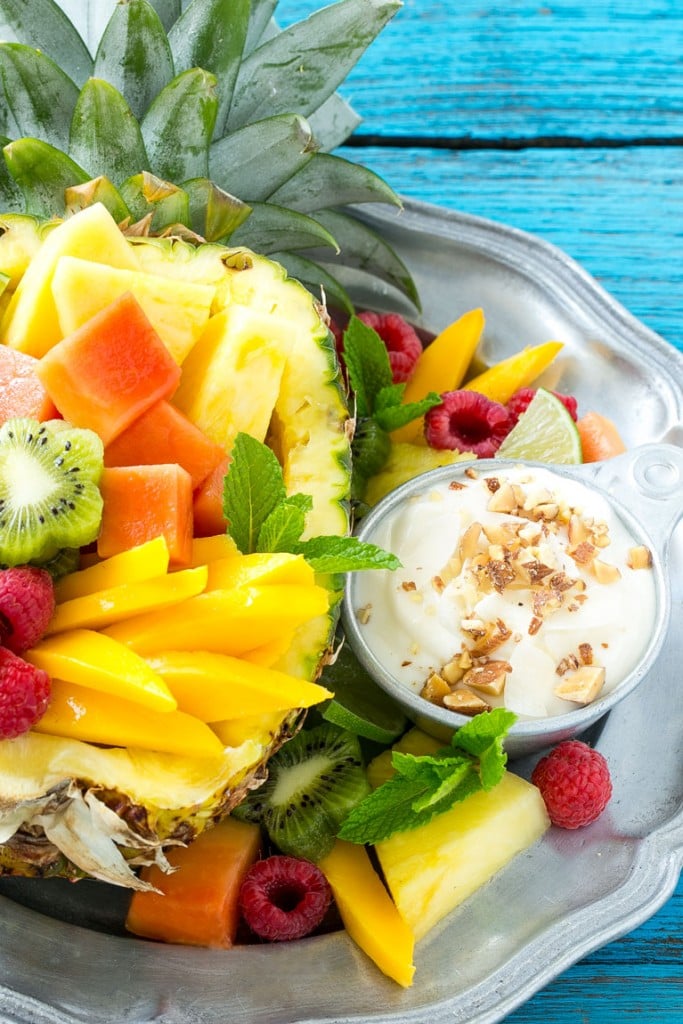 For this recipe you'll need a variety of fresh and colorful fruit – I went with pineapple, papaya, kiwi, mango and raspberries. The fruit gets drizzled with lime juice and then piled inside a pineapple half for a super fun presentation. I cut the kiwi slices into shapes with little cookie cutters for fun, but that step is completely optional. If you're feeding a crowd, you can double this recipe and put the fruit into both halves of a pineapple. Add a little fresh mint and a generous portion of coconut almond dip and you've got an easy yet incredibly festive salad!
The coconut almond dip is made of just a handful of ingredients including Greek yogurt, coconut cream, a little sugar, coconut flakes and Blue Diamond Toasted Coconut Almonds.
For the dip, I used a coconut flavored Greek yogurt because I really love a lot of coconut flavor. If you can't find coconut flavored yogurt, vanilla would also be great. I like to use coconut cream in this recipe because it adds such great flavor and creamy texture, it comes in cans and is often in the ethnic foods section of grocery stores. If you can't find coconut cream, you can simply use a little coconut milk instead. The Blue Diamond Toasted Coconut Almonds add a great crunch, the coconut-almond flavor combination is really fantastic!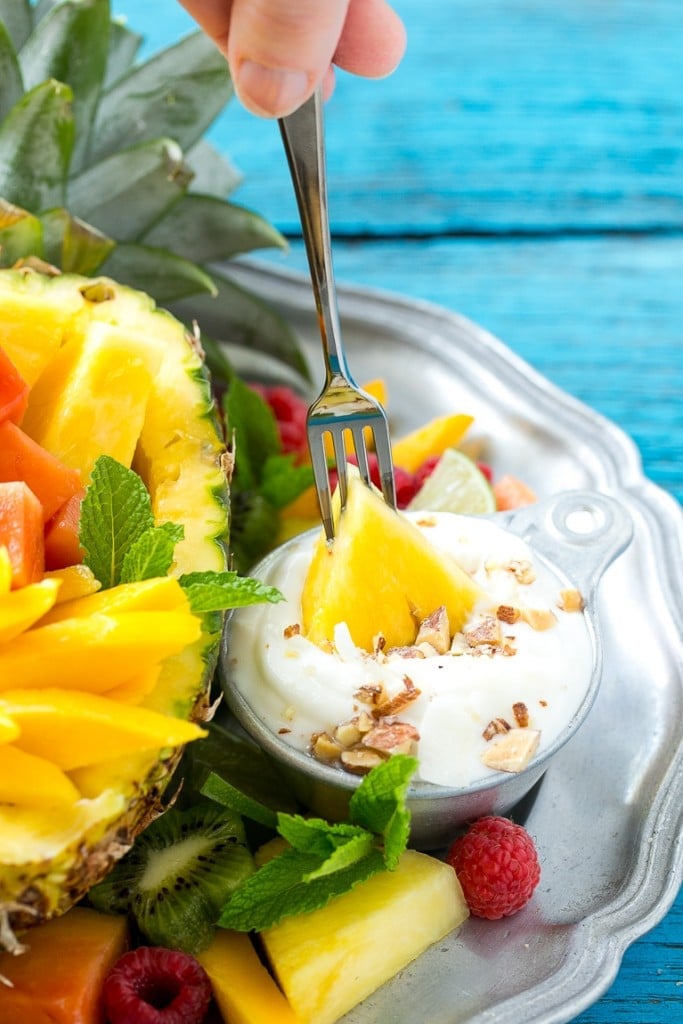 I'm definitely going to be making this tropical fruit salad with coconut almond dip all summer long. I love how easy it is to make, yet looks so impressive inside the pineapple. I'd like to tell you that I took this to a party and it disappeared in a flash, but really, all three of my kids were crowded around waiting for me to finish pictures and they pounced on it as soon as I was done. Can't say I blame them!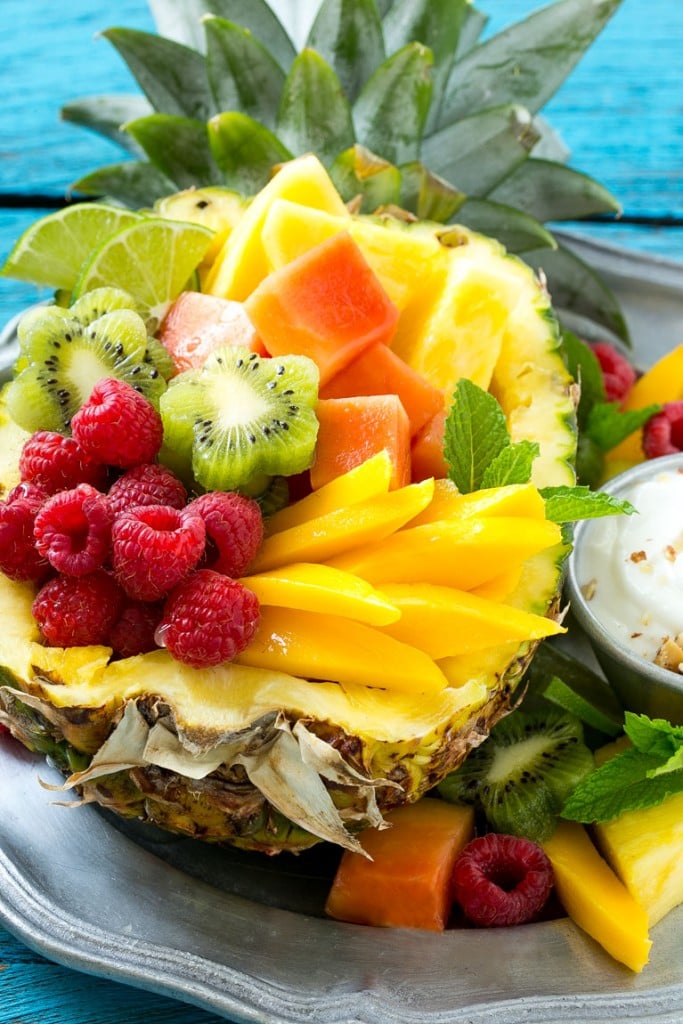 Still hungry? Follow Dinner at the Zoo on Facebook, Twitter, Instagram and Pinterest for more great recipe ideas!