A princess tea time birthday party including ideas for food, crafts, activities, favors and more!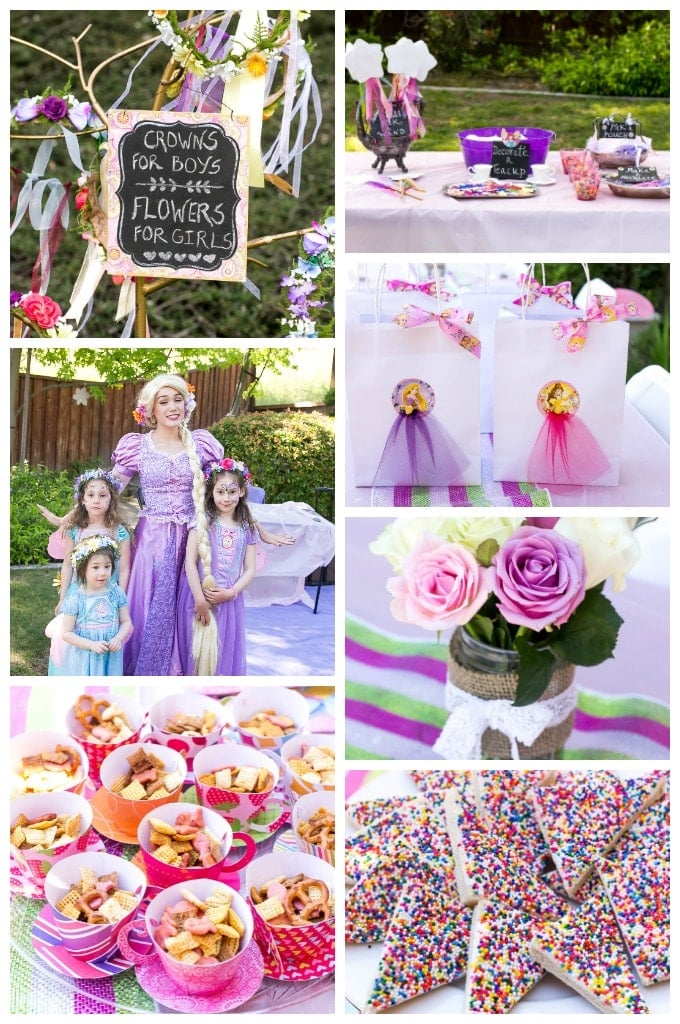 I cannot believe that my twins are 5, that just seems so old to me. I didn't really have any trouble sending them off to preschool but this whole kindergarten thing is definitely throwing me for a loop. Last year we threw an awesome under the sea birthday party but this year I wanted to do something completely different. My girls are into everything princess so we threw an afternoon tea party with a princess theme and it was a huge success.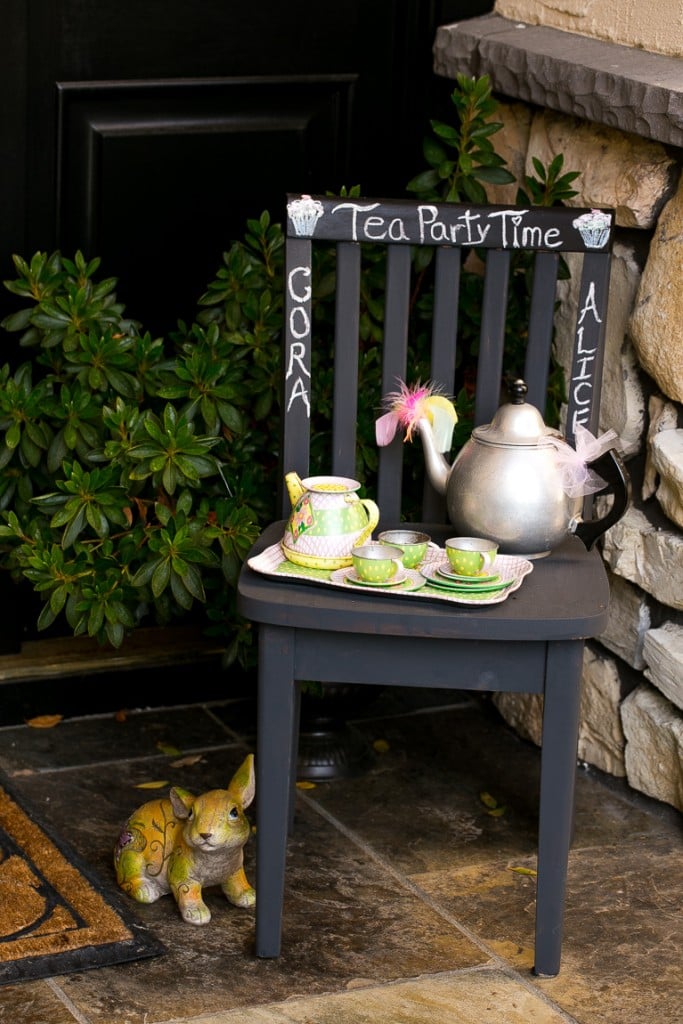 So first of all, let me just say that my mom was the creative genius behind all of this. I planned and prepared the food and hired the performer, but she did everything else. She made all of the decorations, came up with the party activities and made all of the party favors. Pretty amazing right? I sure think so and I'm so thankful that she's such a doting and active grandma to my girls!
The primary entertainment for the party was a performer that came as Rapunzel. We encouraged our guests to wear their princess (or prince!) attire by specifying that on the invitation. As the girls' friends made their way into the party, we had some glam stations and simple crafts set up to keep everyone busy while we waited for Rapunzel to make her grand entrance. First up was the royal headpiece station.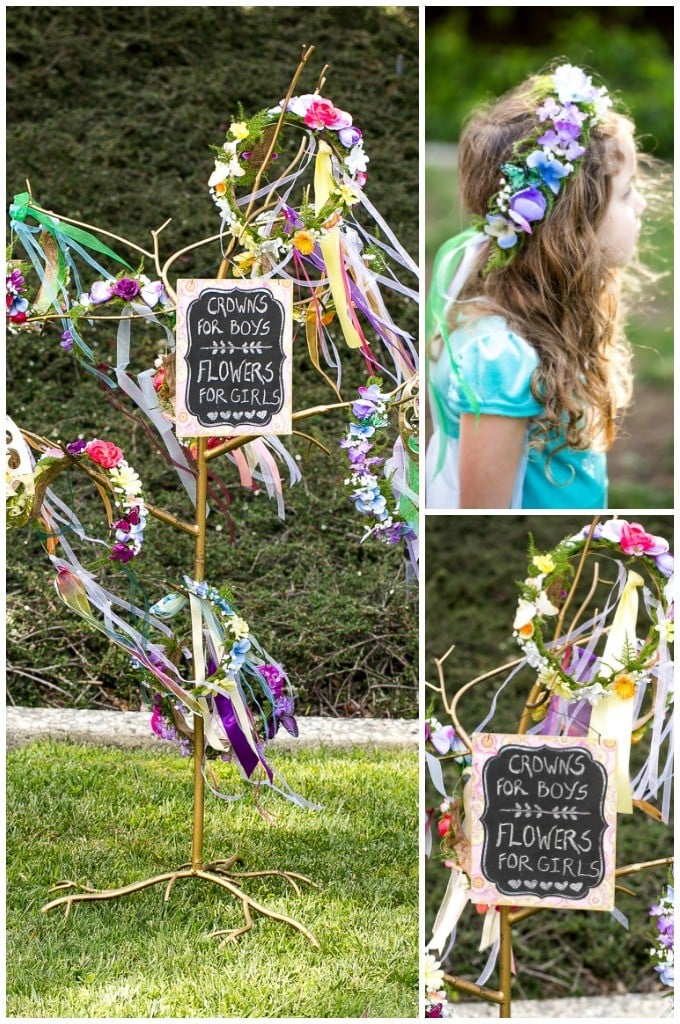 The "tree" is actually a metal stand (coat rack perhaps?) from a garage sale, it originally had come from a party rental center. While tiaras are traditional princess attire, so many of the inexpensive ones break in about 5 minutes and aren't that comfortable to wear. Instead we did these floral hair wreaths to mimic the flowers that Rapunzel wears in her hair. My mom made them all by hand. We did have a few boys at the party, so we had a few store bought crowns on the tree for them as well.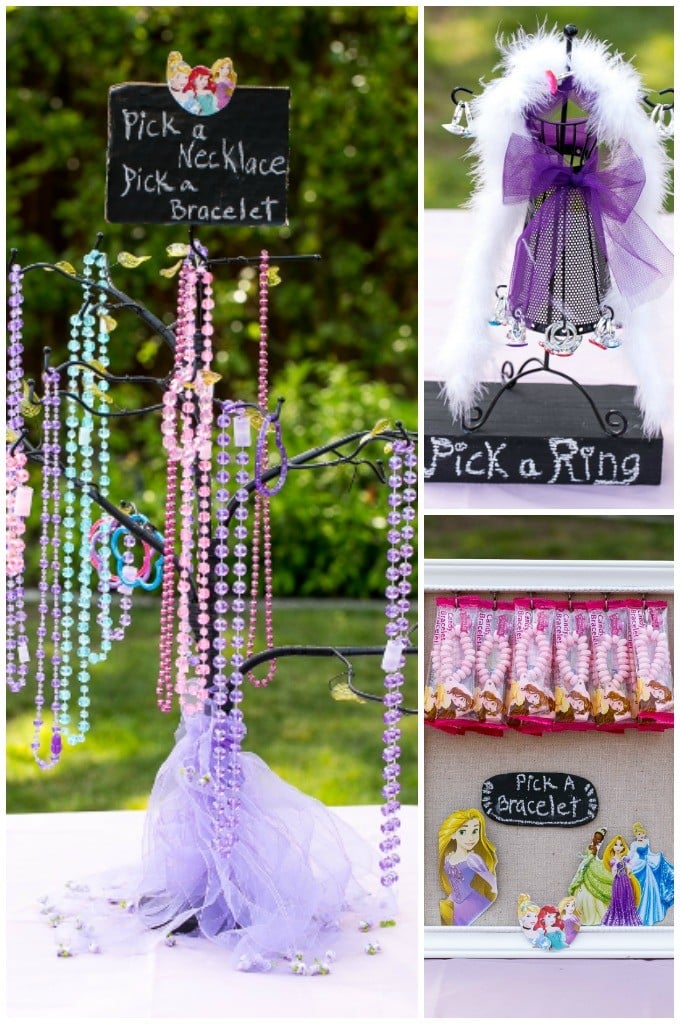 We also had a selection of jewelry for the kids to pick out (and take home with them!). Both the necklace and ring stands came from garage sales. The candy bracelet stand is actually a picture frame with a few hooks attached to it. After the kids had donned their head pieces and picked out some jewelry, it was time for crafts.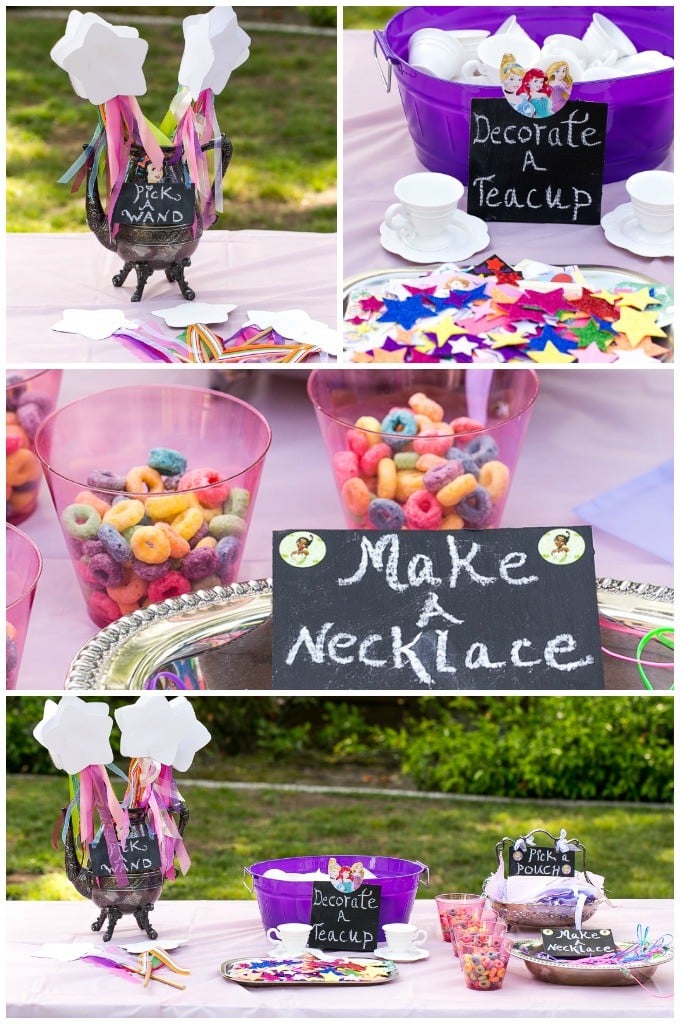 For crafts we had handmade wands and plain plastic teacups to decorate with stickers, as well as some rainbow cereal and lanyards for the kids to string edible necklaces. While that was fun, nothing is more fun than seeing a princess make her royal entrance.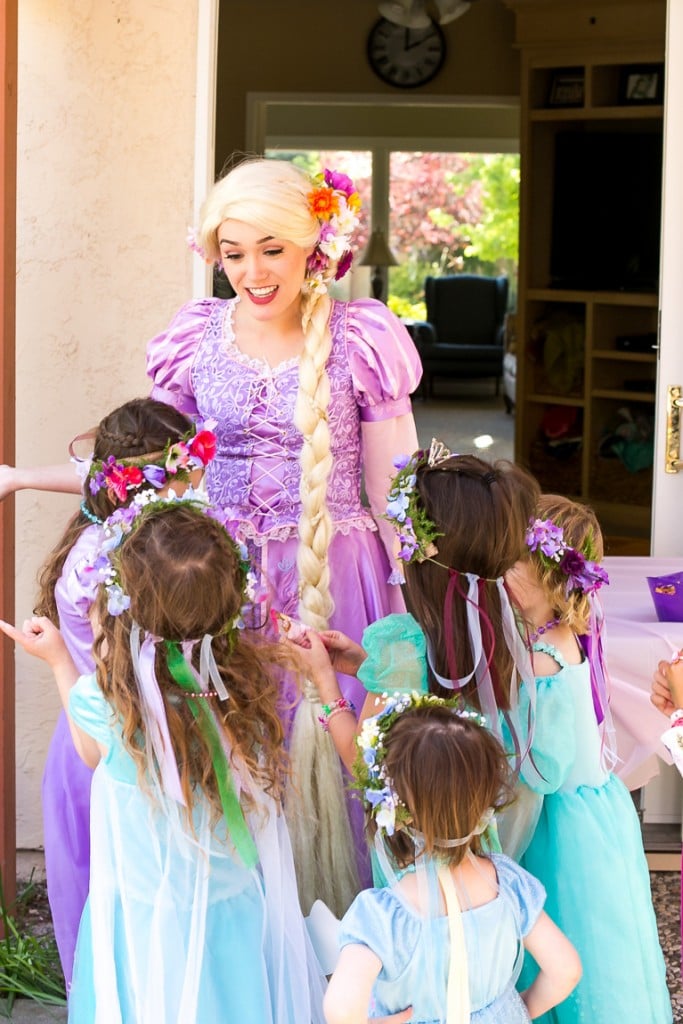 Rapunzel entertained the kids with stories, singing, magic and face painting.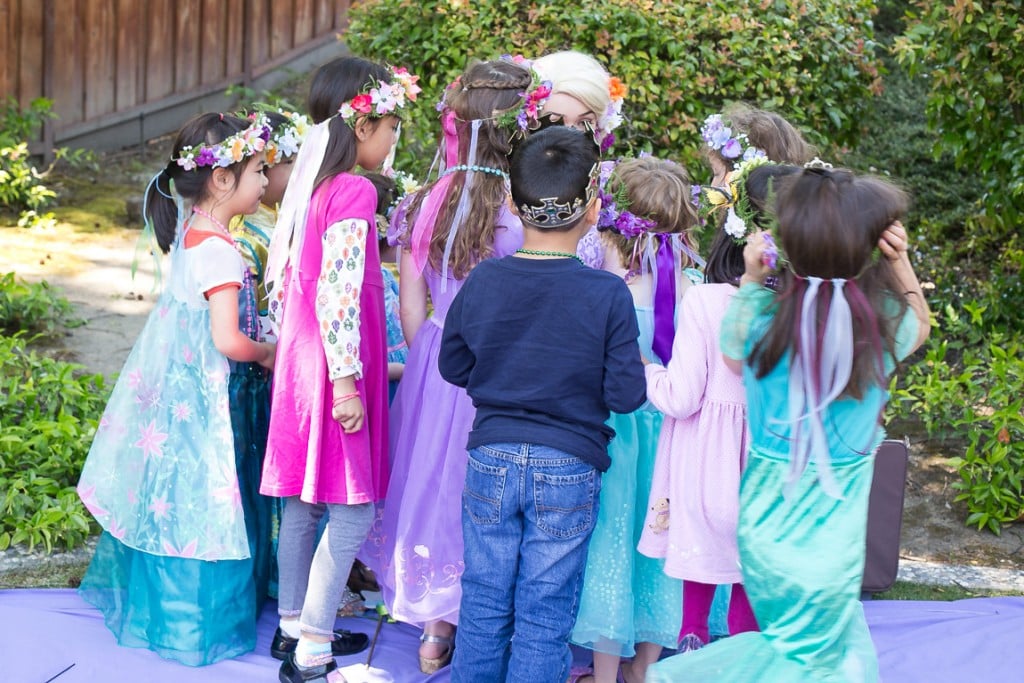 While Rapunzel was working her magic with the kids, I put out some snacks specifically geared towards the adults including a cheese tower, veggies with a teacup of hummus, and fruit salad inside of watermelon that my mom carved to look like a teacup.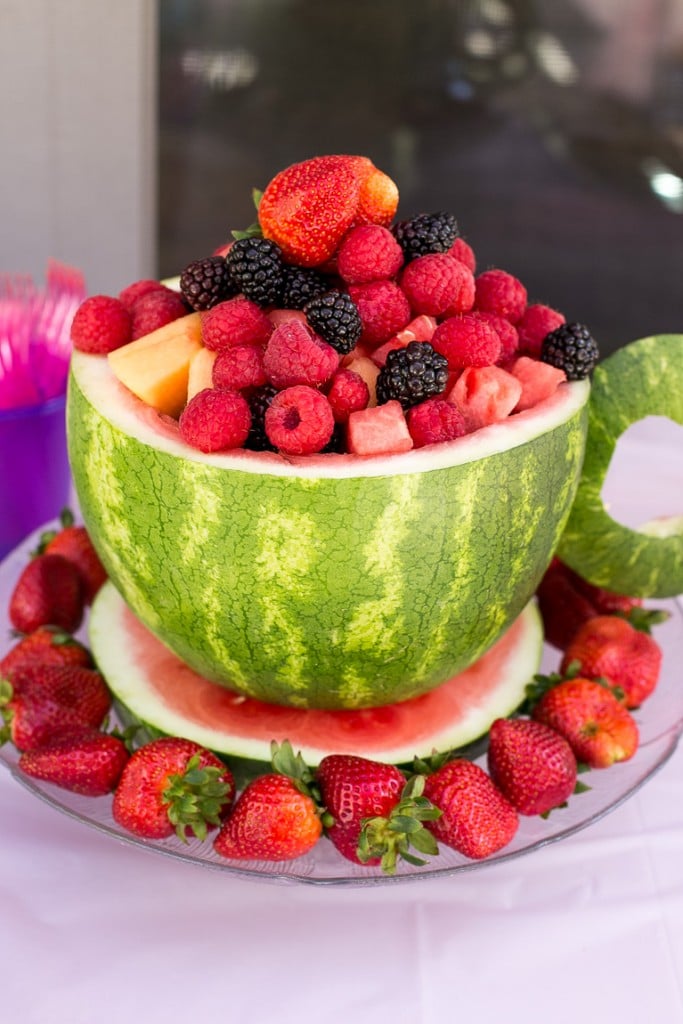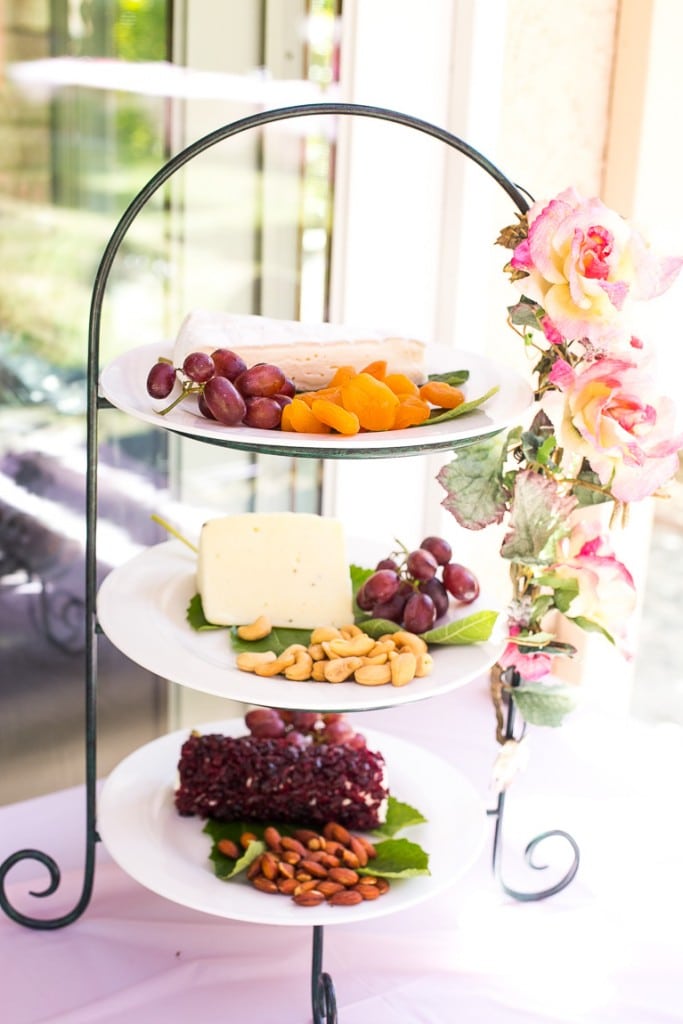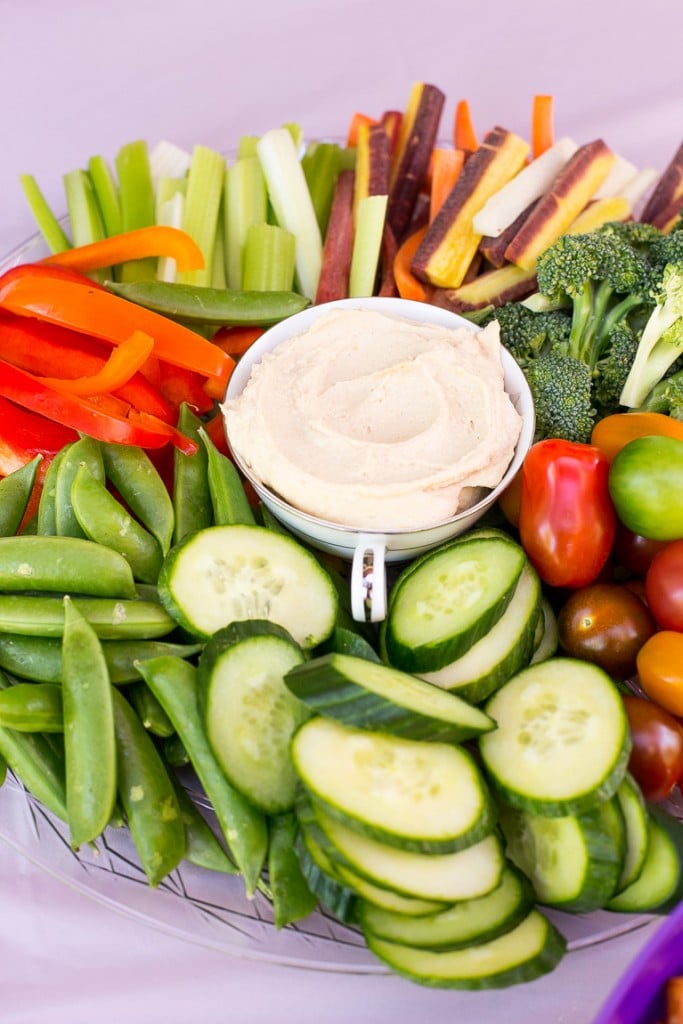 After Rapunzel's show, the kids had some snacks while they were waiting to have their faces painted.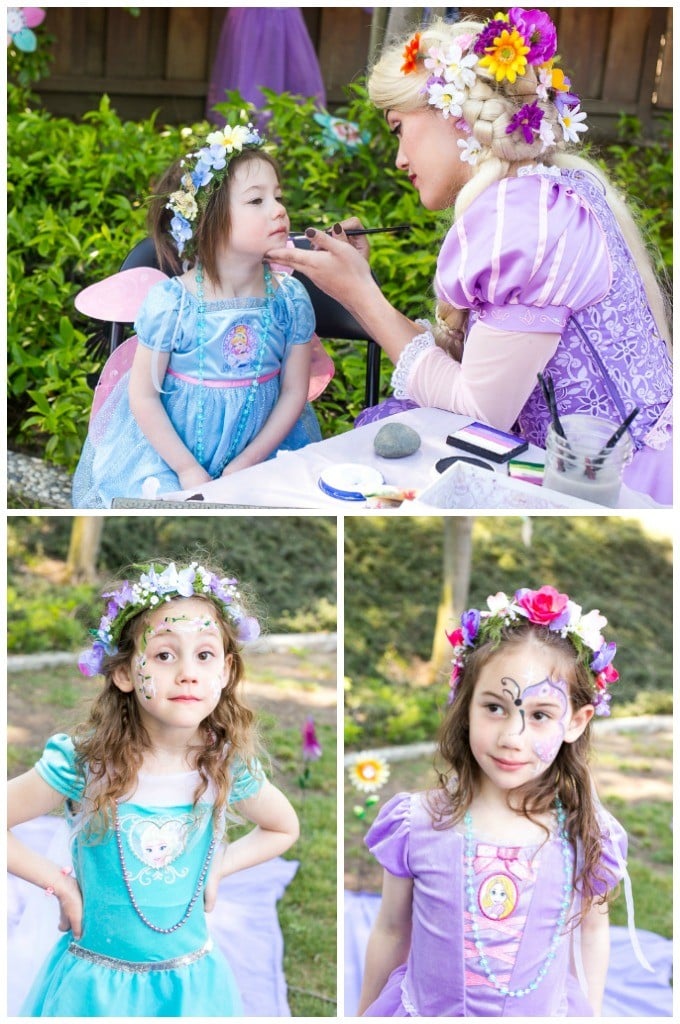 I wanted the kids food to be reminiscent of what you'd actually get at a tea, so tea sandwiches were a must. We did turkey and cheese, fairy bread, and peanut butter and jelly. Always be sure to check for allergies before you serve peanut butter at a party!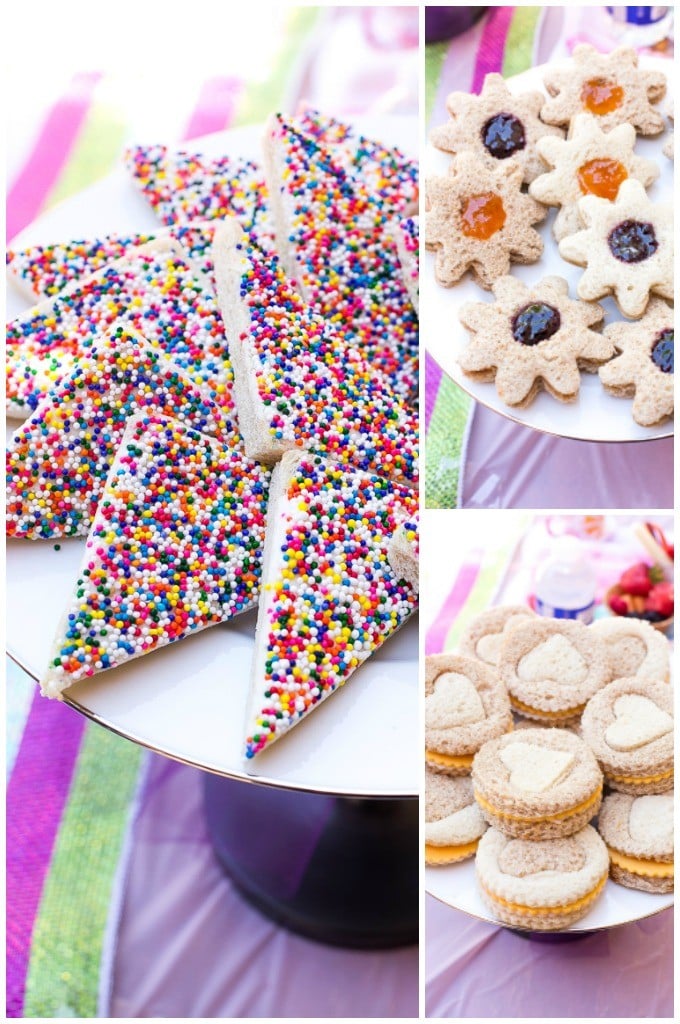 We kept all the food bite sized or in small portions, like these veggie cups and homemade cereal mix served inside paper teacups that my mom made.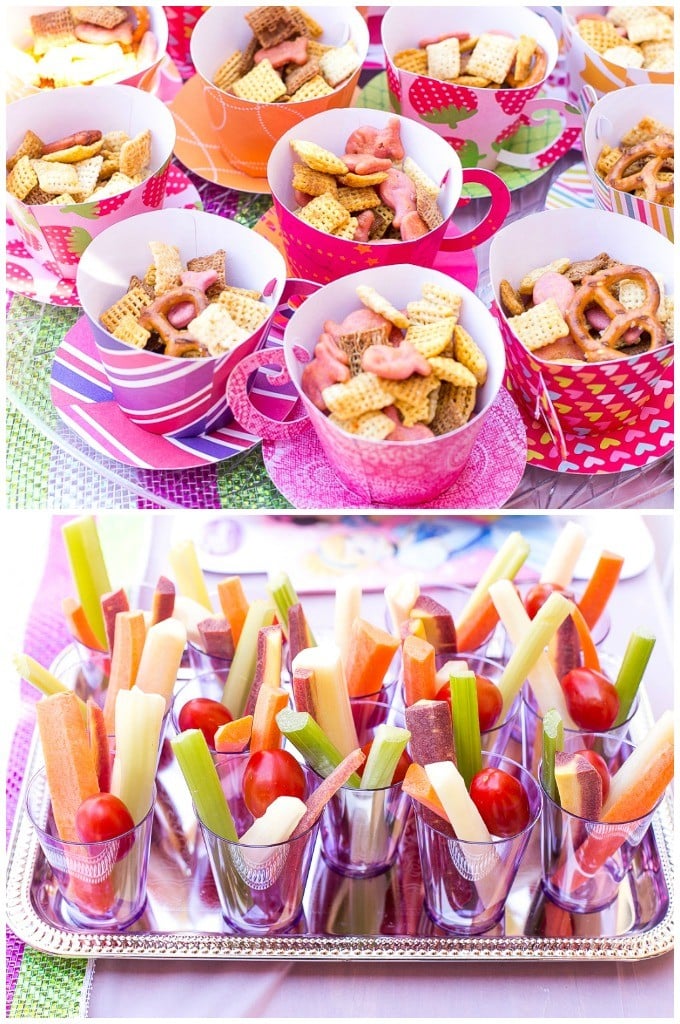 I've found at all of our parties, the most popular thing is something that you don't expect. We served this fruit salad inside mini waffle cone bowls with spoons made out of candy. The kids went CRAZY for the candy spoons, such a fun touch!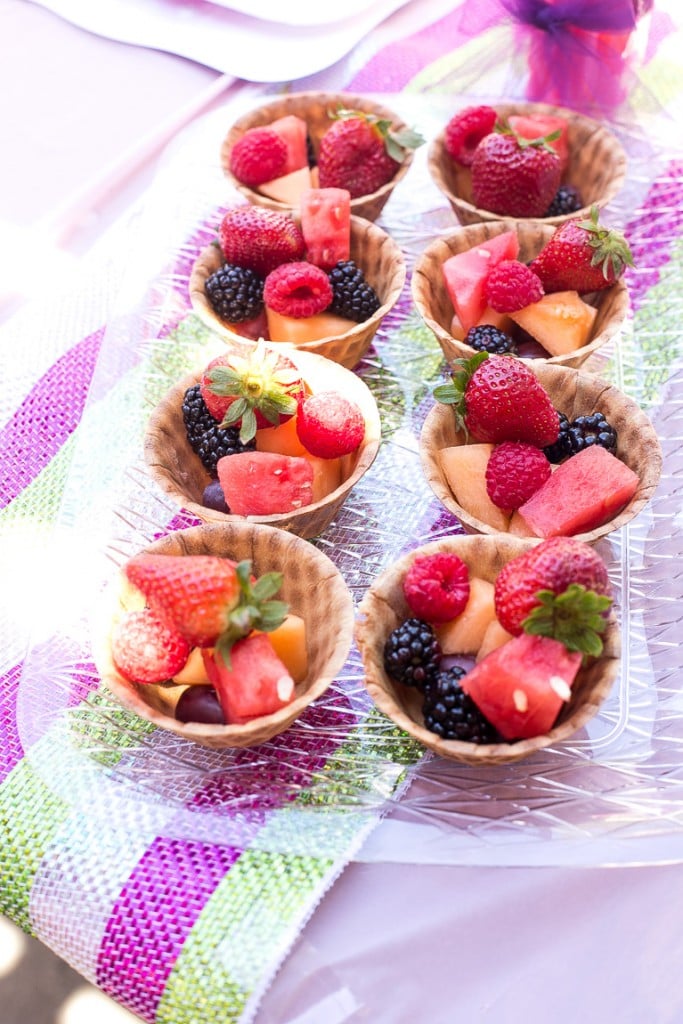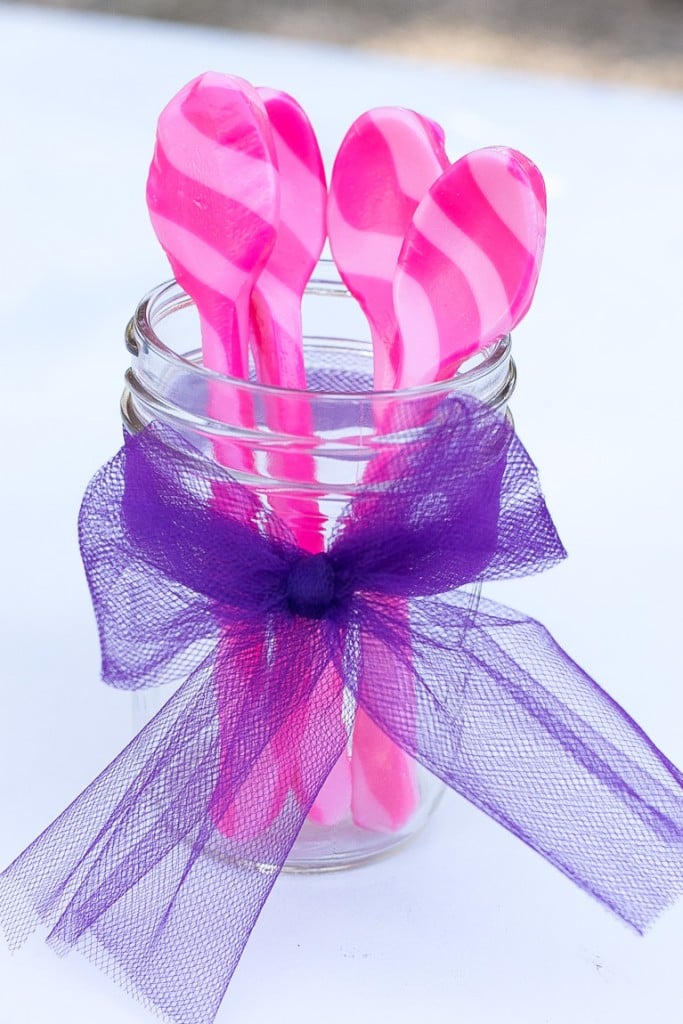 We did one long table for the kids, and decorated it with pastel roses in mason jars, as well as small bouquets made out of lollipops. Unfortunately it was an extremely windy day, which meant the wind was continuously blowing things off the tables and taking down the decorations, so not all of the planned decor made it through the party.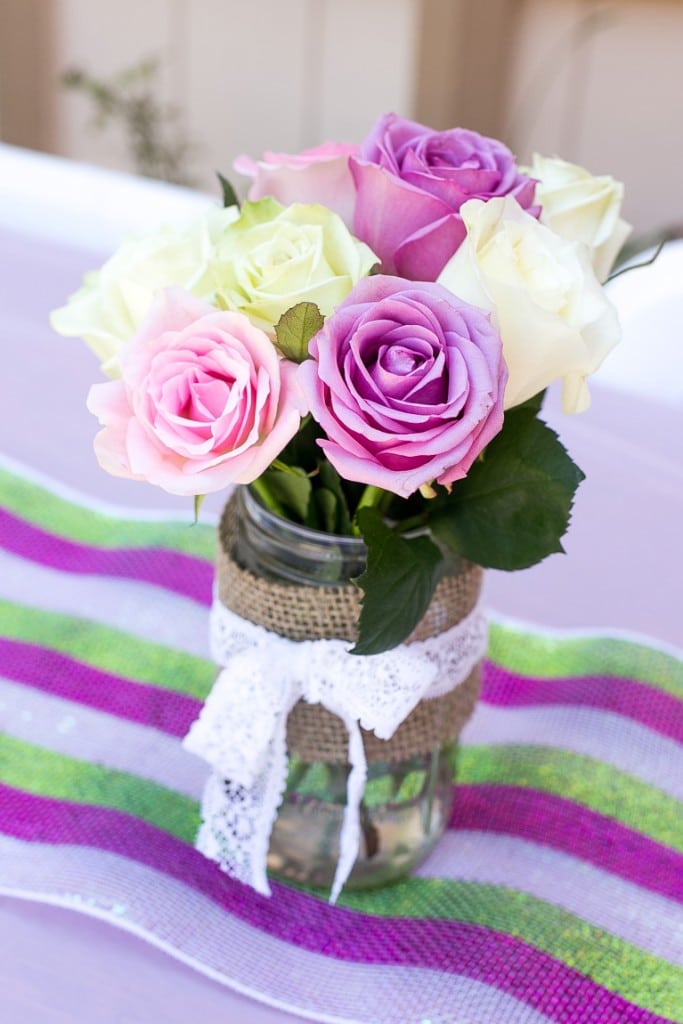 Next up was cake time. I am not very good at cake decorating, so I typically stick to cupcakes because I do a decent job on those. This time around, the cupcakes were princess castle themed. We had picked up some packages of princess valentines on clearance after Valentine's Day, and inside the boxes were these pink castle shaped lollipops. I frosted the cupcakes green to resemble grass, added a few candy flowers to the grass, then stuck a lollipop into each one.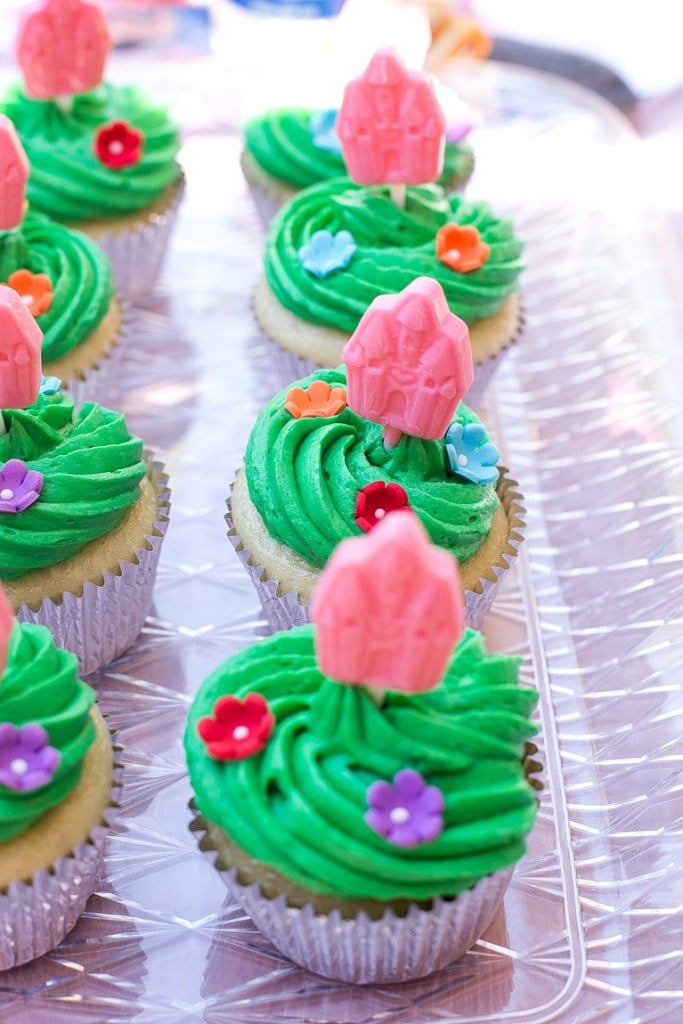 The actual paper valentines themselves did not go to waste. My mom cut the princess face out of each valentine, created a skirt out of tulle, then glued them to paper bags to make the favor bags. We filled the bags with goodies like plastic "glass slippers" filled with jelly beans, princess crayons, glitter chalk and little teacup sets from the dollar store.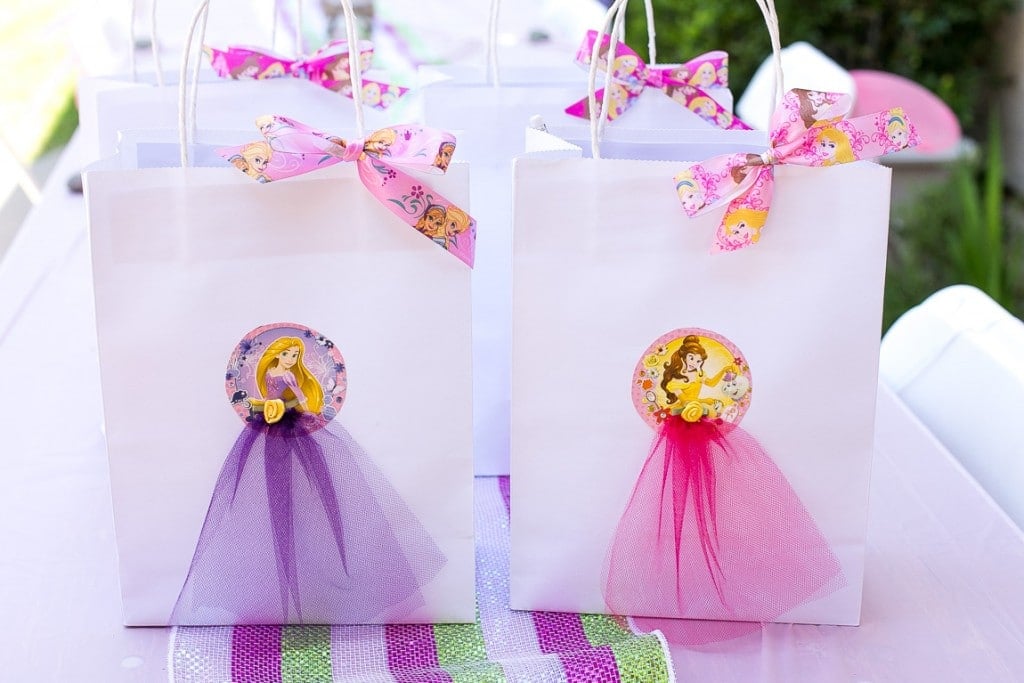 The kids also took home their flower crowns and jewelry and everyone left happy and glamorous! Will we ever be able to top this party? I'm not sure but we'll definitely have fun trying.