These neapolitan waffles are three types of batter cooked together to form a breakfast version of the classic ice cream flavor.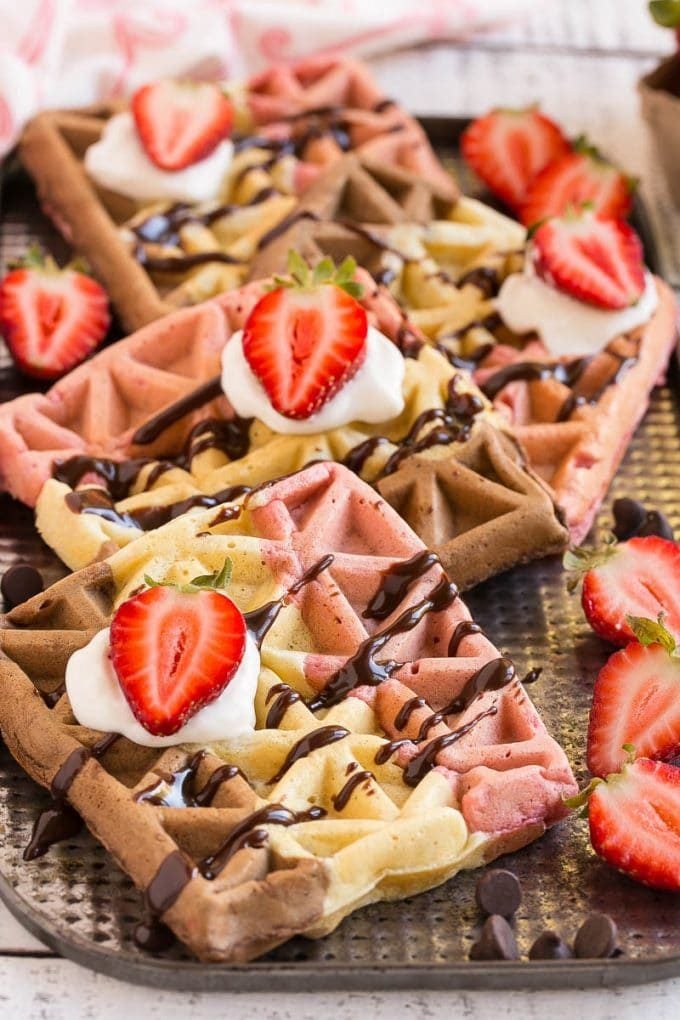 When I was asked to participate in Waffle Week 2015 I knew I had to come up with something really good. For weeks I watched my fellow bloggers come up with great recipe ideas and I still had nothing. Then one day the idea for these neapolitan waffles just came to me. But could I actually pull it off? I had never attempted to make a striped waffle before, and it had a high potential to be a complete flop. But I am happy to say that these neapolitan waffles were a total success AND they're really not hard to make at all.For this recipe I started with my standard buttermilk waffle recipe. Nothing fancy, just your typical flour, eggs, sugar, baking powder, butter kind of thing. I divided the batter into three separate bowls and flavored each one separately.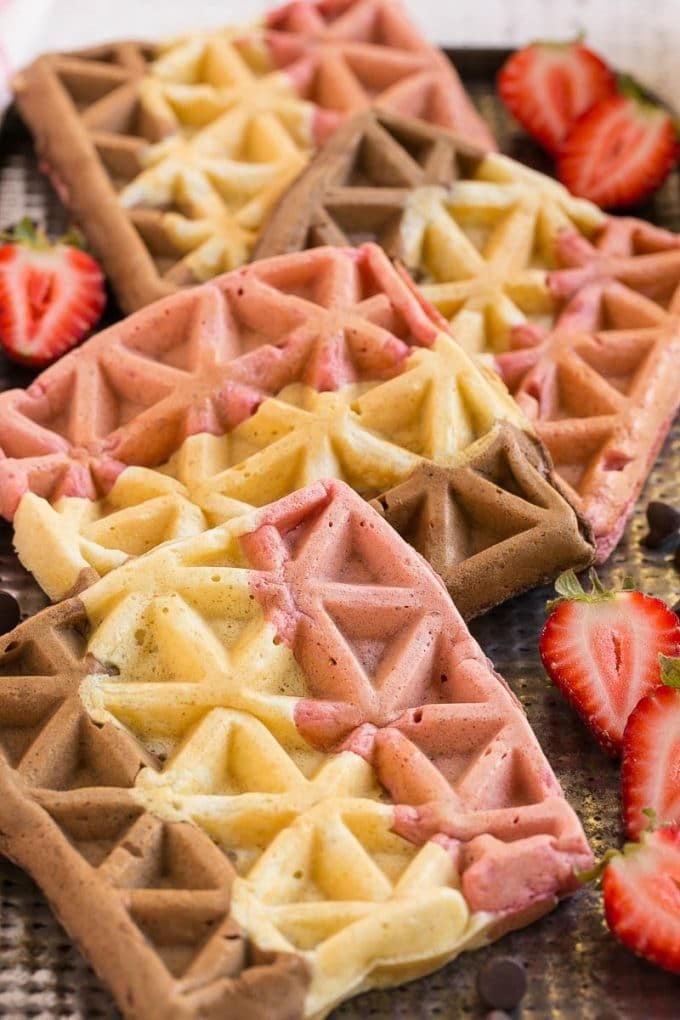 For the chocolate batter, I stirred in some melted chocolate chips. I added a healthy splash of vanilla extract to the second bowl. For the third bowl, I ground up freeze dried strawberries and added the strawberry powder to the batter. The strawberries added a lot of natural pink color to the batter but I also used a few drops of red food coloring to amp up the color contrast. I set up my waffle iron, put a strip of each type of batter into the well and held my breath. Would it work? Or would the batters all mix together in a disgusting looking mess?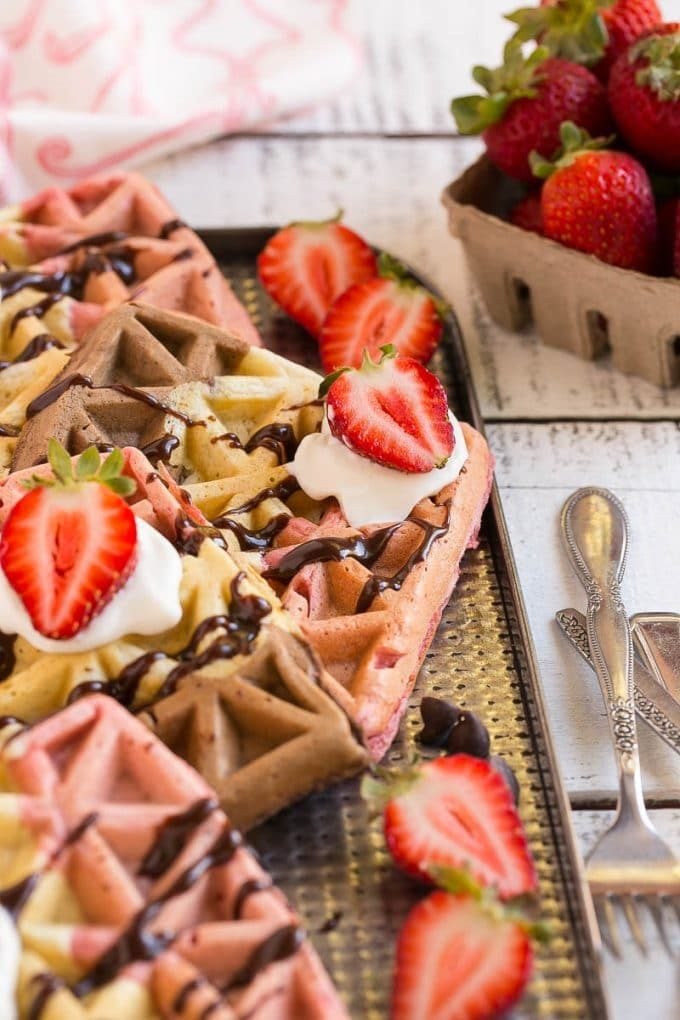 IT WORKED. The batter is quite thick so the colors cooked up nicely right next to each other without spreading into unwanted territory. The next factor: how did it taste? You can definitely taste that there are three different batters but none of the flavors are overpowering. I kept the flavors on the more subtle side so that they wouldn't compete and I was concerned that if I added too much strawberry powder or chocolate it would negatively affect the texture of the waffles. So what I ended up with were perfectly fluffy waffles with distinct strawberry, vanilla and chocolate flavors that went together perfectly. But clearly you can't top a neapolitan waffle with maple syrup, right?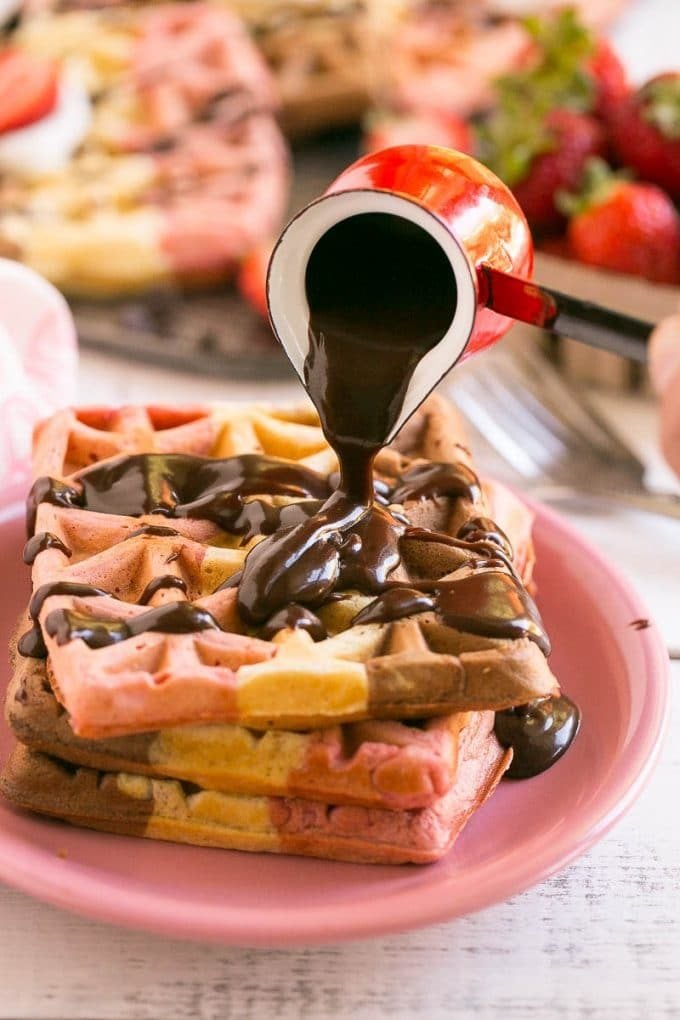 I resisted the urge to cover these waffles in neapolitan ice cream and instead went with a slightly more restrained chocolate sauce, vanilla yogurt and fresh strawberries – because that's more appropriate for breakfast. Although you could most definitely use ice cream to create a fun and decadent dessert.
I'm telling you, these neapolitan waffles are a must-try. They're just slightly more work than a regular waffle but it's totally worth it for the wow factor. For more waffle goodness, check out the other Waffle Week participants!
Looking for more great waffle recipes? Be sure to check out my zesty lemon sour cream waffles!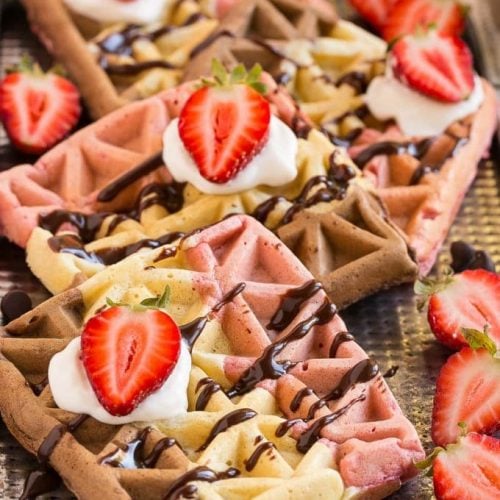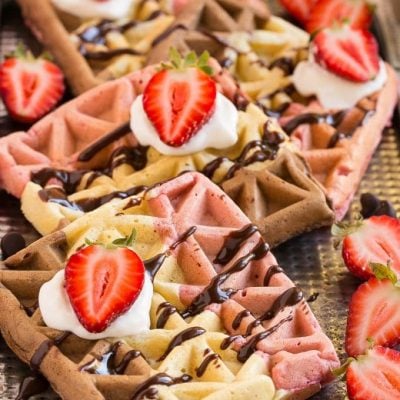 Have your favorite ice cream flavor for breakfast with this recipe for neapolitan waffles. It's one batter flavored three different ways!
Ingredients
Cooking spray

2

cups

all purpose flour

2

tablespoons

granulated sugar

2

teaspoons

baking powder

1

teaspoon

baking soda

1/2

teaspoon

salt

2

cups

of buttermilk

4

tablespoons

of unsalted butter

melted

2

large eggs

1

teaspoon

vanilla extract

1/3

cup

semisweet chocolate chips

melted

2/3

cup

of freeze dried strawberries

ground into a powder in the food processor

2-3

drops of red food coloring

optional

Chocolate sauce

vanilla yogurt and fresh strawberries for serving
Instructions
Preheat your waffle iron.

In a medium bowl, whisk together the flour, sugar, baking powder, baking soda and salt.

In a large bowl, whisk together buttermilk, butter and eggs; add flour mixture and mix until just combined.

Divide the batter evenly between three bowls. In one bowl, stir in the vanilla extract. In another bowl, stir in the melted chocolate until thoroughly combined. In the third bowl, stir in the strawberry powder and red food color if using.

Coat the waffle iron with cooking spray. Take a heaping spoonful of the strawberry batter and pour it into a stripe in the waffle iron; use the back of the spoon to spread it into place if needed. Spoon a stripe of the vanilla batter next to the strawberry batter, spreading it into place. Put a stripe of chocolate batter next to the waffle batter. All three lines of batter should be touching each other.

Close the waffle iron and cook according to manufacturer instructions (my waffles cook for 4-5 minutes). Repeat the cooking process with the remaining batter.

Serve the waffles with a drizzle of chocolate sauce, a dollop of vanilla yogurt and fresh strawberries.
Nutrition
Calories:
280
kcal
|
Carbohydrates:
41
g
|
Protein:
5
g
|
Fat:
9
g
|
Saturated Fat:
5
g
|
Cholesterol:
50
mg
|
Sodium:
330
mg
|
Potassium:
428
mg
|
Fiber:
2
g
|
Sugar:
17
g
|
Vitamin A:
265
IU
|
Vitamin C:
192.7
mg
|
Calcium:
107
mg
|
Iron:
5.2
mg