Thank you C&H® Honey Granules for sponsoring this post. Visit your local retailer to pick up your own package and start sprinkling sweetness today!
This recipe for lemon thyme chicken is a one pan meal of tender chicken thighs, new potatoes and spring vegetables, all seasoned with a sweet and savory butter and roasted to perfection.
As the weather continues to warm up here in California we've been spending more and more time outside. Our backyard is perfect for entertaining and we've been inviting family and friends over for dinner every weekend. As much as I love hosting dinner, I also love being able to spend time with my guests. I often turn to one pan meals like this lemon thyme chicken with vegetables to make entertaining easier – everything bakes in the oven together which means you won't be stuck in the kitchen for hours!
This lemon thyme chicken is made with bone-in skin-on chicken thighs that have been seasoned with a  sweet and savory butter. That same flavored butter is used to season the potatoes, carrots and asparagus. The butter contains garlic, lemon zest, fresh thyme and C&H® Honey Granules.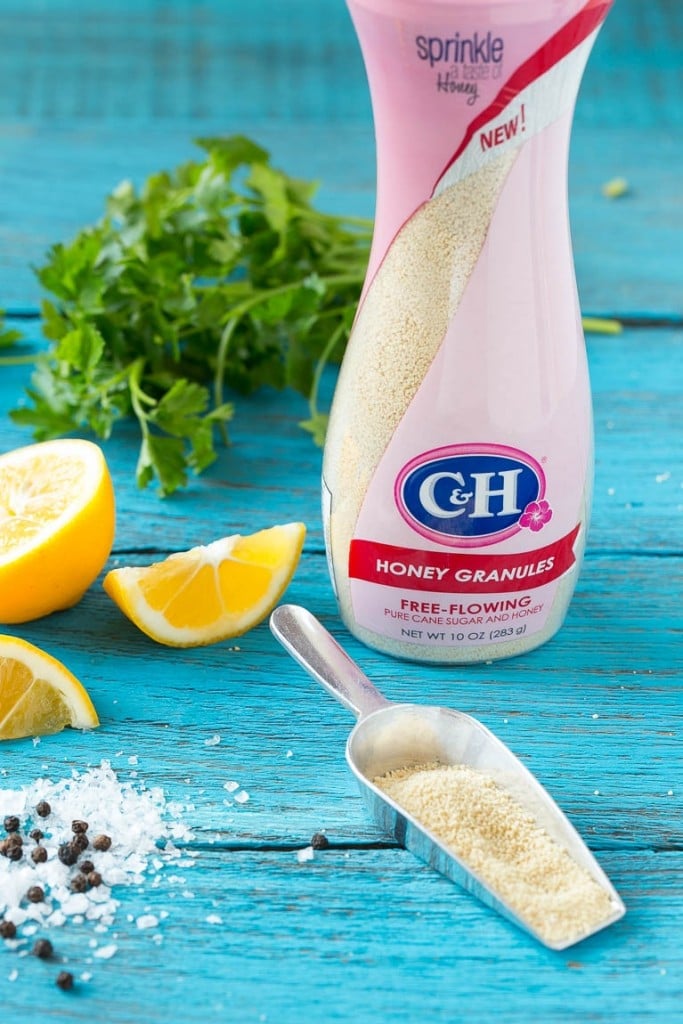 Have you ever tried C&H® Honey Granules before? It's a free flowing mix of granulated pure cane sugar and honey. I love the flavor of honey, but I always end up with a sticky crystallized bottle in my pantry; this is a great way to get honey flavor without the mess. The granules come in a bottle with an easy to pour top and I've been putting them on almost everything! C&H® Honey Granules are great on top of oatmeal, sprinkled over buttered toast (think cinnamon toast but with honey instead!), and you can use them in baking to substitute for all or part of traditional granulated sugar. C&H® Honey Granules is also great in savory recipes like this lemon thyme chicken! You should definitely pick up a bottle so that you can sprinkle a taste of honey on all your favorite foods. C&H® Honey Granules is sold where I live, but if they don't sell it in your area, look for Domino® Honey Granules, the sister brand of C&H®.
The seasoned butter goes between the skin and the meat of the chicken thighs, you can use your fingers to loosen the skin and add the butter. The butter also gets drizzled all over the potatoes and carrots. If you can't find these little spring carrots, it's fine to use regular carrots that have been cut into smaller pieces. I add the asparagus during the last 10 minutes of the baking time so that they don't get overcooked and mushy. The C&H® Honey Granules add a hint of sweetness that pairs well with the savory flavors. You can plate up the chicken with the vegetables, potatoes and a drizzle of the pan juices and you've got an elegant looking meal without a ton of effort.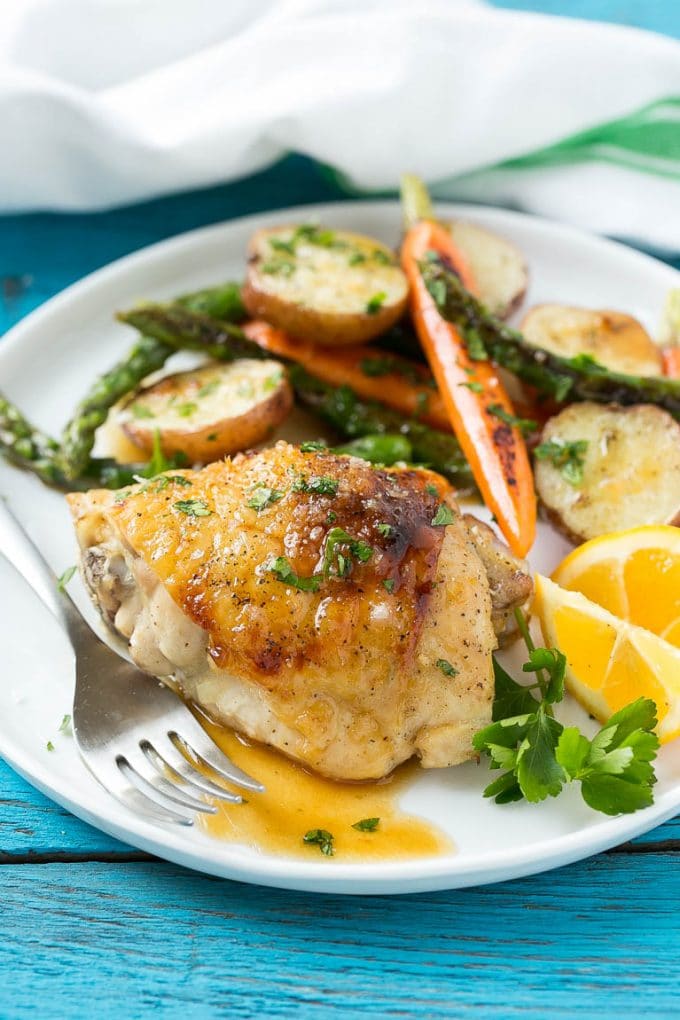 Whether you're looking for the perfect meal for spring entertaining or simply searching for an easy weeknight dinner, this lemon thyme chicken with vegetables fits the bill. You truly can make an amazing meal without a lot of time or ingredients involved, especially when the ingredients have bold and complex flavors like garlic, herbs and C&H® Honey Granules. You can even create your own variations of this recipe by switching up the herbs and vegetables, the possibilities are endless!
I was selected for this opportunity as a member of Clever Girls and the content and opinions expressed here are all my own.