This frozen fruit smoothie is an icy blend of apple juice and frozen blueberries, cherries, raspberries and mango. An easy nutrient packed drink that's perfect for a hot day.
I make frozen fruit smoothies at least once a week – they're delicious, healthy and the perfect way to use up all those odds and ends of fruit in my freezer!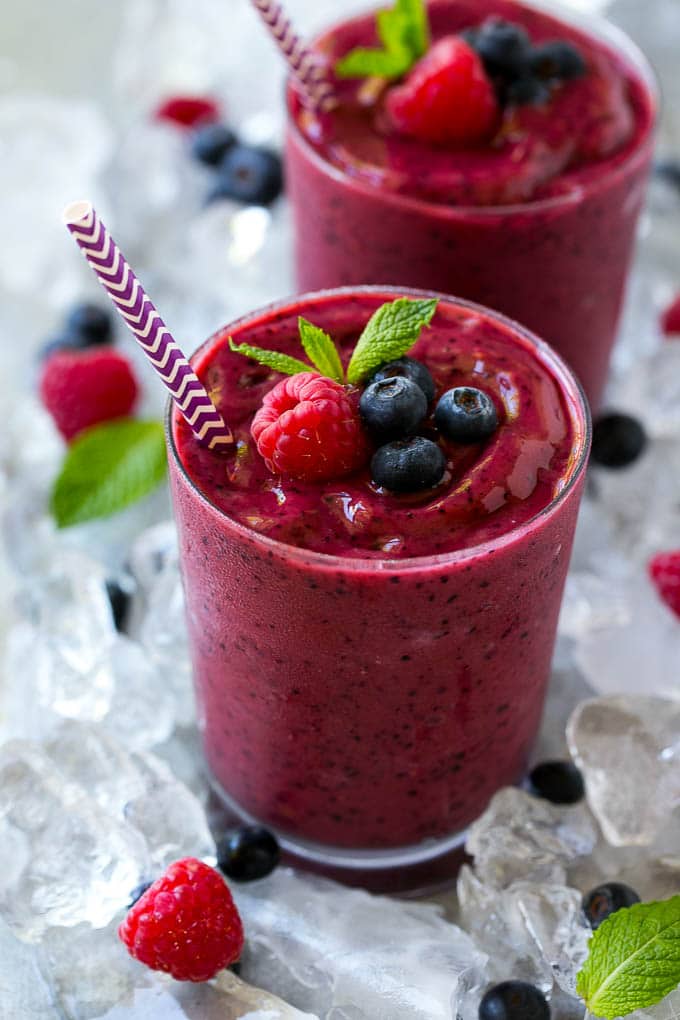 I don't know about you, but here in California it's been hot, hot, hot! I whipped up some of these frozen fruit smoothies for my kids to ward off the heat. They're a quick and easy snack, and full of icy cold fruit to help keep you cool.
HOW DO YOU MAKE A FROZEN FRUIT SMOOTHIE?
I personally have a blender meant just for smoothies but it's not necessary; any blending machine will work. Toss your blend of frozen fruit, juice, and Greek yogurt into the blender and mix until smooth. I chose to use blueberries, cherries, raspberries, and mango for a tart, yet sweet, blend of fruits.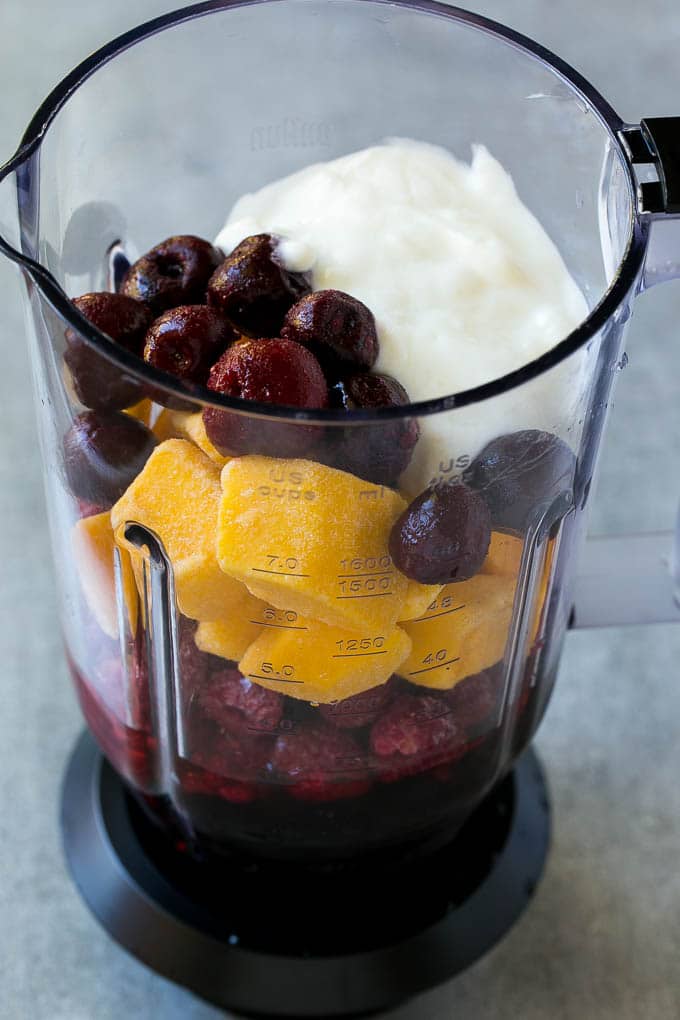 This recipe makes two servings but can easily be adjusted to make only one serving, or more servings, whatever you desire. Simply cut the recipe in half for one serving. If you double the amount of ingredients called for, remember that it will bump it to four servings since this is enough to make two servings. Each serving is around 16 ounces each.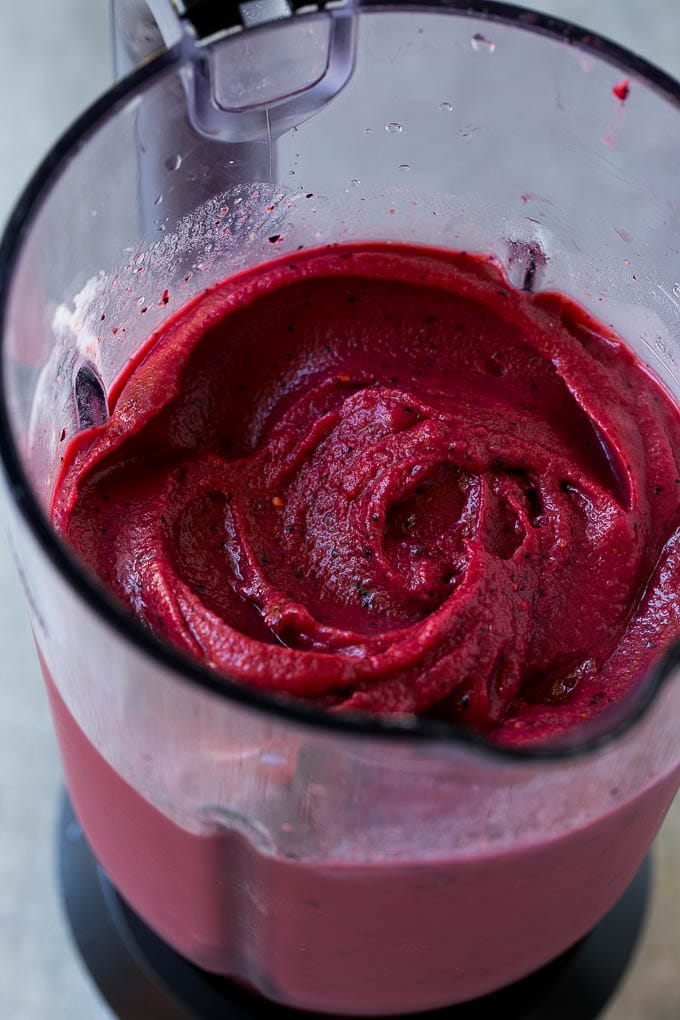 There are a lot of great juices out there that would work well in your fruit smoothie. I typically use apple juice because it's readily available and a neutral flavor base, but other great options are
White grape juice
Orange juice
Pineapple juice
Cranberry juice
You can even use milk, almond milk or coconut milk instead of juice for your smoothie.
I typically use whatever odds and ends of fruit I happen to have in my freezer. You can really mix and match however you like here, just use the same quantity of the fruits listed in the recipe. Some other great fruit options to use are
Banana
Pineapple
Peaches
Strawberries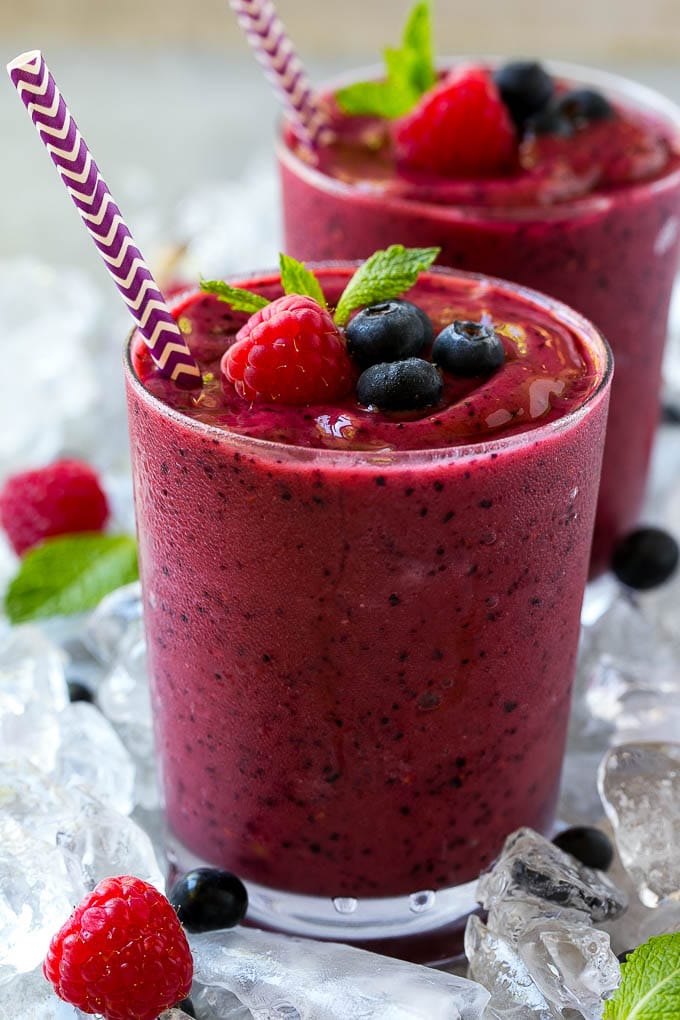 WHAT ARE THE HEALTH BENEFITS OF A FROZEN FRUIT SMOOTHIE?
Although smoothies are sweet, making it seem like they're a treat more than a health benefit, they actually full of nutrients. A fruit smoothie contains large amounts of folate. vitamin C, and potassium. Most fruits are a great source for these nutrients and one fruit smoothie can contain up to 2-3 servings of fruit. The Greek yogurt also adds a good dose of protein, which help keep you full for longer.
DOES THE FRUIT NEED TO BE FROZEN IN A FRUIT SMOOTHIE?
If you want to make a frozen fruit smoothie and don't have any frozen fruit on hand, add ice to your mixture. If you don't add frozen fruit or ice, your smoothie won't be thick and frosty. If you don't mind this, then you'll be fine to continue. I highly recommend using frozen fruit because it tends to blend better than straight ice. It's not pleasant to bite down on chunks of ice in a smoothie!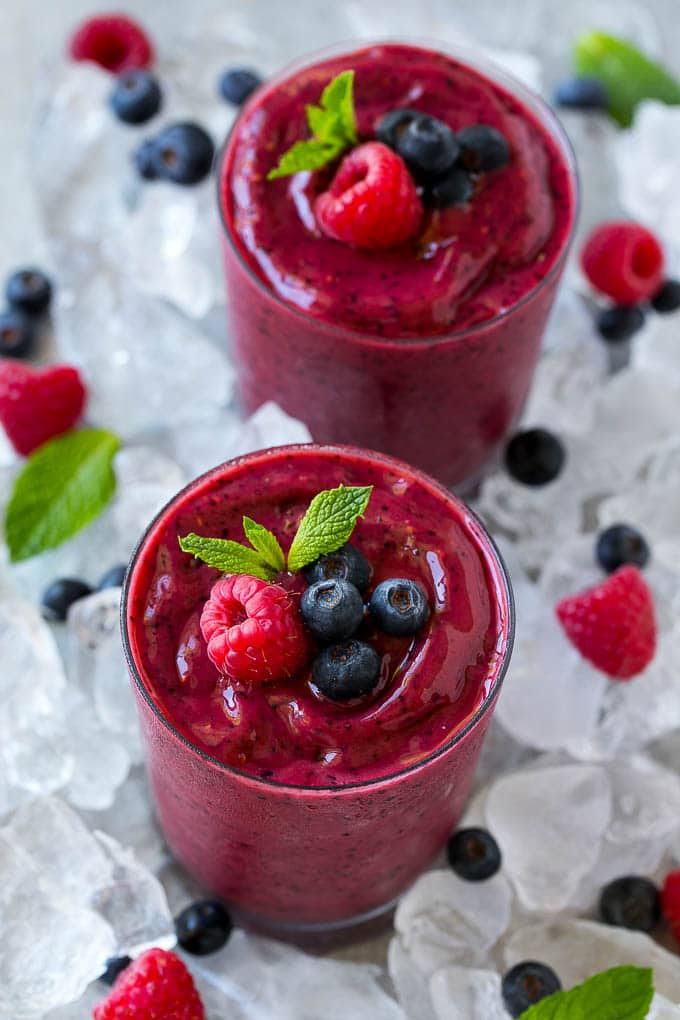 This fruit smoothie recipe is so easy that we make them most days during the hot weather. You won't hear me complaining. They're a lot healthier than ice cream and if making them keeps the want for ice cream at bay, I'm all for it!
MORE FROZEN FRUIT RECIPES YOU'LL LOVE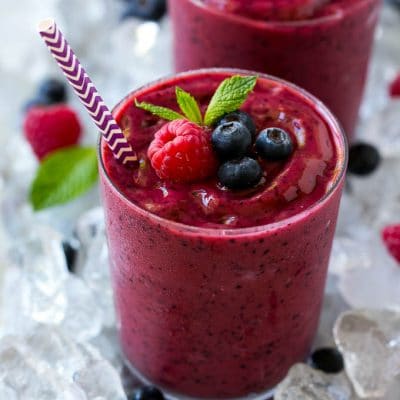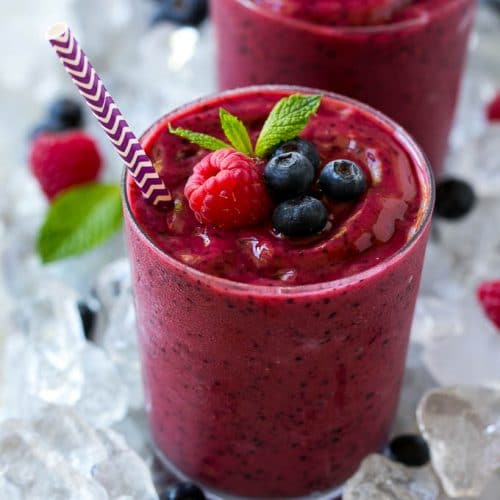 This frozen fruit smoothie is an icy blend of apple juice and frozen blueberries, cherries, raspberries and mango. An easy nutrient packed drink that's perfect for a hot day.
Ingredients
1 1/2

cups

apple juice

2

cups

assorted frozen fruit

I used cherries, raspberries, blueberries and mango

3/4

cup

vanilla Greek yogurt

additional fruit and/or mint sprigs for garnish

optional
Instructions
Place the juice, fruit and yogurt in a blender.

Blend until completely smooth.

Pour into 2 glasses. Garnish with additional fruit and mint sprigs if desired.
Nutrition
Calories:
201
kcal
|
Carbohydrates:
43
g
|
Protein:
8
g
|
Cholesterol:
2
mg
|
Sodium:
34
mg
|
Potassium:
378
mg
|
Fiber:
3
g
|
Sugar:
32
g
|
Vitamin A:
80
IU
|
Vitamin C:
16
mg
|
Calcium:
24
mg
|
Iron:
0.6
mg