This post is sponsored by Lowe's. Thank you for supporting the brands that make Dinner at the Zoo possible!
My kitchen is in need of a makeover, and I'm sharing five kitchen project ideas that are beautiful, practical and affordable.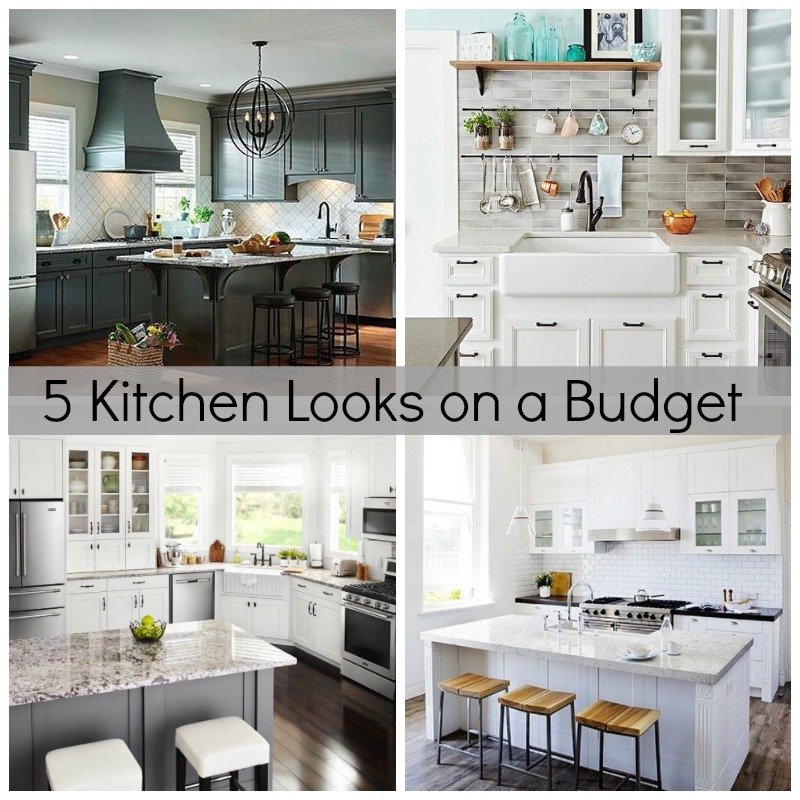 Our house was built over 30 years ago. The owners before us did some remodeling, but they had very different taste in decorating than I do! We've done some improvements over the 4 years that we've lived here, like swapping out all the bright pink sinks in the house with white ones, but one major project remains: the kitchen. I have three children aged 5 and under, and as we plan to make improvements to the kitchen, we have to consider things like durability, affordability, aesthetics and practicality. We're working with a project specialist at Lowe's to come up with some ideas to update our kitchen in a way that best meets our needs. Creating an updated kitchen space doesn't have to be a massive undertaking, in fact, we're putting together smaller projects that will result in beautiful improvements in a cost effective way.
Farmhouse Sink
Our current sink has a divider in the middle that makes it difficult to wash larger dishes. In addition, the sink material is prone to staining and the sink actually came with a built in drying rack that's installed into the countertop which is very outdated looking. I chose this farmhouse sink from Lowe's to replace our current sink setup, it's both beautiful and functional.
Why it's affordable: Replacing one item like an outdated sink can have a dramatic effect without needing to invest in more expensive items like new cabinets.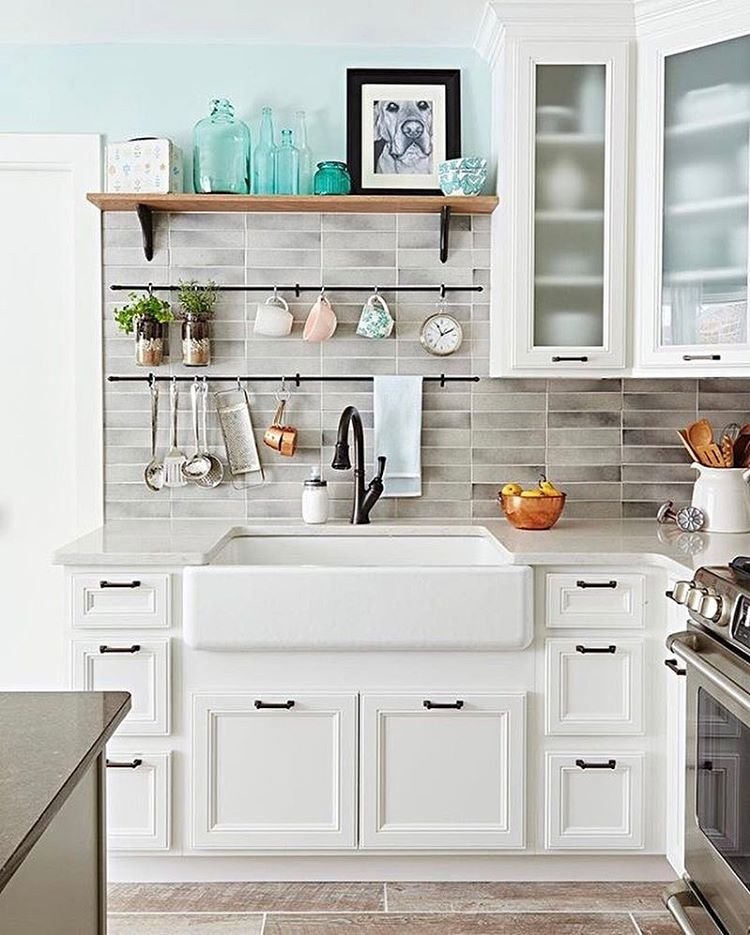 Modern Backsplash Our current backsplash is made from the same solid surface as our countertops, and it has cracked and stained over the years. I'm planning to replace the old backsplash with new, more modern backsplash tile. Why it's affordable: There are so many inexpensive tile choices that look as beautiful as more expensive materials like marble or granite.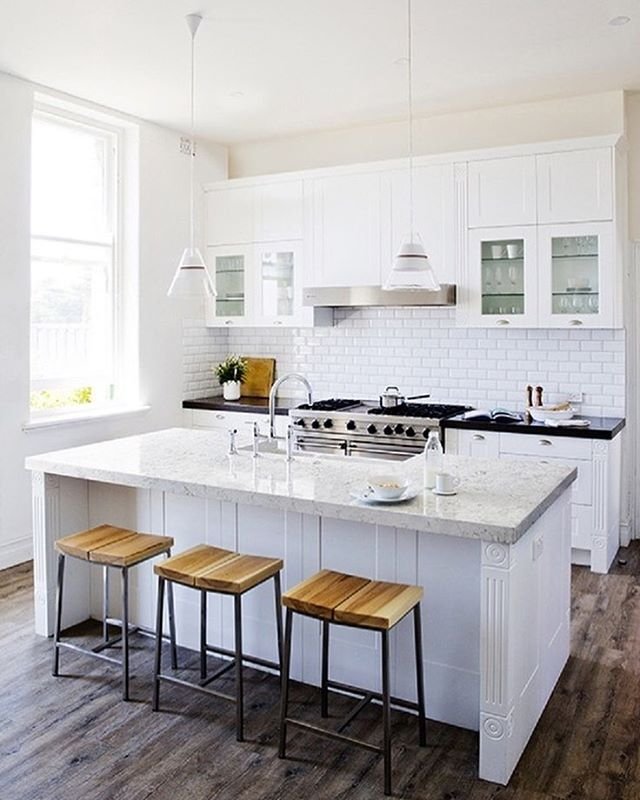 Painted Cabinets Our kitchen cabinets were installed over 20 years ago and have a bleached wood finish that's no longer in style. I plan to have our kitchen cabinets painted a more modern shade and will carry the paint color into the family room where we have built in cabinetry in the same bleached wood finish. Why it's affordable: Painting cabinets instead of replacing them saves a lot of money!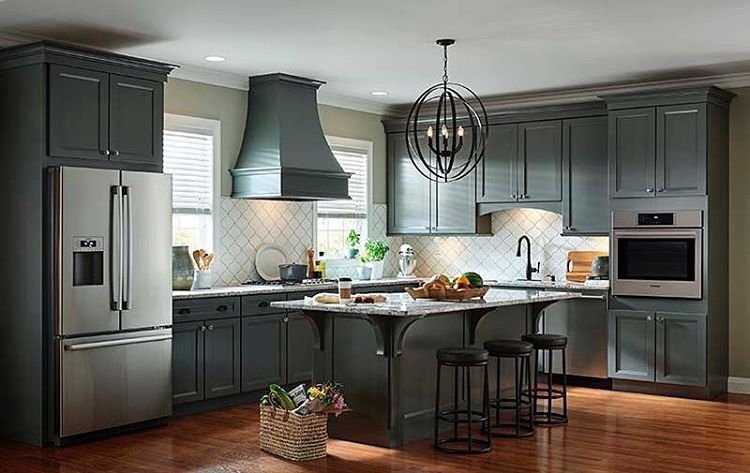 Kitchen Countertops & Flooring
Our current countertops leave a lot to be desired. They have a pink hue to them (to match the previous owner's pink sinks), they stain easily and they look outdated. We'll be replacing our countertops with slab quartz that was recommended by our Lowe's project specialist.
When we bought the house, we received a credit for the flooring because the laminate flooring in the kitchen had started to come up in some places due to a refrigerator leak. We've been putting off doing the floor replacement only because we wanted the floor to be done at the same time as the other kitchen improvements so that we had a cohesive look. This laminate flooring is practical because it won't show every speck of dirt like our current white floors, it's durable, affordable and easy to care for.
Why it's affordable: Quartz is often less expensive than granite, but is equally beautiful and durable. Laminate flooring costs less than wood, but creates a beautiful end result and there are so many colors and styles to choose from.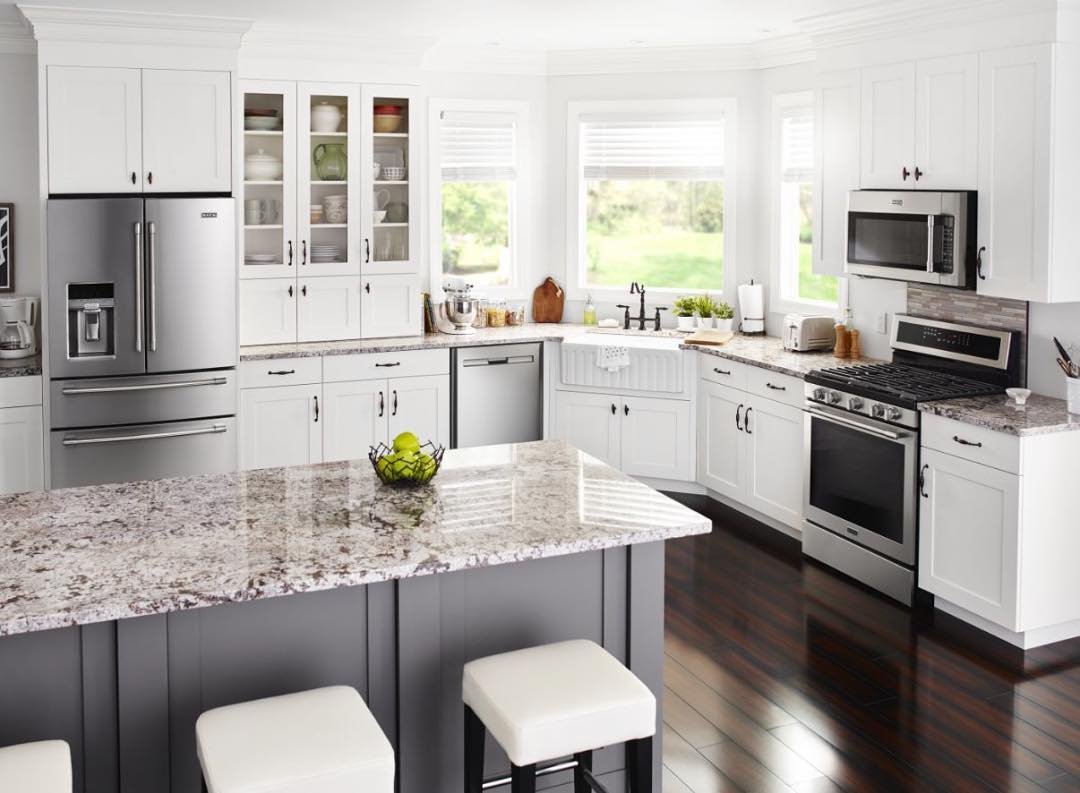 I can't wait to get started on my new and improved kitchen. Best of all, Lowe's is running a 40% off kitchen and bath essentials sale until March 23rd. So what are you waiting for? Now is the perfect time to start planning your kitchen projects!
This is a sponsored post written by me on behalf of Lowe's.