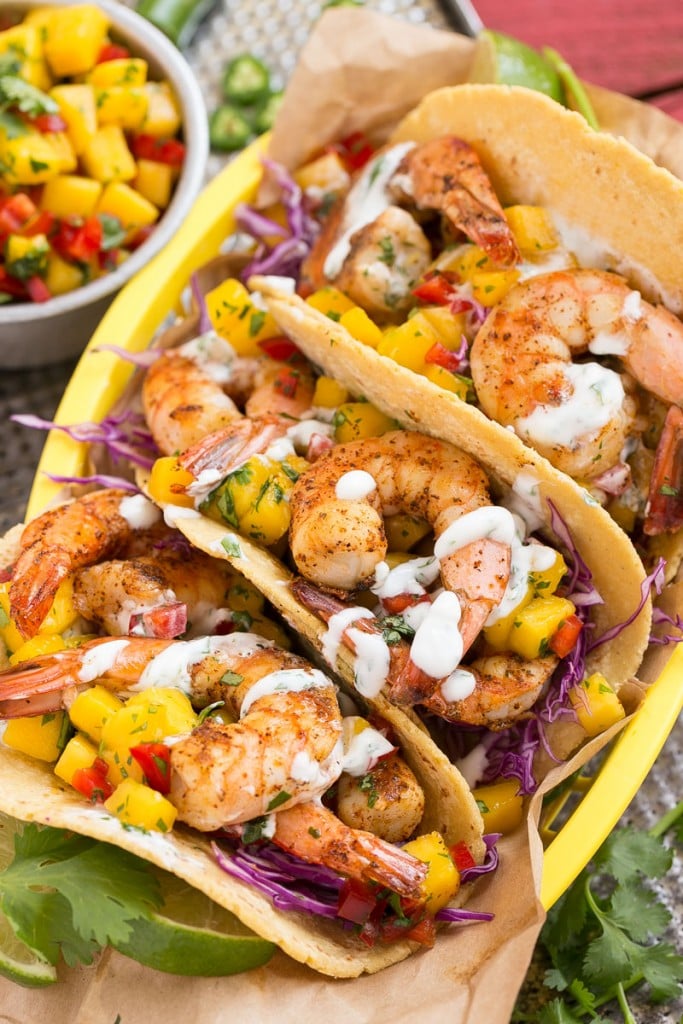 Shrimp tacos with sweet and tangy mango salsa and creamy cilantro lime sauce.
If I ask the girls what they want for dinner the answer is always tacos. They are on a major taco kick right now which I don't mind because it's a quick and easy meal to make. I too love tacos and I was looking for something a little more grown up than the ground turkey/cheese/hard shell tacos that the kids love. Enter these shrimp tacos with mango salsa – chile seasoned shrimp, crunchy cabbage, sweet and tangy mango salsa and creamy cilantro lime sauce makes for an awesome flavor combination that everyone will love.
The shrimp in these tacos are lightly seasoned with chili powder and seared for a few minutes in a blazing hot pan until they're cooked through. I used a larger shrimp here (size 21-25 per pound), but smaller shrimp will work just as well.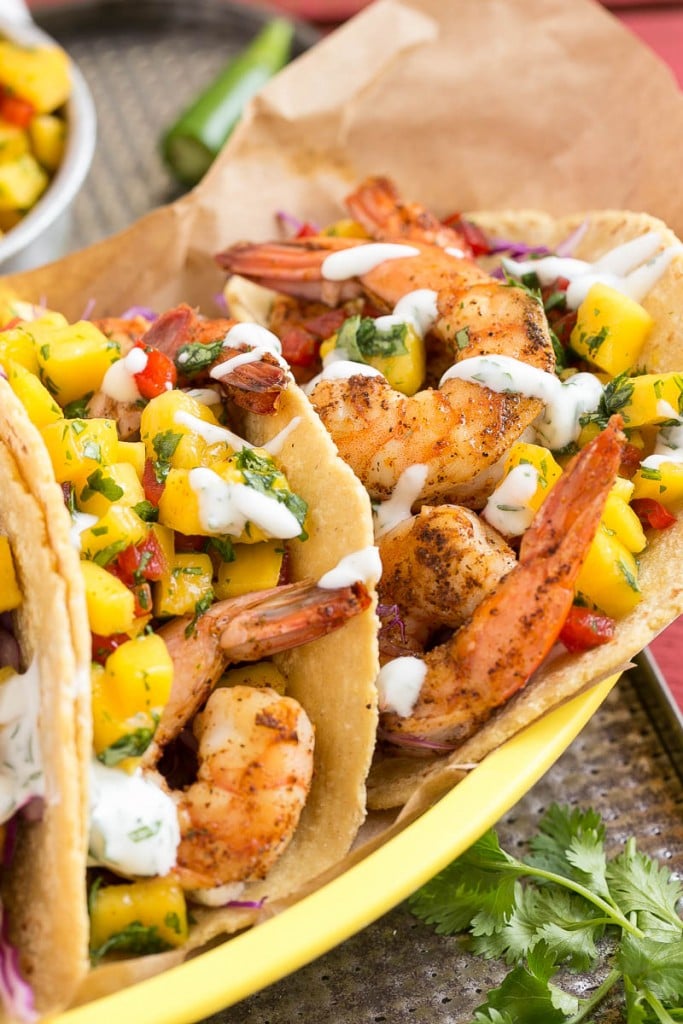 The mango salsa can be made in advance and includes a little bit of fresh jalapeno for a kick – if you're sensitive to spicy foods, make sure to take the ribs and seeds out of the pepper to considerably tone the spice level down.
The purple cabbage adds color and crunch, I love a little texture in my tacos to keep things interesting. The tacos get finished off with a drizzle of cilantro lime sauce, which comes together in about 5 minutes with the help of a food processor. The whole meal can be made in about 25 minutes, not too bad for such a delicious end result. The next time the girls ask for tacos, I'm making them their usual favorite and throwing together these shrimp tacos with mango salsa for the adults in the house. Don't forget to make my mexican rice and cantina beans to serve on the side!
Still hungry? Follow Dinner at the Zoo on Facebook, Twitter, Instagram and Pinterest for more great recipe ideas!
Shrimp Tacos with Mango Salsa
Shrimp tacos with sweet and tangy mango salsa and creamy cilantro lime sauce.
Author:
Dinner at the Zoo
Ingredients
For the shrimp:
2 teaspoons olive oil
1 and ¼ pounds of shrimp, peeled, deveined and tails removed
chili powder and salt to taste


For the mango salsa:
1 cup of mango, finely diced
½ cup red bell pepper, finely diced
½ of a jalapeno pepper, minced (remove seeds and ribs to make it milder)
juice of 1 lime
½ cup loosely packed cilantro leaves, finely chopped


For the creamy cilantro lime sauce:
1 cup sour cream (can use light)
½ cup fresh cilantro leaves, roughly chopped
2 teaspoons lime juice
1 and ½ teaspoons honey
¼ cup prepared green salsa
salt and pepper to taste


1 cup shredded purple cabbage
8 corn or flour tortillas
Instructions
For the shrimp: Heat the olive oil over high heat in a large pan. Season both sides of the shrimp with chili powder and salt to taste. Place the shrimp in a single layer in the pan and sear for 2-3 minutes per side, until shrimp are pink and cooked through.
For the mango salsa: Combine all the ingredients in a bowl, add salt to taste. Cover the bowl and place it in the refrigerator for at least 15 minutes, up to 4 hours.
For the creamy cilantro sauce: Place all ingredients in the food processor; process until sauce is smooth and creamy. Add salt and pepper to taste.
To serve: Warm the tortillas. Add a spoonful of sauce, a handful of cabbage and place the shrimp on top of the cabbage. Top with mango salsa and serve immediately.
Notes
Make Ahead: The mango salsa and cilantro sauce can be made up to 4 hours in advance.
Nutrition Information
Serving size:
2 tacos
Calories:
475
Fat:
15
Saturated fat:
6
Carbohydrates:
42
Fiber:
3
Things You'll Need (or Want!)
Mandoline I use a mandoline for tasks like finely shredding cabbage for these tacos, it's such a great kitchen tool to have on hand.
Taco Stand Clearly this taco stand is not required to make this recipe, but it's such a fun way to serve your shrimp tacos without them getting soggy or spilling everywhere!