This recipe for shrimp chow mein is a quick and easy one pot meal with plenty of stir fried shrimp and vegetables tossed with noodles and a simple sauce.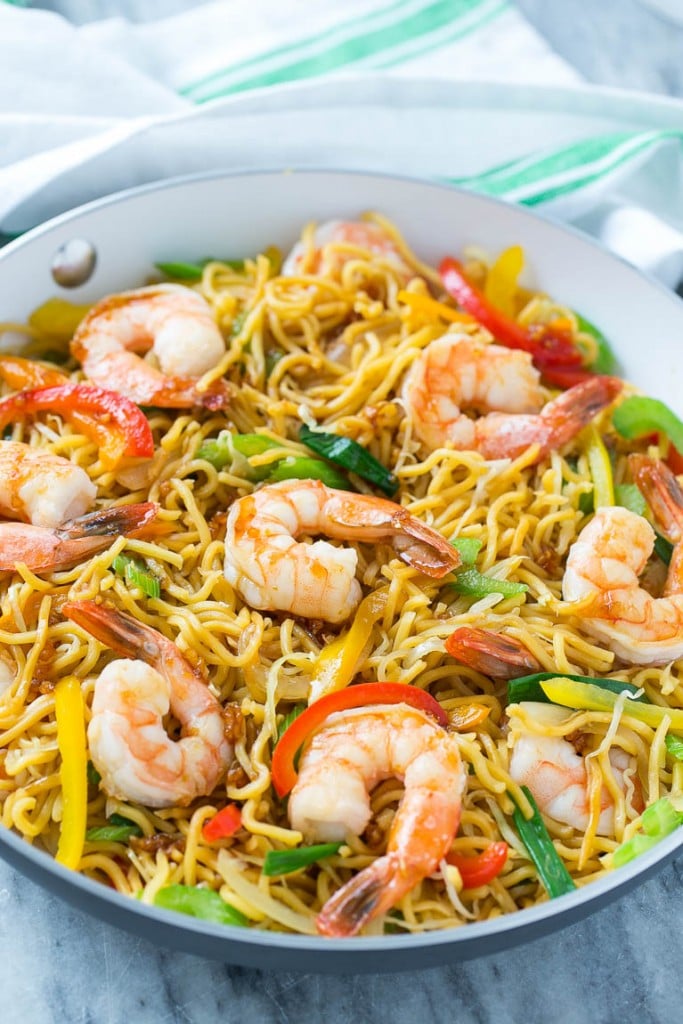 It's one pot meal time again! You all know how much I love my one pot meals and this super easy shrimp chow mein is no exception. In fact, this may be one of my easiest one pot meals yet! It's essentially a shrimp stir fry tossed together with noodles and a 4 ingredient sauce. If you're not into shrimp you could absolutely substitute in cut up chicken and this dish would be just as delicious that way. But I love the shrimp, and my kids love the noodles so it's a win-win situation all around.
This dish uses pre-cooked yakisoba noodles. They sell packets of them at my grocery store near the tofu and wonton wrappers, which in my case is in the refrigerated area in the produce section. Since these noodles are already cooked, all you have to do is open the package,  run hot water over the noodles to loosen them up, then toss them into the stir fry. It's a huge time saver; dinner is ready in about 20 minutes, which is exactly what I need most nights. And that easy sauce I was referring to earlier – it's just soy sauce, honey, ginger, sesame oil and garlic, simple right?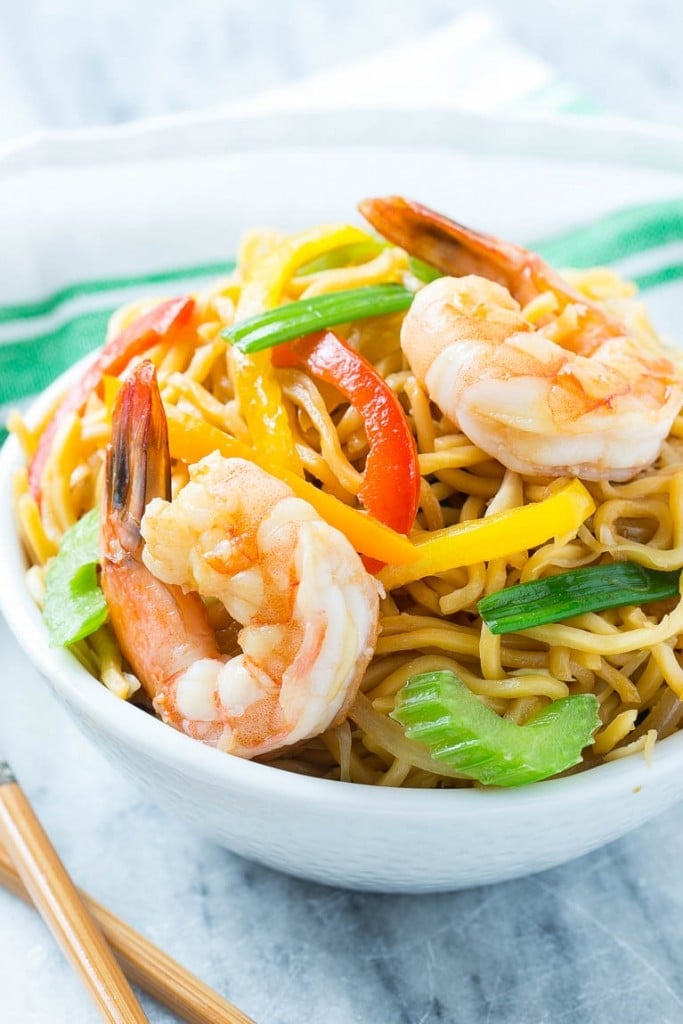 The beauty of this shrimp chow mein is that it's easily customizable – you can switch up the protein and vegetables to come up with different variations that you know your family will love. I've started keeping packets of the yakisoba noodles in the fridge for those busy nights when I'm trying to put together dinner at the last minute – how can you go wrong with protein, noodles and veggies all in one pot?!
Still hungry? Follow Dinner at the Zoo on Facebook, Twitter, Instagram and Pinterest for more great recipe ideas!

Shrimp Chow Mein (One Pot Meal)
This recipe for shrimp chow mein is a quick and easy one pot meal with plenty of stir fried shrimp and vegetables tossed with noodles and a simple sauce.
Author:
Dinner at the Zoo
Ingredients
1 tablespoon of vegetable oil
1 pound of peeled and deveined shrimp
2 packages of refrigerated yakisoba noodles (approximately 11 ounces total)
¼ cup of sliced green onion tops (only the dark green part)
½ cup thinly sliced white or yellow onion
½ cup thinly sliced bell peppers (optional but I love the color and flavor)
¼ cup thinly sliced celery
1 cup shredded green cabbage
¼ cup of soy sauce
1 tablespoon of honey
2 teaspoons minced fresh ginger
1 teaspoon minced fresh garlic
2 teaspoons of toasted sesame oil
Instructions
Heat half of the oil in a large pan over high heat. Add the white onion and cook for 3 minutes or until onion has started to brown and soften.
Add the bell peppers and celery, cook for 3-4 minutes until vegetables have started to soften. Add the cabbage along with 2 tablespoon of water. Cook, stirring constantly, until cabbage is wilted and cooked through, about 2-3 minutes. Season the vegetables with salt and pepper to taste.
Remove the vegetables from the pan and plate onto a plate.
Heat up the remaining oil in the pan and add the shrimp. Season the shrimp with salt and pepper to taste. Cook for 2-3 minutes per side or until pink and opaque.
Add the vegetables back into the pan with the shrimp.
Remove the packets of yakisoba noodles from their package and run under hot water until you're able to break up the noodles, 1-2 minutes. Add the noodles to the pan with the shrimp and vegetables.
In a small bowl mix together the soy sauce, honey, ginger, garlic and sesame oil.
Pour the sauce over the noodle mixture, tossing to coat evenly. Cook for 1-2 minutes more.
Serve immediately.
Things You'll Need (or Want!)
Shrimp Peeler and Deveiner This handy tool makes quick work of the not so pleasant task of peeling and deveining shrimp.
Mandoline I use my mandoline to thinly slice all of the vegetables for this shrimp chow mein, it's even great for getting thinly shredded cabbage.
Other Recipes You Might Like