A copy cat version of honey sesame chicken that has less fat and sugar than the original recipe.
This is one of those copycat recipes for honey sesame chicken – you know, the battered crispy chicken tossed in a sweet and tangy sauce that's found at places like P.F. Changs and Panda Express? I always see the baked versions on Pinterest claiming they're so much healthier than the original. Then I click on the pin and find out that while the recipe is indeed lower in fat, it's full of sugar. I'm not opposed to a little sugar here or there, but some of these recipes have an entire cup of sugar or honey in the sauce. Might as well just eat a brownie for dinner. I set out to make a lower sugar version and came up with this healthier honey sesame chicken.
The trick to this recipe is lightly battered chicken which is then sauteed in a much smaller amount of oil than the restaurant version. The sauce is poured over the top and the whole thing is baked in the oven which allows the chicken to cook through and the sauce to thicken.
To get the best results with this recipe you need to take the time to really brown the chicken and let it develop a crispy crust. It's a little more effort than I typically put into a weeknight meal, but it is definitely worth it. Now might be the time to put on your kid's favorite TV show (my kids are all about My Little Pony right now!) while you tend to your chicken. After the chicken goes into the oven take that down time to put up a pot of rice and steam a vegetable to round out your meal.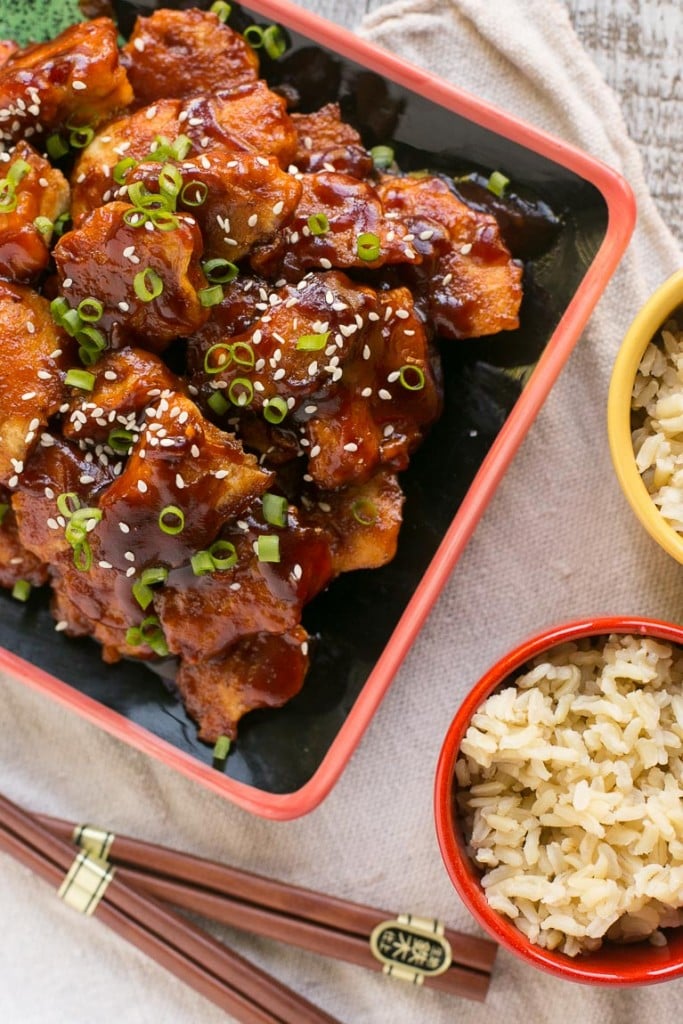 When compared to the restaurant version, my honey sesame chicken recipe has significantly less oil and I reduced the sugar in the sauce by over 50%. This is definitely a  meal you won't feel guilty about making for your family. Is it the epitome of health food? Probably not, but still a much better choice considering the alternative.
Still hungry? Follow Dinner at the Zoo on Facebook, Twitter, Instagram and Pinterest for more great recipe ideas!

Honey Sesame Chicken
A copy cat version of honey sesame chicken that has less fat and sugar than the original recipe. Adapted from therecipecritic.com.
Author:
Dinner at the Zoo
Instructions
Preheat oven to 350 degrees.
Place the chicken pieces in a large bowl, season generously with salt and pepper. Add ½ cup cornstarch to the chicken and toss to coat thoroughly.
Dip each piece of coated chicken into the egg mixture, place onto a plate. Heat a large skillet over medium high heat. Add 1 tablespoon of vegetable oil to the pan and half of the chicken pieces. Make sure that the chicken pieces are all in a single layer.
Cook the chicken until well browned, about 5 minutes, then flip the pieces and cook on the other side for another 5 minutes. Repeat the process with the remaining tablespoon of vegetable oil and other half of chicken.
While the chicken is cooking, combine the honey, soy sauce, ketchup, brown sugar, rice vinegar, garlic, sesame oil and tablespoon of cornstarch in a bowl.
Coat a 9x13 pan with cooking spray. Place the chicken pieces in a single layer in the pan. Pour the sauce onto the chicken pieces. Cook for 25 minutes until sauce is thick and bubbly. Garnish with sesame seeds and green onions.
Notes
Make Ahead: All of the sauce ingredients except the cornstarch can be mixed together a day in advance. Add the cornstarch right before use.

Little Helpers: My girls love to help measure and pour the sauce ingredients, I make the sauce in a reusable container, pop the lid on and then let them shake it up to mix everything together.
Nutrition Information
Serving size:
⅕ of recipe
Calories:
400
Fat:
13
Saturated fat:
2
Trans fat:
0
Carbohydrates:
46
Sugar:
30
Sodium:
1200
Fiber:
1
Protein:
24
Cholesterol:
137
Things You'll Need
Training Chopsticks If you're making this recipe for the kids, pick up some of these training chopsticks to make dinner time more fun! I actually discovered these in a museum gift shop and they've been great for teaching my 4 year olds the basics in using chopsticks.
Toasted Sesame Oil You can find toasted sesame oil in most grocery stores, it's often in the ethnic foods aisle. A little of this stuff goes a long way in terms of adding a complex flavor to your dishes.