This recipe for blueberry banana bread is a moist loaf of the classic sweet bread that's chock full of juicy blueberries and topped with a lemon cream cheese glaze.
As I've mentioned before, my kids consume bananas at a rapid pace and it's rare that we have any left over at the end of the week. If I want to actually cook or bake with bananas I have to hide them away so they don't get immediately eaten! This blueberry banana bread is a favorite treat in our house – banana bread is such a classic treat as-is, but this version takes it over the top with plenty of blueberries and a lemon cream cheese glaze.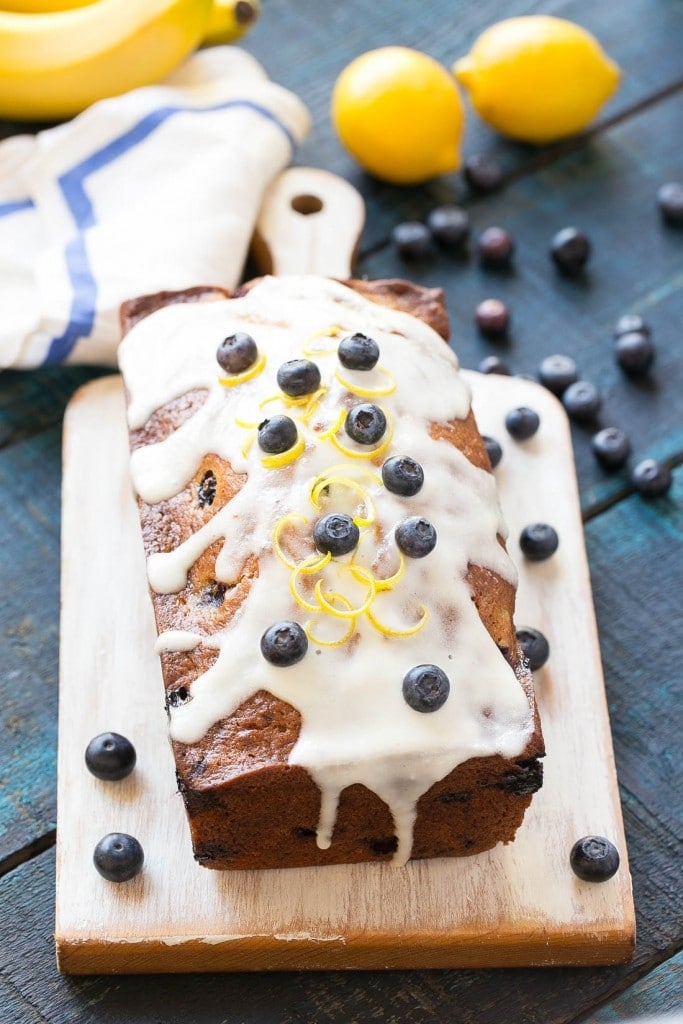 This blueberry banana bread recipe is similar to most other recipes in the banana bread genre with a few changes that make a big difference. A generous amount of fresh blueberries and lemon zest is added to the batter and the whole thing is finished off with the easiest glaze that adds so much flavor. You can also make this recipe with frozen blueberries but they're more likely to turn the batter purple as they melt into the mix. This bread is also great without the glaze if you prefer to leave it off or are pressed for time and don't want to make it.
It's no surprise that everyone that tries this bread immediately falls in love with it. This banana bread works as a simple after school snack or you can dress up the top with fresh blueberries and lemon zest to turn it into a dessert worthy for a special occasion. No matter how you serve it, this blueberry banana bread is likely to become a staple recipe in your house as it has in mine.
Still hungry? Follow Dinner at the Zoo on Facebook, Twitter, Instagram and Pinterest for more great recipe ideas!

Blueberry Banana Bread
This recipe for blueberry banana bread is a moist loaf of the classic sweet bread that's chock full of juicy blueberries and topped with a lemon cream cheese glaze. Adapted from Cooking Light.
Author:
Dinner at the Zoo
Recipe type:
Dessert, Snack
Ingredients
For the bread:
2 cups all purpose flour
¾ teaspoon baking soda
½ teaspoon kosher salt
1 cup granulated sugar
¼ cup butter, softened
1 cup mashed ripe bananas
2 eggs
⅓ cup vanilla or plain yogurt
1 teaspoon vanilla extract
1 cup fresh blueberries (can substitute frozen although bread may be streaked blue)
the zest of one lemon
Cooking spray


For the glaze:
2 ounces of cream cheese, softened
1 tablespoon of butter, softened
1 tablespoon lemon juice
1 cup of powdered sugar


Additional blueberries and lemon zest for garnish (optional)
Instructions
Preheat oven to 350 degrees F.
In a medium bowl, combine the flour, baking soda, and salt.
Place granulated sugar and butter in a large bowl, beat with a mixer at medium speed until mixture is fluffy and well blended (about 1 minute).
Add mashed banana, eggs, yogurt and vanilla; beat until blended. Add flour mixture; beat at low speed just until moist. Gently fold in blueberries and lemon zest. Spoon batter into an 8½ x 4½-inch loaf pan coated with cooking spray.
Bake for 60-70 minutes or until a wooden pick inserted in center comes out clean. Cool the bread 10 minutes in pan on a wire rack; remove the bread from pan.
Cool completely on wire rack.
For the glaze: Beat the cream cheese and butter with a mixer until thoroughly combined, 1-3 minutes. Add the lemon juice and beat to combine. Slowly add the powdered sugar and mix until a glaze forms.
Pour the glaze over the top of the bread and garnish with blueberries and lemon zest if desired.
Things You'll Need (or Want!)
Lemon Zester I use my lemon zester to get the pretty curls of lemon peel that you see on top of this bread, this tool works to remove just the skin without any of the white pith from all citrus fruits.
Masher I actually use a potato masher to mash up my bananas, it's way quicker than a fork and it's easier for my kids to use when they're helping me in the kitchen.
Other Recipes You Might Like